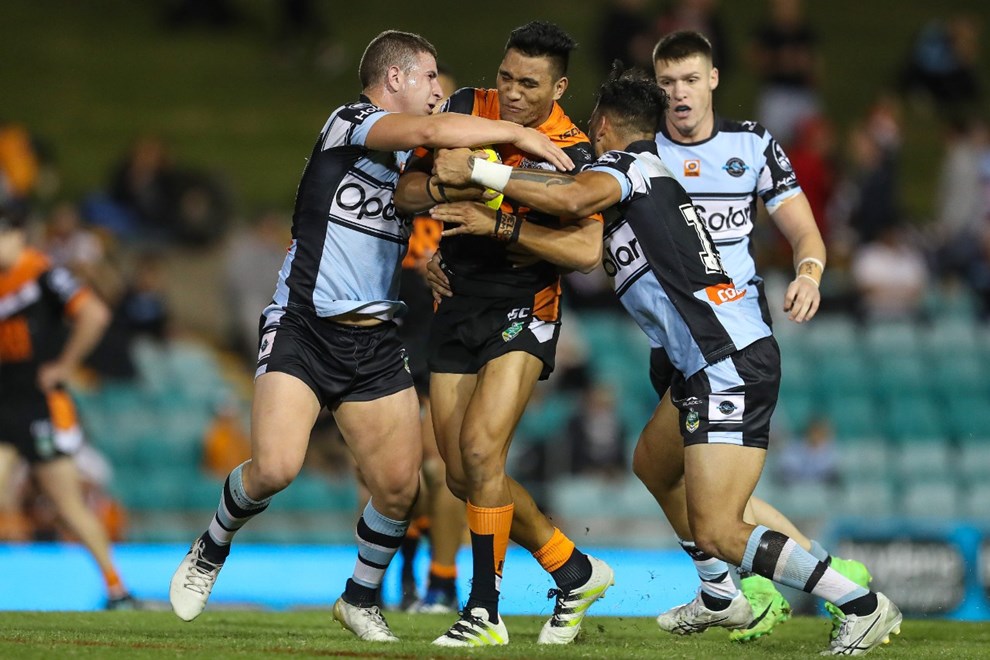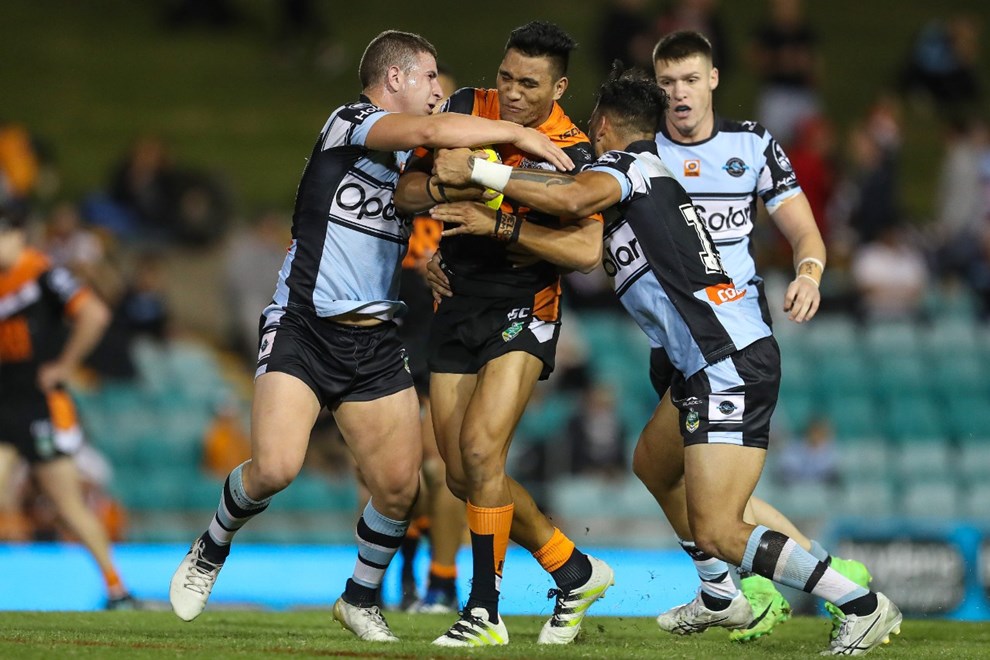 Wests Tigers Holden Cup side have battled bravely, but gone down 34-18 against the Cronulla Sharks in their Round 9 match at Leichhardt Oval on Saturday night.
Coming up against one of the strongest teams in the competition, Wests Tigers showed great determination to remain in the contest throughout, but were simply not strong enough to match it with their opponents, who move back in to second spot on the Holden Cup ladder.
Sharks scored four tries in the first half to begin their strong start. Wests Tigers were unable to catch up to the side and complete try scoring possibilities. The second half saw the Sharks dominate and take all opportunities to score points, Wests Tigers continued to battle.
Starting off the match during the fourth minute, Sharks captain Jack Williams scored a try followed by a Kyle Flanagan conversion to have Tigers trailing 6-0.
Sharks backed up with another, having the ball relay down the right side to Brock Ilett to score, Flanagan was unable to get the conversion.
Coming off his debut last week, James Tautaiolefua added another try to his tally and followed up with getting a conversion, leaving the Tigers trailing by 10-6.
Cronulla scored again on the 20th minute with Sione Katoa pushing past Wests Tigers defenders to score the try and Flanagan made a successful conversion.
It wasn't long before Wests Tigers backed up, TJ Carter pushed through the Sharks defence to get the ball over the line near the post. A successful conversion from James Tautaiolefua brought the gap closer to 16-12.
Billy Magoulias forced his way through Wests Tigers defenders to score underneath the posts, making it easy for Flanagan to make the conversion heading into half time.
Getting his second try of the night, Sharks' Ilett gets the ball over line to score the first try of the second half. Flanagans conversion brought their lead to 28-12.
Wests Tigers were looking for a try on the board but an obstruction call during the 53rd minute held back Connelly Lemuelu attempt at a try over the line in the left corner.
Sharks Zachary Faulker nailed a try under the posts which set up for Flanagan to get the conversion.
Up against a strong Sharks defence, Lenny Sauni found his way to the line to score by the posts, setting up the conversion for Tautaiolefua, leaving Wests Tigers trailing 34-16.

Cronulla Sharks 34 (Williams, Ilett 2, Katoa, Magoulias, Faulkner tries, Flanagan 5/6 goals) def. Wests Tigers 18 (Tautaiolefua, Carter, Sauni tries, Tautaiolefua 3/3 goals).

We've revealed our brand new Indigenous jersey — click here to get yours today!