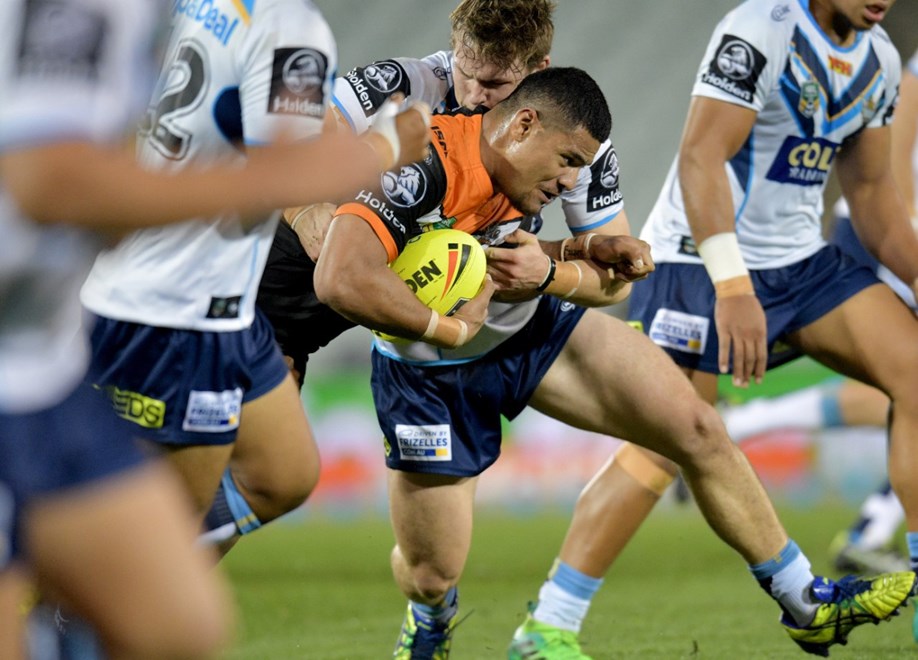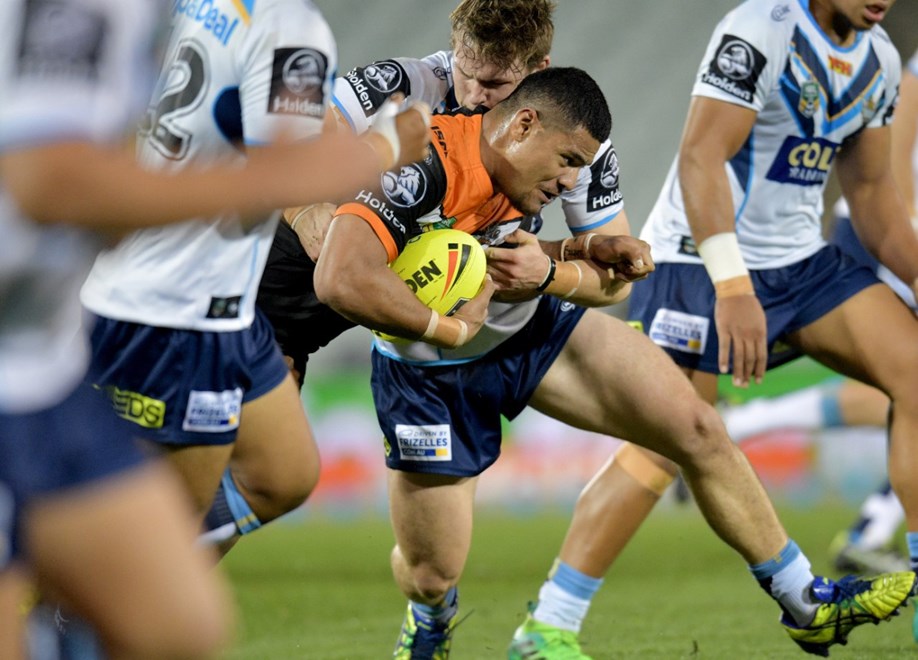 After a tight first half, Wests Tigers Holden Cup side have gone down 28-14 to the Gold Coast Titans tonight in cold conditions at Campbelltown Sports Stadium.
Leading 6-4 for the majority of the opening 40 minutes, Chris Hutchison's side showed great resilience to head in to the sheds trailing 10-6, before succumbing to an 14-point defeat.
The two sides were battling it out in a close first half with Wests Tigers continuously keeping up great defence preventing Titans from getting numerous tries. Titans attack was strong in the second half, getting past Wests Tigers defence to score multiple tries.
Liam Pakau was the first try scorer of the night, running down the left side and getting past Titans defence. A conversion from James Tautaiolefua started the game at 6-0.
Phillip Sami wrestled his way over the line to get a score for the Titans. It didn't take long for Sami to push past defence and score his second of the night, with one successful conversion from Ethan Roberts giving the Titans leading 10-6 heading into half time.
Within the first 10 minutes of second half after Wests Tigers defence stopped three potential tries,Jordan Birch put pressure on the side to get over the line.
A missed conversion from Roberts had Titans leading 14-6, before quick tries to Keenan Yorston and Jake Sparey had the visitors out to a 24-6 lead with 15 minutes remaining.
Wests Tigers started to come back with Peter Pakoti making a gutsy effort to get the ball across the line, with a missed conversion from Tautaiolefua left the score at 24-10.
However, Jordan Birch found a gap in Wests Tigers defence down the left corner and scored the last try for the Titans, a missed conversion had them leading 28-14.
Seconds before full time Wests Tigers went in to score the last try of the game, with Toni Tali crashing over the line out wide finishing the game at 28-14.
Gold Coast Titans 28 (Birch 2, Sami 2, Sparey, Yorston tries; Roberts 2/5, Hakaraia 0/1 goals) def. Wests Tigers 14 (Pakau, Pakoti, Tali tries; Tautaiolefua 1/3 goals)