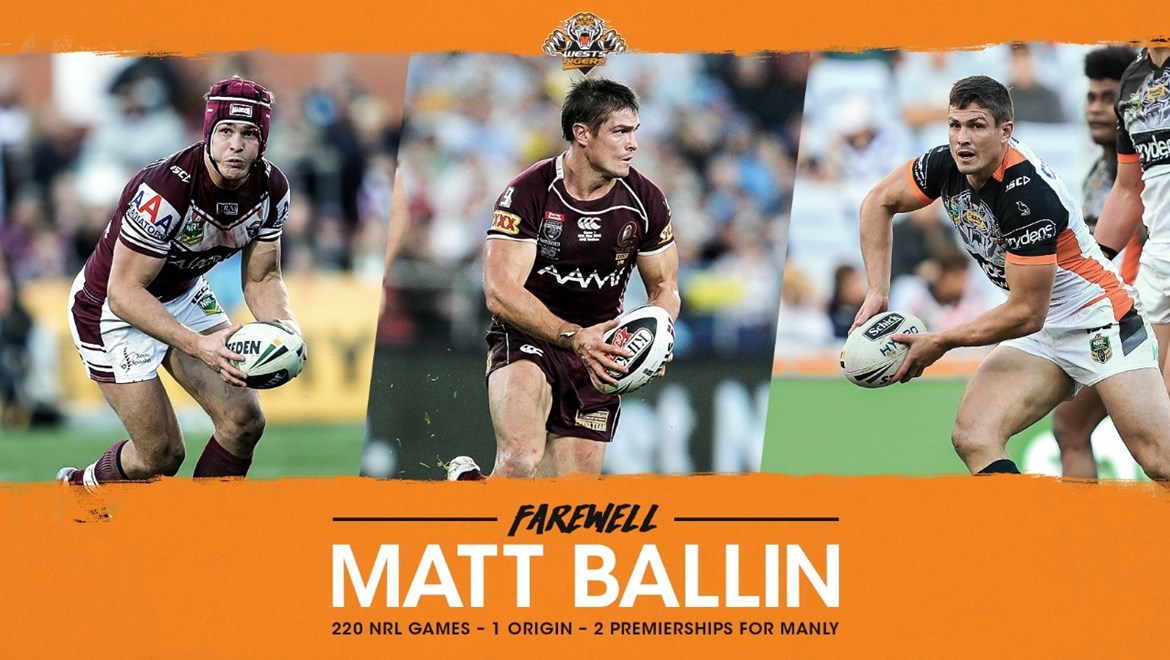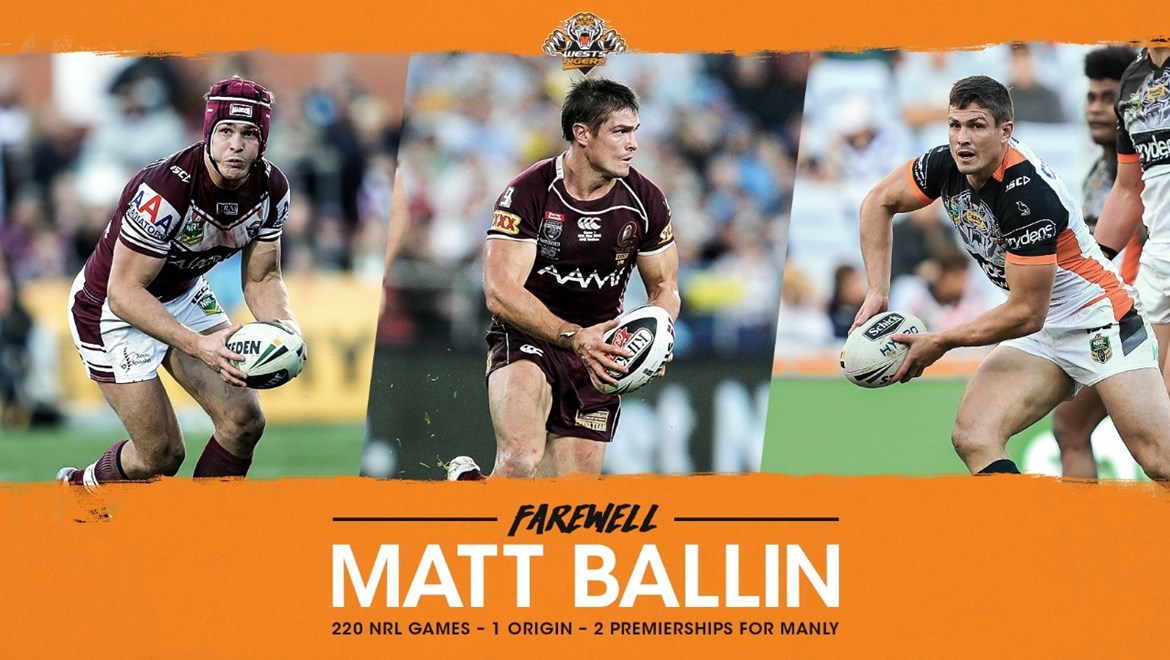 Wests Tigers player Matt Ballin has today announced his retirement from the game, effective immediately.
Ballin has played 220 NRL games since making his debut in 2007, winning Premierships with the Manly Warringah Sea Eagles in 2008 and 2011 and representing Queensland in the 2010 State of Origin series.
The 33-year-old's two seasons with Wests Tigers have unfortunately been hampered by injury, which ultimately led to his decision to retire.
Ballin will remain heavily involved with Wests Tigers for the remainder of 2017 as he continues his rehabilitation and takes part in a player transition program. Ballin will also remain a major part of the club's community programs, continuing the great work he has done since joining Wests Tigers.
Ballin said that he feels lucky to have played even one NRL game, let alone 220.
"I never thought I'd play in the NRL, I never thought I'd accomplish that," said Ballin. "To do that at the Sea Eagles was one of the first steps in a long career that I've been very lucky to have. Just playing first-grade was a massive accomplishment for me and something I'd always wanted to do since I was a young kid.
"Being successful and making the friendships I did at Manly was great, but coming to Wests Tigers for the past two years has also been incredibly rewarding," he said.
"I haven't played much footy, but I've met some great people and been able to help off the field, which I hadn't been able to do as much before.
"It's been a bit of an evolution for me, going from a young guy who just wants to play footy to winning competitions to now getting to the end of it and being able to help the next generation come through.
"My Mum and Dad, and my two brothers have been amazing," said Ballin.
"The support and love and care they gave me growing up and all the way through to the end of my career has been fantastic as well.
"The ones that are close to you, particularly my wife Shannon and my kids, I can't thank them enough. They see the ups and the downs and yet they support you all the way through, I couldn't say anything but I love them and I'm very thankful for their support," he said.
Wests Tigers CEO Justin Pascoe thanked Ballin for the role he has played while at the club.
"I'd like to thank Matt for all of his efforts during his time here at Wests Tigers," said Pascoe. "While unfortunately his time on the field has been limited he's had a major impact off it.
"He's been a part of our leadership group almost since day one, which speaks volumes about his character and standing in the game," he said.
"Matt's been heavily involved in a number of our community programs over the last two seasons. From reading programs and school visits, to extended trips to regional areas and our new initiative with Goulburn Correctional Facility, Matt has played a key part in all of them and we thank him for that.
"All of us at Wests Tigers look forward to continuing to work with Matt for the remainder of 2017 and we wish him well for his future away from the game," said Pascoe.