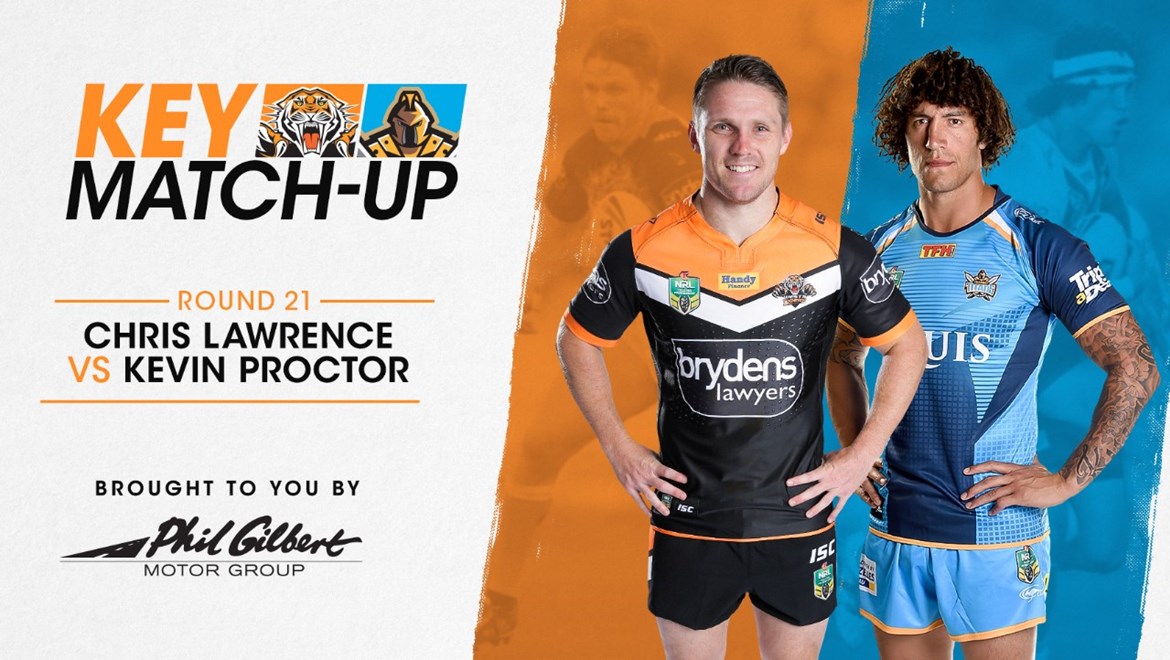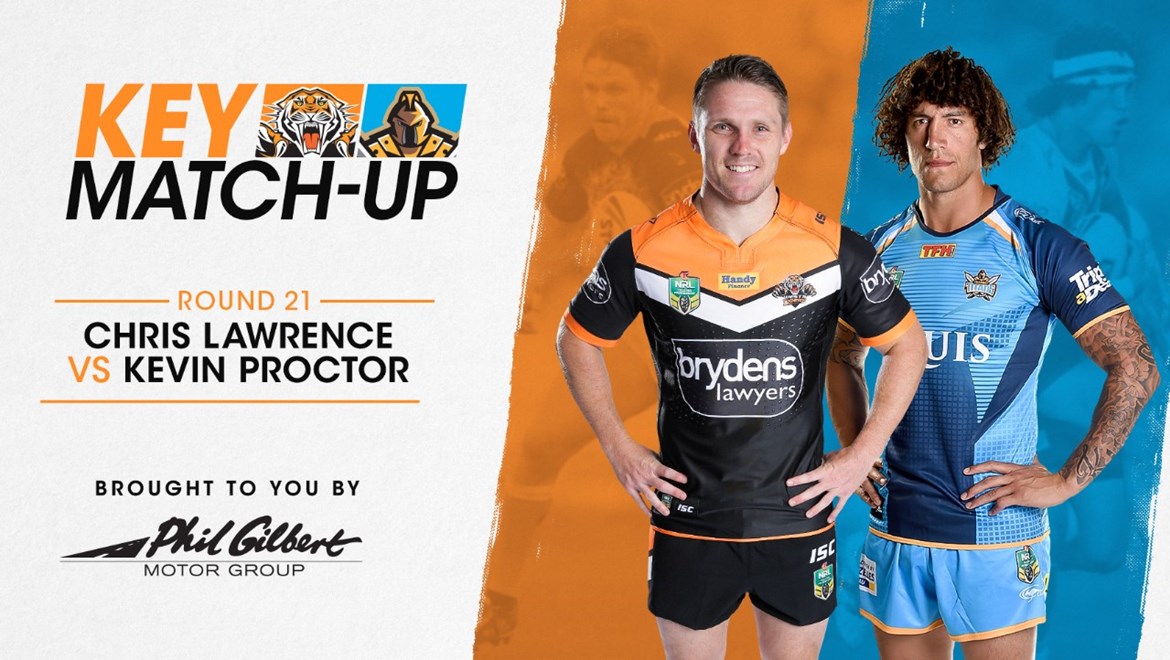 Two experienced back-rowers will face off for another time this Sunday when Wests Tigers come up against the Gold Coast Titans at Cbus Super Stadium.
Chris Lawrence and Kevin Proctor have met a number of times since the New Zealand international made his first-grade debut back in 2008 but will line up against each other for the first time this season with Lawrence sidelined when the teams met in Round 16.
The veteran back-rower — who celebrated his 200th game earlier this year — will make his second return from injury this weekend after missing last week's heartbreaking loss to the Parramatta Eels with a pectoral injury suffered against Manly in Round 19.
His return this Sunday against the Titans is a big one, with the 28-year-old crossing the line twice in his three games played in the second row against the Gold Coast.
Playing in his first full season on the Gold Coast, Proctor has endured a tough start to 2017 — named as co-captain of the squad before being stripped of the honour with a well-documented drugs incident when on Kiwis duties in the Representative Round.
Since returning from suspension in Round 15, Proctor has shown the qualities all in the NRL know he has as a back-rower — paving the way for a stunning 30-10 upset over the defending premiers two weeks ago with a try, 147 metres and 37 tackles in 80 minutes.
Lawrence and defensive partner Luke Brooks will certainly have their hands full against the Titans on Sunday afternoon, with the home side likely to target Wests Tigers' left edge once again. When they met in Round 16, the Titans scored all four of their five tries down that edge — including three in nine minutes in the second half — and while they might be without Konrad Hurrell in attack, will certainly look to threaten that side again.
Interestingly, since that game in Round 16, Wests Tigers' left edge defence has given up just two tries — both in the opening six minutes of Round 19 and Round 20.
This week's Key Match-Up is brought to you by Phil Gilbert Motor Group — click here to check out their latest offers and more!



ALL THE NUMBERS
While quite similar in terms of their overall numbers this season, both players have little areas where their strengths shine through. Proctor's tackle success rate is upwards of 93% — one of the highest in the competition — while Lawrence leads the kick pressures between the two 27-14. Interestingly, despite that strong tackle success rate, Proctor has contributed to four try-causes this year, while Lawrence has only had two.
HISTORY
Lawrence and Proctor have come up against each other on a number of occasions throughout their respective careers, with Sunday's clash at Cbus Super Stadium the eighth time since 2009 the pair have met. In their first meeting, it was Lawrence who grabbed a double as Wests Tigers beat Melbourne 16-6, while in their two most recent outings, it was Proctor's Storm that hung on for tight wins in Round 7 and 16 of 2016. Proctor has scored just one try against Wests Tigers in games Lawrence was playing — a 26-6 win back in Round 26, 2012 in which Lawrence was actually playing five-eighth.
INJURY UPDATES
As is often the case in the later rounds of the year, both Lawrence and Proctor will head in to Sunday's game with some sort of injury news. The Wests Tigers back-rower had been sidelined from Round 11 with a hamstring injury and returned in Round 19 against the Sea Eagles before picking up a pectoral injury in that match. He missed last week's match against the Eels but has been given the green light to return this week — a huge boost for Ivan Cleary's men. For Proctor, the opposite is the case; having missed the middle part of the year, he returned in Round 15 and has played 80 minutes every game since before picking up a hamstring strain in the final moments of last week's loss to the Panthers. He'll be under an injury doubt all week, along with Dale Copley, with Coach Neil Henry "hopeful" of having both players available for this Sunday's game.
Be there as Sunday afternoon footy returns to Leichhardt Oval against the Sea Eagles!