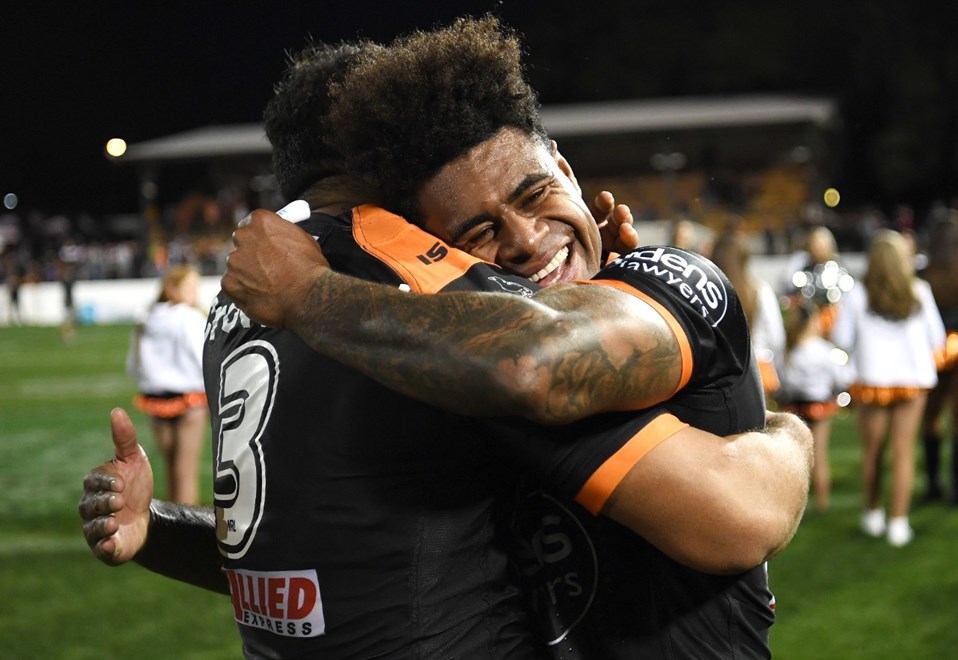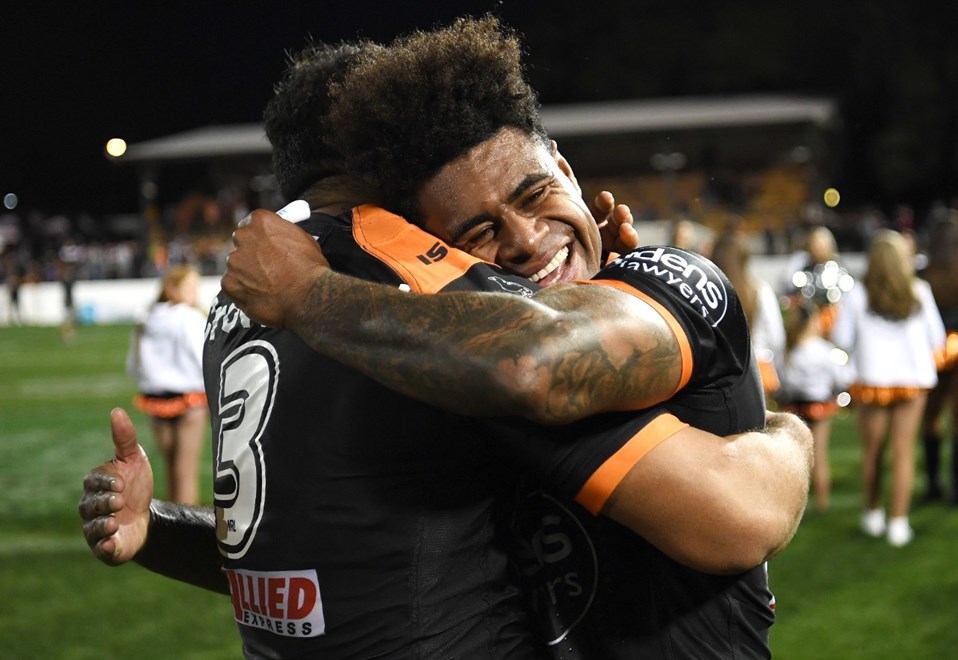 Danielle Mason was just one of 12,208 there at Leichhardt Oval on Sunday night.
But for so many reasons, she was more than just another person.
Ongoing in a tough fight against cancer, Danielle overcame the odds to be at the ground on Sunday night to cheer on her beloved Wests Tigers, and watch as her favourite player — Kevin Naiqama — threw the final pass in Wests Tigers' thrilling comeback victory.
We spotted Danielle with Kevin after the game; the Fijian international with his jersey in Danielle's hands and a huge smile on the faces of everyone in the crowd around them.
And that's when Danielle's story became something truly special to all of us.
For that, we're extremely thankful to Naiqama too.
.@KevinNaiqama giving his jersey to this lady in the crowd with cancer will absolutely melt your heart. ❤️#ThisIsWhyWePlay pic.twitter.com/T8hJUHpMYo

— Wests Tigers (@WestsTigers) August 13, 2017
"One of my friends reached out to me a little while back on Facebook with a message asking if I could visit this girl called Danielle who was in hospital," Naiqama said.
"They told me she had cancer and that I was one of her favourite players.
"Long story short, I got in touch and finally got up to meet up with her on Friday.
"I'd been trying to get to the hospital for the last few weeks but it wasn't quite working with me working on my apprenticeship on my days off from training," he said.
"I finally got to organize a day where it worked — I went over after training and gave her a signed jersey and hung out with her family. It was a really good time for everyone.
"To be honest, it hasn't been going that well with her chemotherapy, so it was really nice to be able to spend some time and hang out with her and put a smile on her face.
"That's all I could really do."
But the story wouldn't end there, as Naiqama took it upon himself to try and make a special night out not just for Danielle but also for the entire Mason family, conscious of the toll that Danielle's fight was having on all who continue to stand alongside her.
"I asked them if they wanted to come out to the game at Leichhardt Oval against Manly and they said yes, so I got them eight tickets for her and the family," Naiqama said.
"She got a day pass out of hospital which worked out great — her antibiotics happened to be really good today which was the only way she was allowed out of the hospital.
"She got that day pass and it was great that she could make the game and be a part of it.
"I told her I would come and see her after the game, and the least I could do was give her my jersey and give her a hug. She's pretty much stuck in her room 24/7 and she hasn't been home since January — her and the family have just been doing it really tough so it was nice to be able to have them here and enjoying such a special win for Wests Tigers."
Keep fighting, Danielle. We're all with you.
This kind hearted gentleman has picked my fighting spirits up by millions! Cannot take the smile off my face! I am truely blessed! pic.twitter.com/9XsYBgcbmD

— Danielle Mason (@DaniellexxMason) August 13, 2017
Be there for our final Campbelltown game of season 2017 as we take on the North Queensland Cowboys on August 25!