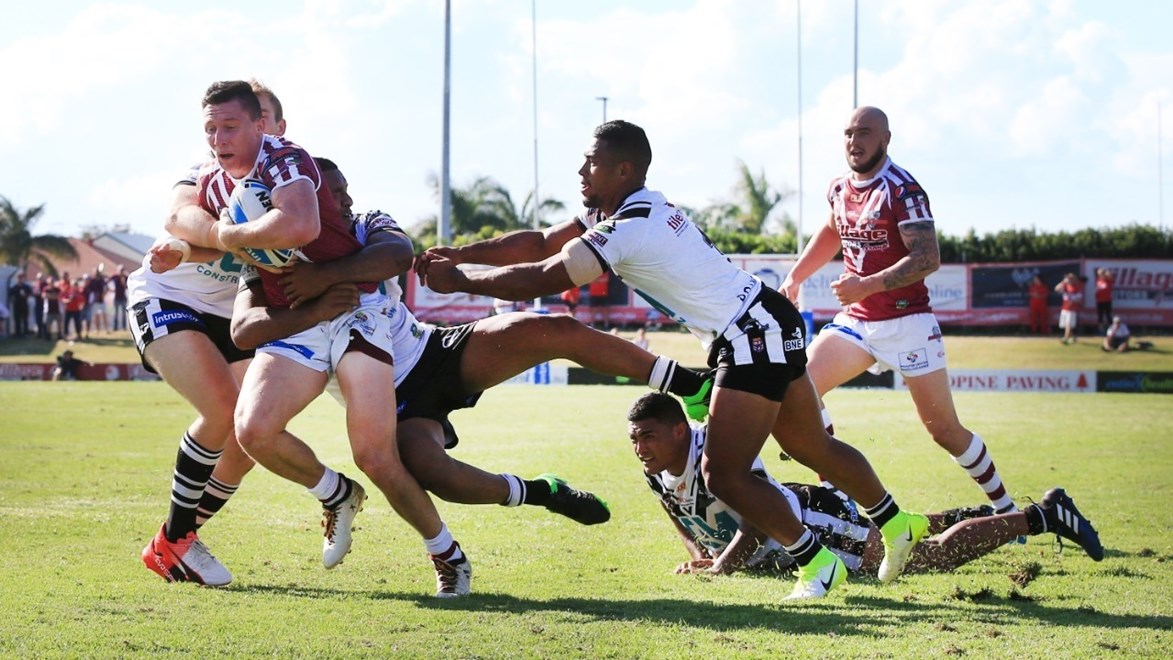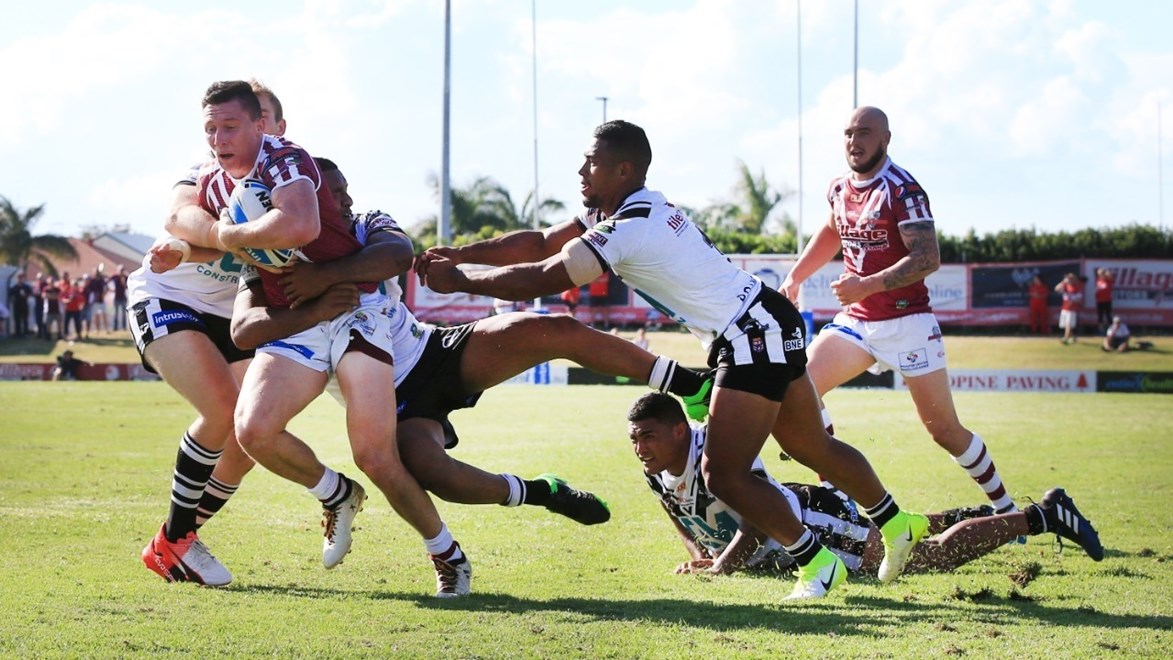 With a name like Tyson Gamble, you'd expect he would go all in with a pair of kings – but holding out for a better hand will see the 21-year-old head to Sydney next season truly believing that he is ready to make it in the NRL.
After missing last week's 6-4 loss to the Hunters in Port Moresby due to suspension, Gamble returns at five-eighth for Redcliffe in Sunday's preliminary final against the Sunshine Coast Falcons with the winner to progress to the Intrust Super Cup grand final next Sunday at Suncorp Stadium.
It will be the first Intrust Super Cup final for Gamble who will join the Wests Tigers in October on a two-year deal; three years after knocking back an offer to play Under 20s for Cronulla; hitting pause on a childhood dream he hoped he would one day again get to hit play on.
Speaking from inside a ceiling doing the type of work all third-year electrical apprentices are required to do, Gamble admitted his first instinct was to accept the invitation to join the Sharks – but now realises how much better prepared he is to take the next step in his career after a full season in the top grade with Redcliffe.
"The move to Sydney was pretty daunting, moving away from my family so young; and in the end I'm glad I did make that decision, because it's all worked out really well for me," Gamble said.
"It had a lot to do with work and starting my electrical apprenticeship, but I also thought the 20s comp probably wasn't as good as staying up here and trying to play Intrust Super Cup which I had a chance to do.
"My first instinct definitely was to accept it and go to Sydney, but I spoke with my parents and 'Crush' [Redcliffe football operations manager Grant Cleal] and 'Moggy' [Redcliffe coach Adam Mogg] and made me realise that I was probably better off staying.
"I had a lot of mates that were playing 20s at the time, so I just thought it was better for me personally to stay at Redcliffe.
"I was 18 when they first asked me to move down and I'm 21 now. I'm a third-year apprentice, so I've lived my life a little bit and (I am) ready for the next step in my footy career.
"I'm really looking forward to it. It's not something that every footy player can say they've done, so I've got to take the opportunity with two hands and just run with it."
"I'm really looking forward to it. I'm just going to take the opportunity with two hands and just run with it..." — Tyson Gamble
Praising the work ethic Gamble has displayed throughout his time at the club to get him into this position, Cleal said he was delighted he could make the full progression through the Dolphins grades before moving to Sydney.
"The NYC contract from Cronulla was a bit of a stumbling block for us because we could see the kid was going to be a handy Intrust Super Cup player and we explained the plan for him and the benefits of our competition over what was going with the NYC," Cleal said.
"When that came along, his mum and dad were excited and so was Tyson, but we had a plan for him that we probably hadn't communicated to him.
"We had been fast-tracking him through the junior rep teams and as an 18-year-old, he was playing Under 20s for us and the following year he moved into the BRL.
"He handled each step along the way and that was what we'd hoped with our plan for him.
"If you could draw a diagram of Tyson's transition from junior player into an NRL-contracted player, that would be the test pattern for clubs and their development.
"And I know he'll handle the jump because all the years he played up a grade coming through he always handled the jumps well and made it look easy."
This article first appeared on QRL.com