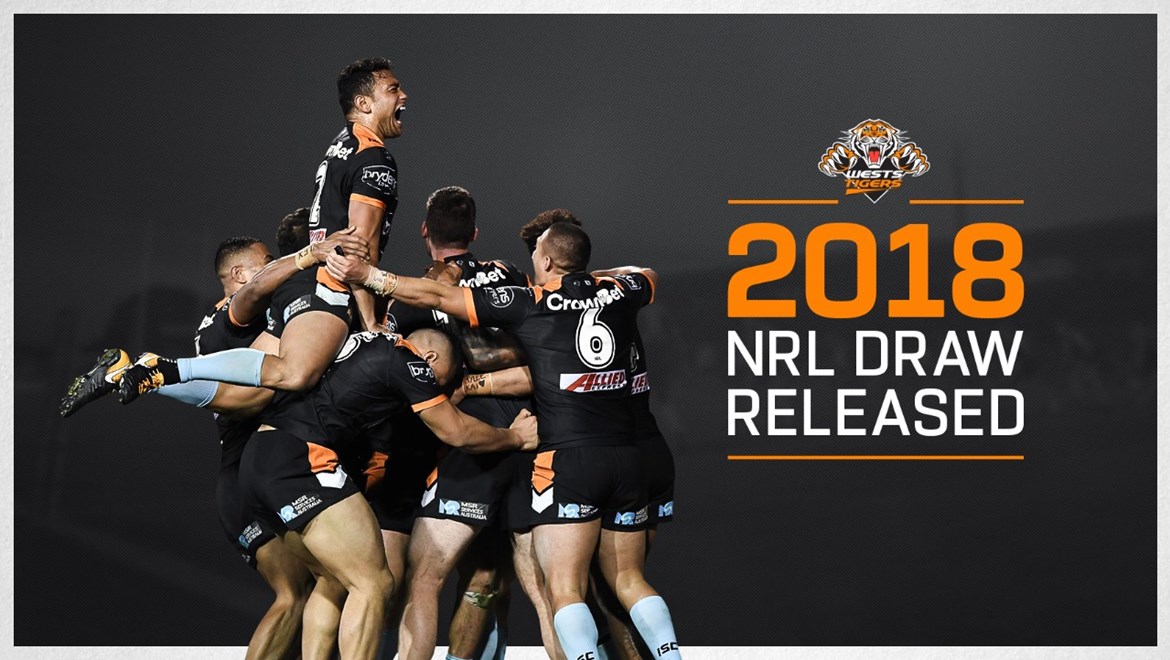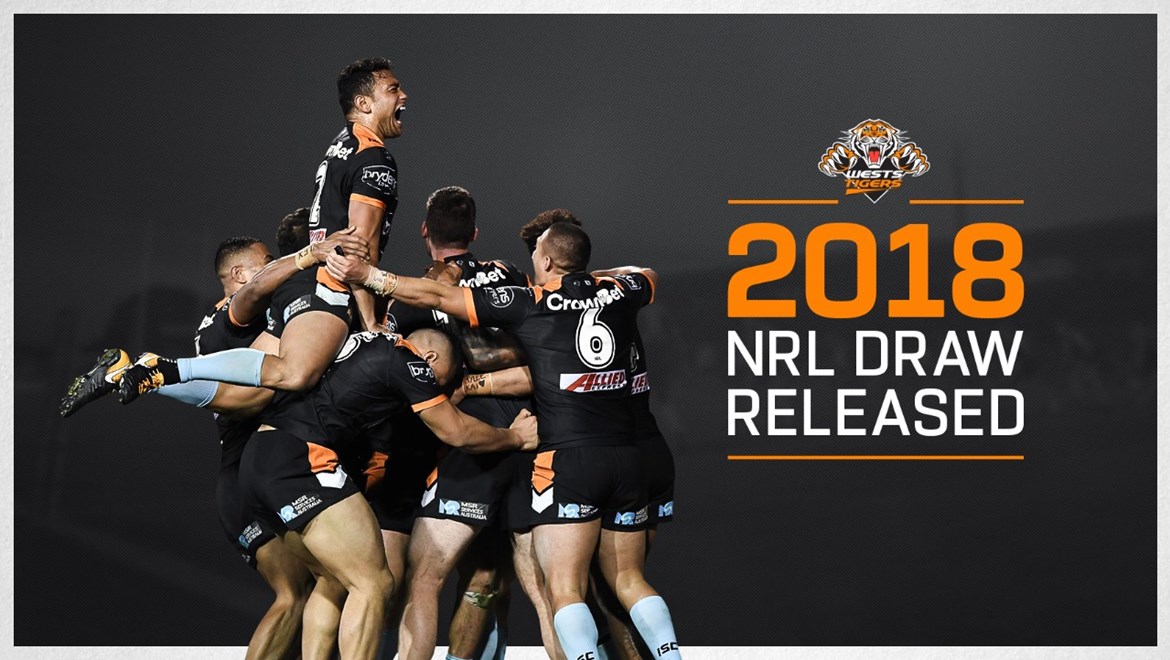 Wests Tigers' 2018 NRL Draw has today been revealed with a number of high-profile contests headlining a blockbuster start to the season for Ivan Cleary's side.
Wests Tigers' Members and fans will get their first look at a very different side for 2018 with a huge season opener against the Sydney Roosters at ANZ Stadium on Saturday 10 March.
Following a trip to Melbourne in Round 2, Wests Tigers will head home to Campbelltown Sports Stadium for the first time in 2018 for a blockbuster Friday night clash with the Brisbane Broncos. The club looks forward to another record crowd for the clash following the Broncos' last visit to Campbelltown in 2014.
The highly anticipated Easter Monday clash against Parramatta remains in this year's schedule, with Wests Tigers to host the traditional contest on April 2 at ANZ Stadium. This game has become one of the highlights of the NRL season and rounds out a first month of the year where Wests Tigers will face off against the top four sides from the 2017 season.
Following that will be another clash against the premiers, this time as part of special double-header at Mount Smart Stadium, marking the first time this millennium a team has played the defending premiers twice in the opening five rounds of the year.
Wests Tigers' regional trip to Tamworth will take place in Round 7, where they will face the closest geographical team to the New England area — the Newcastle Knights. Wests Tigers look forward to Members and fans jumping #OnTheBus for this game.
In Rounds 12 and 19 Wests Tigers will host big games against the Canterbury-Bankstown Bulldogs and South Sydney Rabbitohs at ANZ Stadium, and if clashes against these two traditional rivals in recent seasons are anything to go by you won't want to miss these games.
Both Campbelltown Sports Stadium and Leichhardt Oval will see Sunday afternoon contests in Round 15 and 16, while fans and Members can also kick start their weekend early in Round 10 and 24 with Thursday night games at the suburban venues.
In Round 23 the St George Illawarra Dragons will head to Leichhardt Oval for the first time since 2001.
Wests Tigers have a great range of Membership packages for what is sure to be an exciting 2018 season, with options ranging from full season to individual stadiums.
With a host of exclusive benefits and discounts, there's no better way to show your support so make sure you join Wests Tigers #OnTheBus by becoming a Member today!
Click here to download your 2018 Wests Tigers Draw!
WESTS TIGERS 2018 NRL DRAW

| | | | | |
| --- | --- | --- | --- | --- |
| Rd. | Date | Time | Opponent | Venue |
| 1 | Sat., March 10 | 4:30pm | Roosters (H) | ANZ Stadium |
| 2 | Sat., March 17 | 7:30pm | Storm (A) | AAMI Park |
| 3 | Fri., March 23 | 7:50pm | Broncos (H) | Campbelltown Stadium |
| 4 | Mon., April 2 | 4:00pm | Eels (H) | ANZ Stadium |
| 5 | Sat., April 7 | 3:00pm | Storm (H) | Mount Smart Stadium |
| 6 | Sun., April 15 | 4:10pm | Sea Eagles (A) | Lottoland |
| 7 | Sat., April 21 | 5:30pm | Knights (H) | Scully Park (Tamworth) |
| 8 | Sun., April 29 | 4:10pm | Eels (A) | ANZ Stadium |
| 9 | Sat., May 5 | 5:30pm | NZ Warriors (A) | Mount Smart Stadium |
| 10 | Thu., May 10 | 7:50pm | Cowboys (H) | Leichhardt Oval |
| 11 | Thu., May 17 | 7:50pm | Panthers (A) | Panthers Stadium |
| 12 | Sun., May 27 | 4:10pm | Bulldogs (H) | ANZ Stadium |
| 13 | Sun., June 3 | 4:10pm | Roosters (A) | Allianz Stadium |
| 14 | Sun., June 10 | 2:00pm | Sharks (A) | Sth Cross Group Stadium |
| 15 | Sun., June 17 | 4:10pm | Raiders (H) | Campbelltown Stadium |
| 16 | Sun., July 1 | 2:00pm | Titans (H) | Leichhardt Oval |
| 17 | - | - | - | - |
| 18 | Sun., July 15 | 4:10pm | Dragons (A) | UOW Jubilee Oval |
| 19 | Sat., July 21 | 5:30pm | Rabbitohs (H) | ANZ Stadium |
| 20 | Fri., July 27 | 7:50pm | Bulldogs (A) | ANZ Stadium |
| 21 | Fri., August 3 | 6:00pm | Knights (A) | McDonald Jones Stadium |
| 22 | Sun., August 12 | 2:00pm | Raiders (A) | GIO Stadium |
| 23 | Sat., August 18 | 5:30pm | Dragons (H) | Leichhardt Oval |
| 24 | Thu., August 23 | 7:50pm | Sea Eagles (H) | Campbelltown Stadium |
| 25 | Thu., August 30 | 7:50pm | Rabbitohs (A) | ANZ Stadium |