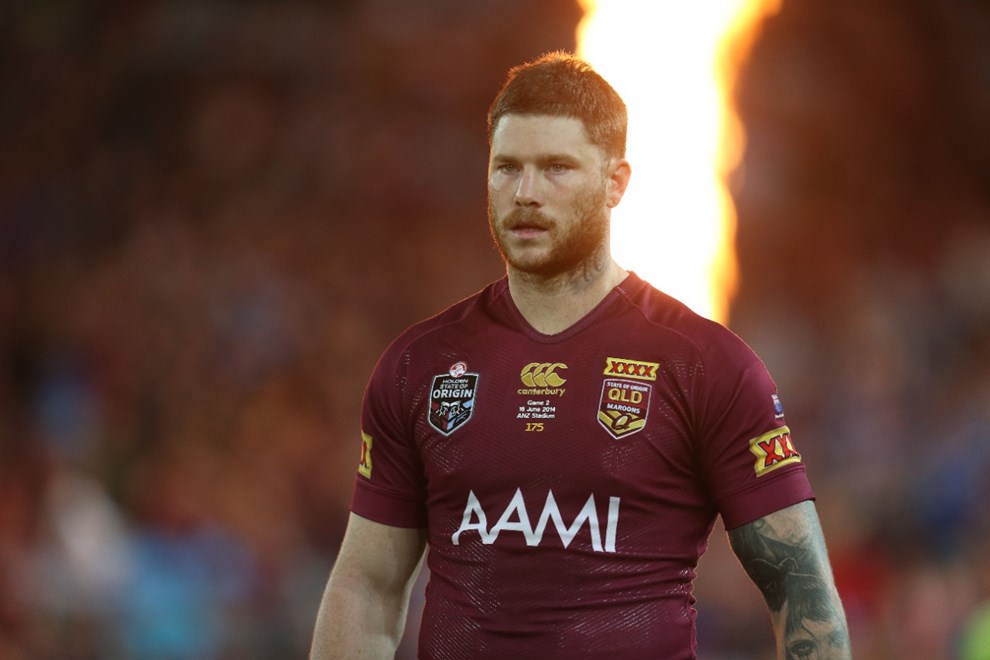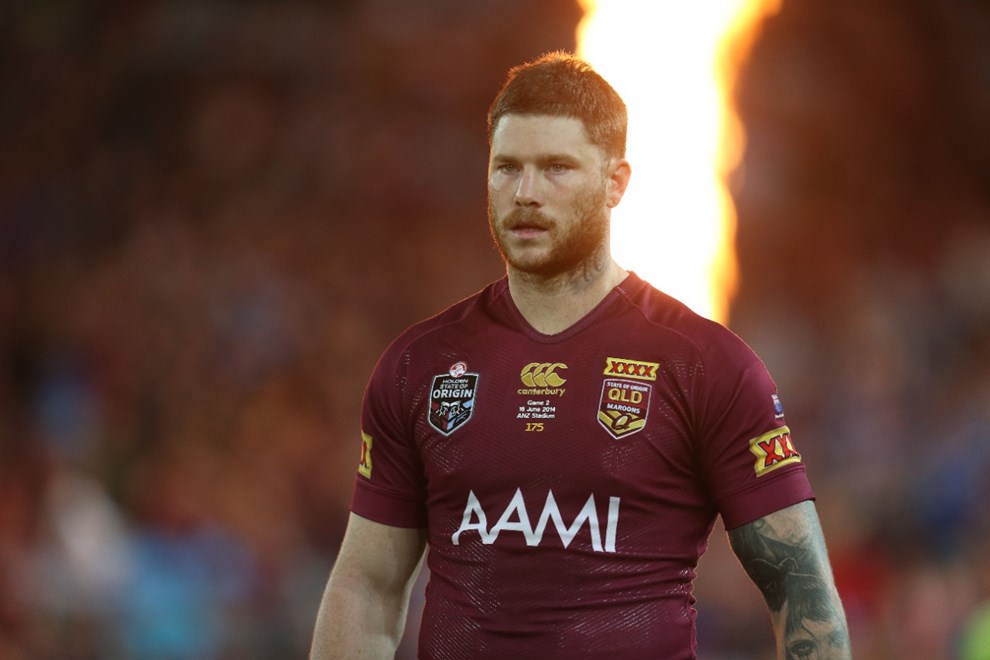 Wests Tigers recruit Chris McQueen has opened up for the first time on the delicate neck surgery that has not only prevented permanent nerve damage but he believes will enable him to overcome a crisis of confidence and get back to his best.
The former Rabbitoh and Titan was back on the Gold Coast on Tuesday to see the specialist and was given the all clear to begin training with his new Wests Tigers teammates when they begin pre-season training next Thursday.
McQueen was told that he can build into wrestling and light contact over the next month before a six-month check-up in early January where he hopes his neck will have recovered to the point where he can resume full contact and prepare for his maiden year with the Tigers.
In a raw and honest interview, McQueen spoke of the fear he was beginning to take into every tackle and the erosion of confidence in a player who represented Queensland in six State of Origin matches and earlier this year made his debut for England against Samoa.
Indeed, it was McQueen's desperation to line up for England at the World Cup that saw him continually delay having surgery until a knock he suffered whilst playing for the Titans against South Sydney in Round 15 left him with little choice.
For a month he wrestled with the decision of undergoing surgery that he knew would end his season until he came to fully appreciate the implications of what could happen if he continued to play without receiving the proper treatment.
"The main risk was getting permanent nerve damage in my neck and my arm," McQueen told NRL.com.
"Just before the surgery I was getting to the point where my left thumb was pretty much numb and then I'd get sporadic numbness from halfway down my arm right down to my thumb. That would come and go.
"It got to the point where if I didn't have the surgery soon that numbness will get worse and could be permanent.
"I've got a long life after footy so as soon as they started talking about permanent nerve damage and losing feeling in my hands and fingers permanently, that's a little bit scary.
"I've seen a lot of players have neck surgeries and come back and play their best footy again so that didn't really scare me.
"I never really thought that I'd never get to play footy again. If anything it was the opposite.
"I thought if I didn't have the surgery that it might get to the point where I won't get to play again."
Even before it was announced in mid-April that McQueen would be joining the Tigers on a three-year deal from 2018 the 2014 premiership winner was talking with the Titans team doctor and specialists about the need for surgery.

An easy decision
Due to turn 31 the day after the Tigers' Round 1 clash with the Sydney Roosters next March, McQueen estimates he has had four cortisone injections in the left side of his neck over the past five years.
It was when the right side also started causing pain after the Rabbitohs game in June that he knew the bulging discs he had been coping with for so long were only getting worse and that the mental demons of playing with neck pain weren't going to go away.
"There was the physical pain every time I got jammed up; it felt like I was getting struck by lightning," said McQueen.
"It got pretty bad by the end and it ruined my confidence. I couldn't go into a tackle and get my head in nice and tight.
"My head was always hanging out in the tackle and for that reason I started being a bit loose in defence and missing tackles.
"I had a week off after the Rabbitohs game and then I was planning to play that following week and I went to test it at training and Ryan James hit me with a pad in the head – I told him to so I could test it – and it just dropped me.
"Even when I was carrying the ball, it got to the point where I was just terrified of someone even touching my head. It would just buckle me.
"I had aspirations of playing in the World Cup this year but once I hurt that other side and both sides were starting to get affected… I couldn't make a tackle or even run the ball through pads without hurting it.
"That's when I made that decision."

Eye of the Tiger
McQueen and partner Nicole have now settled back in Sydney and the free-running back-rower is excited to be part of a Tigers recruitment drive that also yielded Josh Reynolds, Russell Packer, Ben Matulino, Benji Marshall and Taane Milne.
Although full contact will have to wait until after Christmas, a rejuvenated McQueen is ready to rip into pre-season training with his sights set on a start for his new club in what will be a blockbuster opening game of the season.
"They finished off the year pretty strongly and they've recruited quite well so it is exciting times," McQueen said of his new club.
"I should be all right to be doing proper weights and all the running stuff but it's three to four months post-surgery before I can start doing contact. Once I start I can progress as fast as I'm comfortable and as fast as I'm capable.
"I'm quite hopeful that after Christmas I'll be fully fit and it will be as if I've never had a problem."
This article first appeared on NRL.com
Grab your Wests Tigers Membership today and join us #OnTheBus in season 2018!