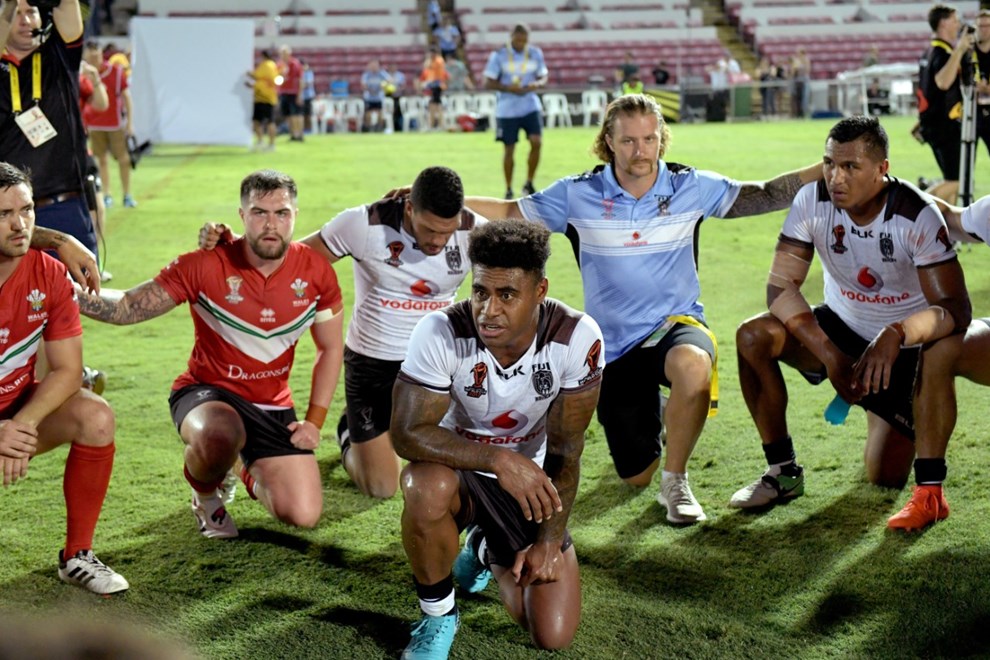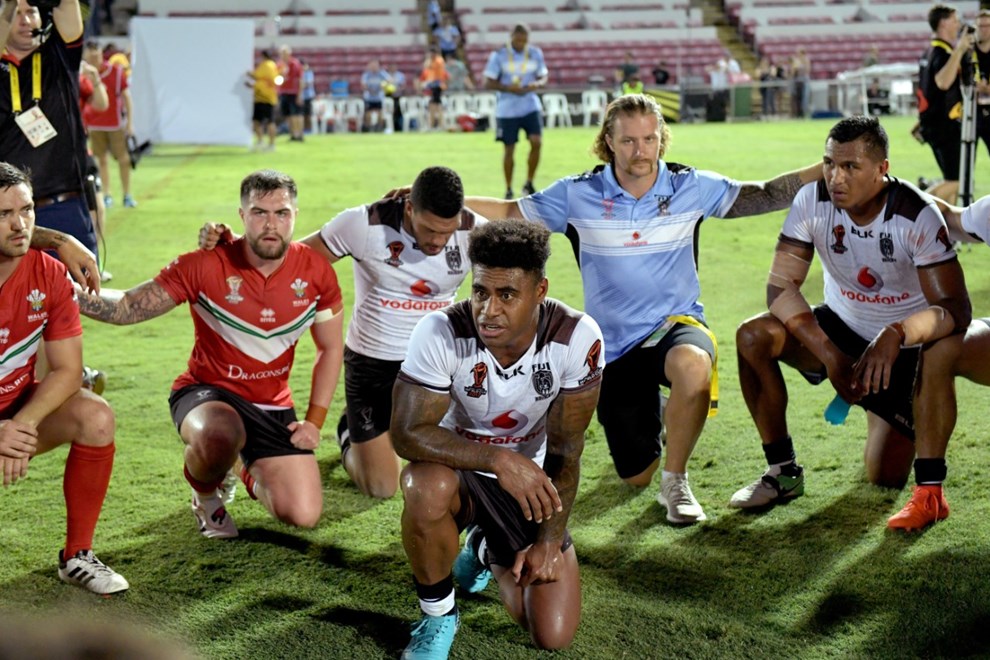 Fiji has taken Wales to the cleaners with a 72-6 point victory, laying on 14 tries to make it two wins from two starts for the Bati in this World Cup.
The opening exchanges quickly turned into an arm-wrestle for position, which Fiji took advantage of when a perfect kick from halfback Henry Raiwalui earned his side a repeat set. Front-rower Eloni Vunakece took advantage of the attacking field position to use his massive frame to crash through the Wales defence and score the first try of the night.
After a strong restart set from Fiji saw them in attacking position, they let the pressure off when Jarryd Hayne's grubber rolled dead. Wales made good use of the seven tackle set, rolling down the field. It was a perfect offload from captain and prop Craig Kopczak to his fellow forward Philip Joseph who dived over to score next to the posts, helping to level the scores.
They failed to complete their restart set, knocking on close to their own try-line, and Fiji didn't make the same mistake as they probed for points. They came through a long shift to winger Suliasi Vunivalu, who barged through Welsh fullback Elliot Kear to score on the edge.
Fiji didn't make any mistakes in their restart set, and a bust by Salesi Faingaa on the right side opened the play up, before he turned the ball inside to Hayne, who handed it on to Raiwului who dived under the posts.
Fiji took their next try as simply as they come, with Viliame Kikau running a hard straight line two out from the ruck. He was barely touched as he charged through to score and extend Fiji's lead. At 22-6 Fiji started to turn the screws, with a high bomb followed by five tackles of pure punishment that gave possession back to Fiji at halfway, only to be followed by a penalty giving them a perfect attacking opportunity.
They took the points on offer, with hooker Apisai Koroisau wrapping form dummy-half, and then putting in a short grubber which bounced off a Wales player and into the hands of Faingaa to make it a double.
Every try was different from Fiji, and the next one came from a close-range face-ball to Taane Milne courtesy of Hayne, that saw the centre go over without a Wales player coming anywhere near touching him.
It was turning into a thrashing as Akuila Uate put both his speed and footwork to use to beat a handful of Wales players, before pushing a one-handed pass around the back of the last defender, finding his winger Marcelo Montoya who dived over.
Kikau scored his double on the stroke of half-time, capitalising on some catch and pass football off the back of an off-load. The successful conversion brought the half-time scores to 40-6 in favour of Fiji.
The procession picked up where it had left off soon after half-time, as Vunivalu broke the line, before finding Hayne on the inside who scored under the posts.
Wales managed to hold back the onslaught for the next 10 minutes, but a short-side play that sent the ball through four sets of Fiji hands to find Vunivalu broke the mini-drought in spectacular fashion, as the winger dived over to plant the ball down just inside the line.
The next man to make it a double was Milne, who took a short pass at the line to push Fiji's score within conversion range of 60 points. While Milne didn't convert his own kick, Fiji broke 60 a few minutes later as Vunivalu took his third try of the night, once again leaving the Wales Defence scratching their heads after a backline movement.
Joe Lovodua added his name to the try-scorers list after taking the ball from a line break and going 60 metres to score. They broke 70 through Ben Nakabuwai, who practically walked through the beaten Wales defence to score.
Fiji 72 (Vunivalu 3, Kikau 2, Milne 2, Vunakece, Raiwalui, Faingaa, Montoya, Hayne, Lovodua, Nakabuwai tries; Koroisau 4/6, Milne 3/4, 1/2 goals) def. Wales 6 (Knowles try; Davies 1/1 goals)
Grab your Wests Tigers Membership today and join us #OnTheBus in season 2018!