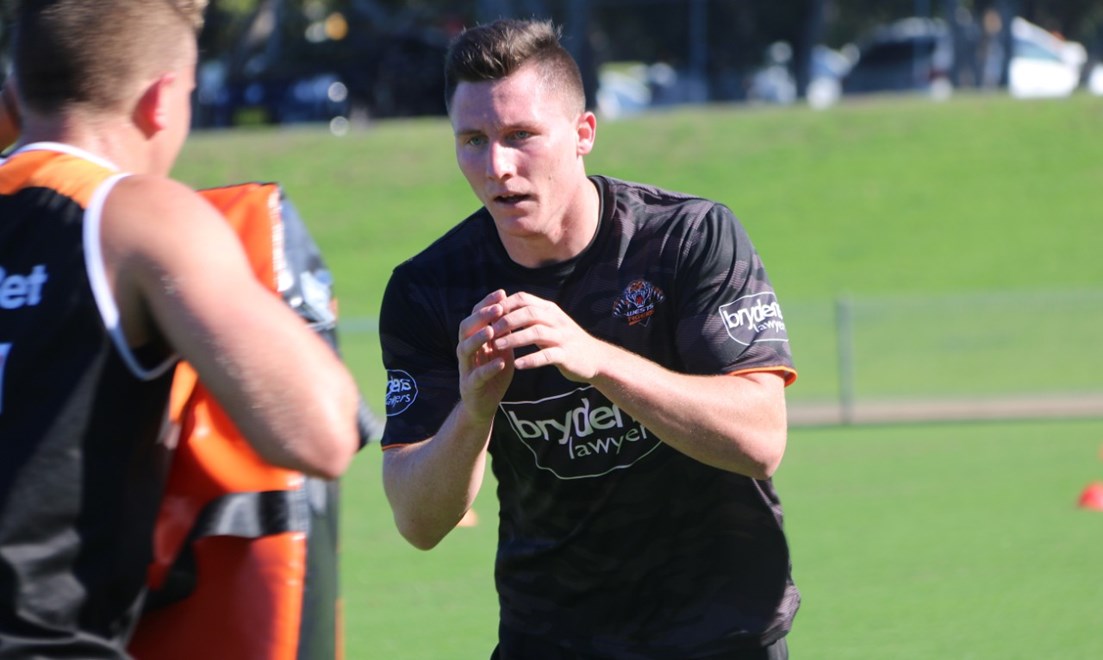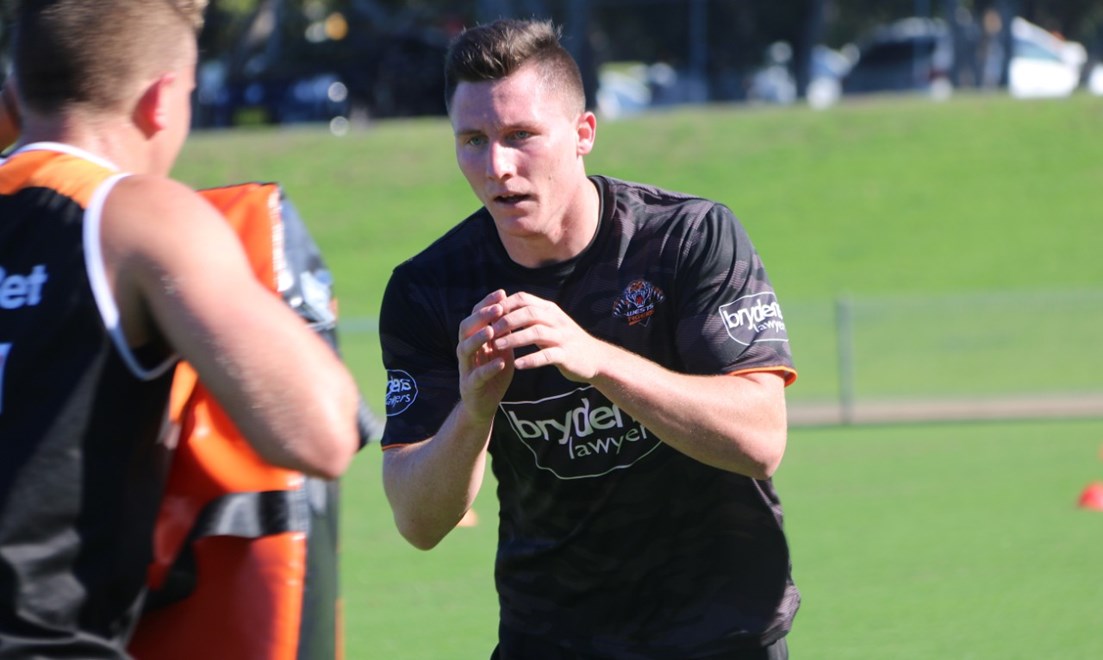 WHAT'S the best thing about being in your first NRL squad?
Tyson Gamble pauses for a minute, and then opens up with a cheeky smile.
"Definitely having my own locker," he says.
"I've never had my own looker before. It's a pretty cool feeling — I'm right there next to Corey Thompson and across from guys like Benji and Josh Reynolds.
"It's still a bit surreal, to be honest."
Of all the changes in Tyson Gamble's life over the past year as he settles in to full-time training, it's the locker that stands out to the talented 21-year-old.
Rewind just 12 months and Gamble was (pardon the pun) coming off one of the biggest risks in his life — knocking back the option to train with the Cronulla Sharks U/20's program, and instead taking his chances to break through in the Queensland domestic competition.
Having never played reserve-grade, let alone be part of an NRL club, it was a genuine gamble for the playmaker, but one he would soon be justified in making.
"The option was there when I was 19 to come down to Sydney," Gamble said.
"But the biggest thing was that it was only a one-year contract. I didn't think moving to Sydney for a year to potentially not go any further wasn't a smart idea.
"So I stayed up in Queensland and had a few interviews with Redcliffe; they played me in the Brisbane Rugby League and I had a good year, and then I ended up finally getting a shot last year in the Intrust Super Cup competition."
From there, Gamble's career took off — starting with the man who would partner him in the halves for his debut for Redcliffie, one Benji Marshall.
"I debuted the same day Benji did," he reflected.
"Benji had been dropped back as the Broncos had Boyd and Milford and Hunt, and he was back at Redcliffe and I found out I was going to be playing with him.
"It's kind of hard to explain; it was just a dream come true at the time.
"I didn't know what else would happen in my career, and I still don't, but to say I played with someone of his calibre was something I never thought would happen. I mean, he's played that many Tests for New Zealand and won a premiership and done everything.
"I was nervous enough making my debut that first day, but I think having Benji around made me nervous about that and not about the game itself, to be honest," he laughed.
" Just the way he spoke to me; he said just to keep it easy, keep it simple, run the ball, get yourself into the game in the first few sets we have and just go from there."
And just go from there Gamble did.

It's been an impressive season from Tyson Gamble as he lays the platform for what's to come in 2018!

📝 READ ≫ https://t.co/eK8Jc0Zz5v pic.twitter.com/ljPuoMZuDP

— Wests Tigers (@WestsTigers) September 14, 2017

Starring in the Dolphins' midseason resurgence, the powerful playmaker was just five games in to his Intrust Super Cup career when teams began circling for his signature — such was the prowess and physical dominance shown in both attack and defence.
"Looking back, it just all happened really quickly," Gamble said.
"My manager had said that as soon as I started playing Cup things would start to roll in, and literally a few days after I'd settled in, I got a call from the Wests Tigers.
"We chatted back and forth for a few weeks, and then they offered me something and I didn't look back. Moving down here was a bit tough because I've never been away from the family home before — it sucks doing my own washing and cooking but that's all.
"Wests Tigers have really helped me settle a lot which has been awesome."
One week in to his first full-time stint of pre-season training with the legendary Ronnie Palmer calling the shots, Gamble said getting up and going to work — at football — had taken some getting used to; both in terms of his mental and physical preparation.
"Oh, it was like two days in and I was already struggling," he laughed.
"I've done pre-season at Redcliffe and things but it's been nothing like this.
"It's been tough, but that's good because I know that I'm growing and learning."
"It's been tough, but that's good because I know that I'm growing and learning..."
Gamble will have plenty of chances to keep doing that throughout pre-season, with his old halves partner in Marshall as well as Josh Reynolds coming to Concord over the next few weeks as a slew of new faces arrive at the club. Capable of playing at halfback of five-eighth, the 21-year-old is well aware of the resources around him in 2018, and said his sole goal for the year ahead is just to take as much as he can in from the squad.
"It's pretty crazy actually, that both Benji and Josh are here next year," Gamble said.
"My parents are huge Bulldogs supporters, and they absolutely love Josh Reynolds.
"I think it was like a week or two after he'd agreed that I signed with Wests Tigers and they were just over the moon. I really love watching him play and his passion.
"But Brooksy too; people forget how young he still is and how much experience he already has for his age. I know I've got a lot of guys to learn from here, and if I'm ever in need of helping hand or just to ask about the game of footy, they'll help me out.
"They've got a heck of a lot more experience than me," he added.
"I'm well aware that I'm just a rookie and I haven't done any of this before.
"I just want to play good footy and make sure Ivan knows I'm there.
"He's [Ivan] such an approach guy and has been really good to me ever since we met last year; I dare say he's going to be a pretty damn good coach here with this squad."
Grab your Wests Tigers Membership today and join us #OnTheBus in season 2018!