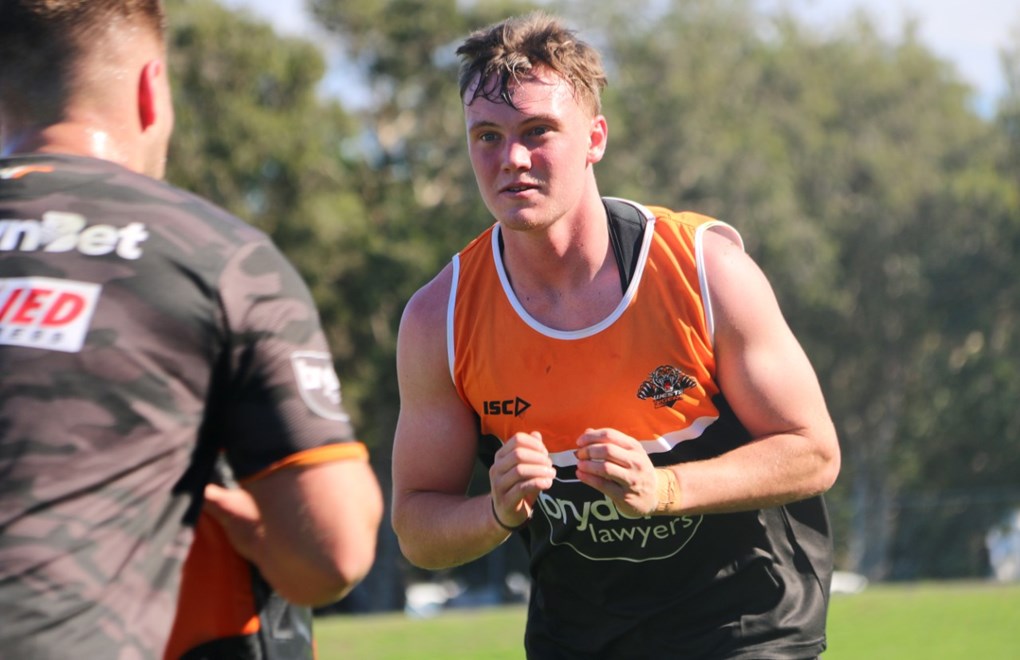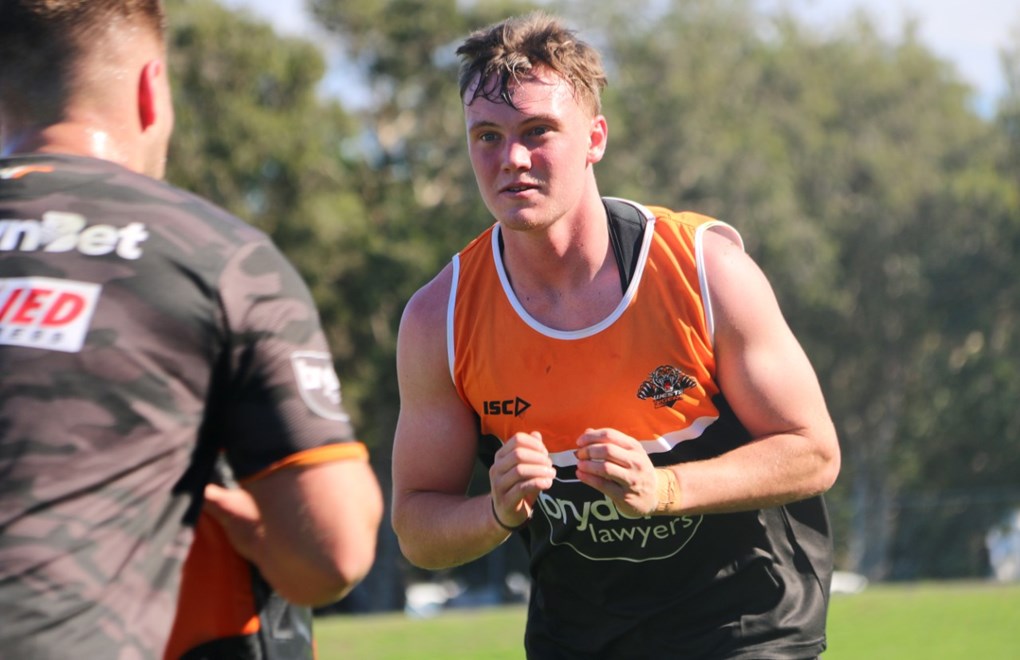 When Wests Tigers players met for an induction day last fortnight, Dylan Smith — a development player for 2018 — was a notable exception.
To be fair, Smith had a pre-existing commitment: his HSC.
Young even for development players' standards, Smith was signed to the 2018 squad despite not playing a single Holden Cup game and not long after his 18th birthday — such was the talent and potential that a number of clubs saw in the Sharks junior.
And so, when his phone buzzed with the details for an induction day, the baby-faced fullback admitted he wasn't quite sure how to break the news to Ivan Cleary.
"The induction day was the day as my last exam and I couldn't even go," Smith recalled.
"I got the message saying to come in and everyone will be there, but I had my last Chemistry exam and I couldn't go. I didn't even know if that was an okay excuse not to go because it's not like anyone else had their HSC. I just had to go and do the exam."
The jump to full-time training isn't easy for young players to make at the best of times, and Smith has perhaps had a tougher transition than most.
While the other players in Wests Tigers 2018 development squad have come from a full year of Holden Cup games and training, Smith hasn't trained in a squad since the SG Ball season finished midway through the year. Instead, Smith was training by himself, at Endeavour Sports High School, as he waited for his chance to come at the Sharks.
"I'd come through the Sharks system and played SG Ball from 2016 onwards, and at the end of 2017, I didn't know if I was going to go up to the Holden Cup side," he said.
"But they had such a strong side and so many good outside backs, I couldn't get in.
"I just trained at school and did my own extras — trying to stay as fit as I could.
"And just before I went away with the Australian Schoolboys side, my manager told me that Wests Tigers wanted me for the next few years. I knew he was talking to a couple of clubs, but when I talked to Ivan I was pretty excited and really keen to come here.
"Ivan was really nice and genuine; he reminded me of the coaches you have when you're younger, just the type of coach who wants you to be as good as you can be at footy.
"I felt there was a great opportunity for me here and I haven't look back."
"I felt there was a great opportunity for me here and I haven't look back." — Dylan Smith
Having missed the induction day, Smith eventually met his new teammates when pre-season training began in early November — starting off with a few days of testing.
Given he hadn't trained with a squad in some time, Smith knew he had work to do.
"It was a pretty big shock," he said with a smile on his face.
"The first couple of days was just testing and I remember thinking to myself that it wasn't all that bad and that the full-time thing was pretty easy. But then we kicked in to proper training the next day and it was ridiculously tough on my body.
"I went to bed as soon as I got home," he laughed.
"I knew it was going to be a step-up with the training. I didn't really know what I was going to get myself in to — I just knew it was going to be the hardest thing I've done.
"But I'm just plugging away and getting more used to it every day."
At 18 years of age, Smith is by far and away the youngest player in next year's squad.
He wasn't even in kindergarten when Benji Marshall ran out at Campbelltown Sports Stadium for the first time, but now he'll have the chance to train alongside him.
"I haven't really got my head around that," Smith said.
"It's crazy, really, thinking I'll be training with the likes of Benji. I've watched his highlights video like 1000 times. Josh Reynolds too, I love watching him play.
"I'm just keen to see how the older boys get through everything we do and the challenges that come from training — and how they stay professional in it all.
"But everyone seems really nice, and it's been great coming together each day.
"I think having been away from that for a few months it's great to be back around the team and getting to know them — I didn't really know anyone before I started.
"But they're all great guys and there's a really good feel around the group."
By his own admission, Smith isn't too confident about the result of Chemistry exam.
He won't find out the results until mid-December — six weeks in to pre-season — and even then, the talented teenager isn't going to be giving the result to too many people.
"I finished the exam; that's good enough," he laughed. "Chemistry wasn't my best.
"But, you know," he added. "By the time the results come out, I think school will be the last thing on my mind by then. Hopefully for my parents too."
Somehow, we think he might be right.
Grab your Wests Tigers Membership today and join us #OnTheBus in season 2018!