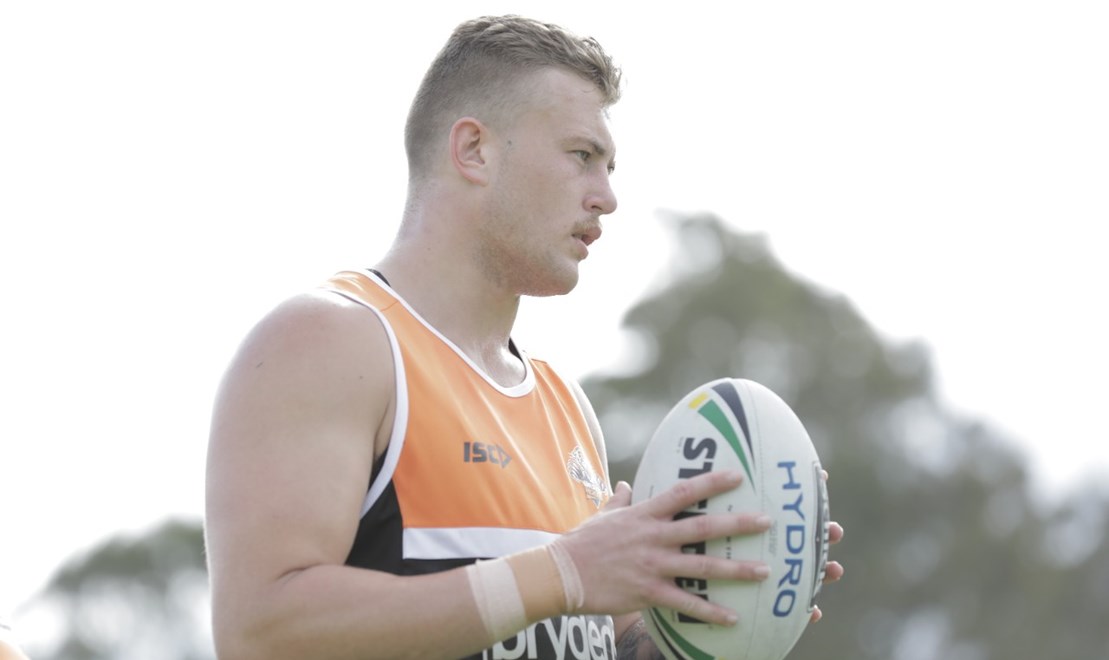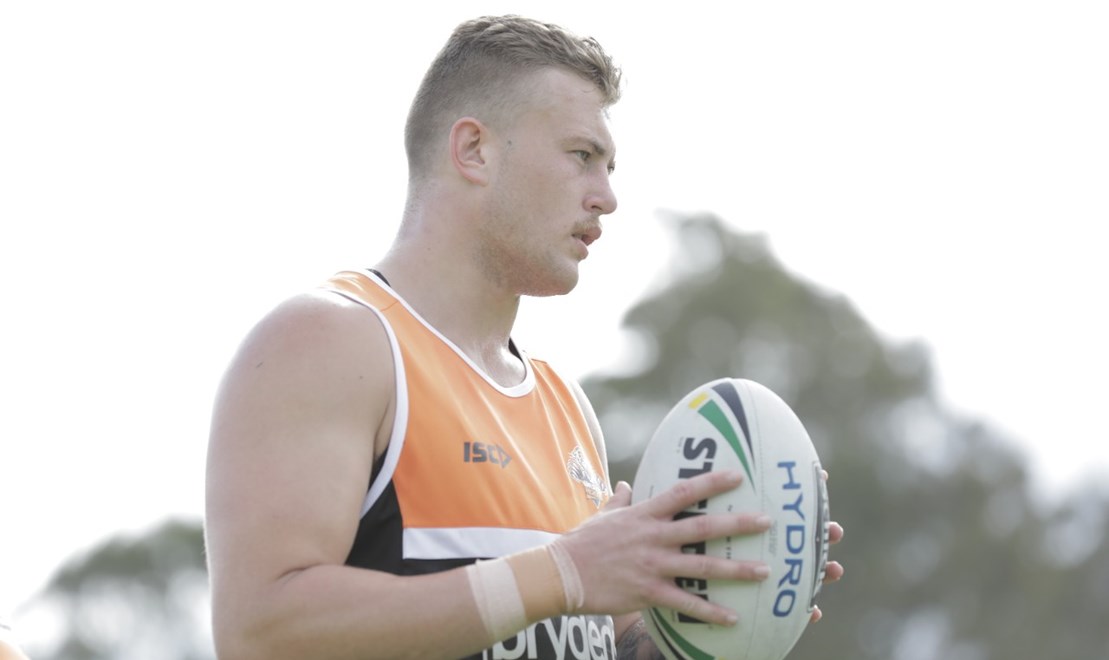 After going through the junior grades in the backs, young gun Sam McIntyre made a successful move in to the back row for the Newcastle Knights Holden Cup side.
Now, having joined Wests Tigers on a three-year deal as part of the club's Development squad for 2018, McIntyre is determined to make the transition to the big times — and he's looking to two players who have made the same move as him to help him do that.
"My manager came to me late in the year and said the Wests Tigers were keen to have me on full-time next year," McIntyre recalled. "I was stoked. I had seen all the players they had coming next year and thought that'd be a great environment to be around.
"For me, someone like Chris McQueen was a big one, as was having Chris Lawrence here.
"They're experienced back-rowers who have made the move in from the backs and that's what I want to be. I just want to be under their wing, in a way, and really try to see how they approach training and footy and life and learn as much as I can.
"Chris [Lawrence] is a club legend around here; he's played for Australia and won trophies, so he's definitely someone I'm learning plenty off with his work ethic."
Hailing from Port Macquarie, McIntyre made a similar journey to that of Knights Holden Cup teammate Heath Gibbs — travelling three-hours each way twice a week — before moving with the family to Newcastle in the hope of taking the next step in his career.
As it turned out, that next step involved moving away from the family again to Sydney, something that McIntyre said his family were incredibly supportive with all the way.
"When the offer came, they were over the moon for me," he said.
"They know that's what I've wanted to do my whole life, so they were just telling me to take it and that they'll help me out with whatever I needed to move down here.
"They'll come to every game despite the travel; they're really supportive about it.
"They helped me move in with Tyson [Gamble], which has been good. We're living in a little granny flat and we get along really well. He's a good bloke and is similar to me in moving away from family and starting full-time as well so it's been pretty good fun."
With a slew of high-profile forwards ahead of him at Wests Tigers, McIntyre is under no illusions that his goal of making it to the big time is certainly a long way away for now.
However, thanks to Coach Ivan Cleary, McIntyre's said his attitude is focused simply on the long-term goal, rather than the time that it takes to reach his destination.
"He [Ivan] brought me in for a chat the other day and just wanted to know everything about me," McIntyre enthused. "He wants to know you as a person, not just a player.
"Ivan wants to know you as a person, not just a player, and that's what I wanted..."
"He's a really good bloke and I can tell the whole coaching staff here is going to make me be a better football player — that's my goal and that's what I wanted in coming here.
"Ronnie [Palmer] has been awesome too," he added.
"He's really softly spoken outside of training and he always walks in with a smile on his face. He always reminds me that I'm blessed to be here and not many people get to do this. It's 100 percent true, that people dream to be in the position that I'm in now.
"I remember that used to be my dream and now I'm here so it's definitely a blessing.
"I love the full-time training. I wake up every day and get to go train and play footy — there's obviously a lot more too it than that but at the same time, it's that simple.
"This is supposed to be work but it just feels like training and having fun.
"I know this will make me a better player but it's also making me a better person too."
Grab your Wests Tigers Membership today and join us #OnTheBus in season 2018!