Connelly Lemuelu has certainly come a long way in the last 18 months.
From kicking the winning field goal in the 2016 GIO Schoolboys Cup Final for Keebra Park, to playing in Wests Tigers Holden Cup side in 2017 to training alongside his childhood idols with the full-time squad in 2018, it's certainly been a rapid rise for the talented teenager over the past year and a half.
The year ahead will be Connelly's second season playing U/20's for Wests Tigers, which will be replaced with a state-based competition this year as part of a massive overhaul in junior development.
Although hampered by injury last year, the Papatoetoe junior believes what he learned since moving down from the sunshine state will prove invaluable for his development going forward. 
"My first year of U/20's was an awesome experience," he said with unbridled enthusiasm.
"Obviously it was the last year of Holden Cup, so it was pretty good to get that under my belt.
"But it was also gutting at the same time because I only got to play a few games through injury.
"It was just such a great experience for me and something that was everything I thought it would be."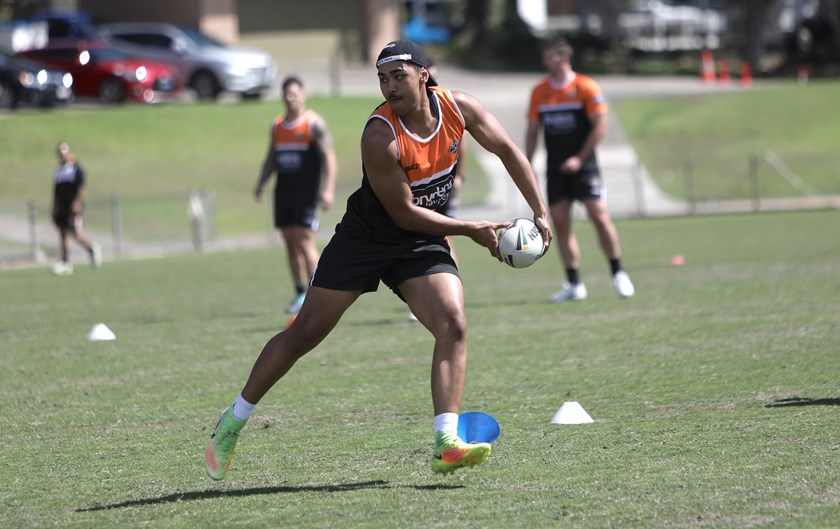 A handy five-eighth or fullback, Lemuelu hails from across the ditch, playing rugby union as a junior before moving to the Keebra Park High School development program on the Gold Coast: The former stomping ground of one of Connelly's heroes growing up, Benji Marshall.
Training with experienced players like Benji, has been an incredible learning experience for the 19-year-old, who is looking to make the most of his time with the first grade squad.
"I've been watching Benji ever since I was young," Lemuelu said.
"He went to Keebra as well, so we've had a pretty similar story and I've been able to pick some stuff from his brain and add it to my game, which has been enjoyable and a bit surreal at times.
"Being in full-time, I'm learning as much as I can and hopefully in 20's I can be like Benji for the younger boys that are coming through so they can learn some stuff from me as well".
While training with the first-grade has been a great learning experience, the bump in intensity (and duration) from U/20's hasn't gone unnoticed by one of the club's brightest young guns.
"Full time training is hectic, but I love it though," Lemuelu laughed.
"The first few weeks were pretty tough; obviously the jump from U/20's to first grade is pretty big but I think my body is adapting to it well and I'm getting used to it.
"The fitness is really tough — that's certainly a huge jump up from the U/20's.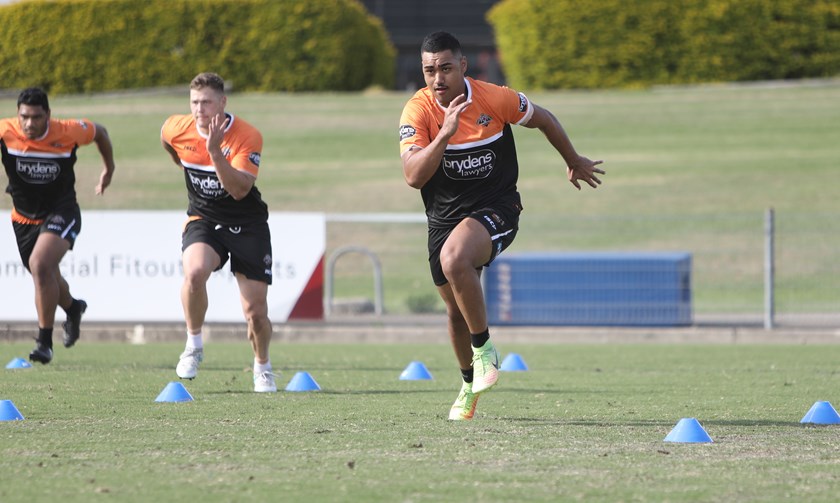 "The days are long as well. When we come from the U/20's where we train from 4:30pm to 6:30pm, its only 2 hours, but in the full-time we start at 7 and don't finish until later in the afternoon.
"It was a bit of a shock, but when I go back and do a session with the U/20's again, it's definitely helped me and I really get a lot more out of the sessions and can push myself a lot further in them."
Having already come so far in the last 18 months, the future looks even brighter for young Connelly as he strives to be more of a leader for the new faces joining the club's U/20's team in 2018.
"We're still trying to see what kind of culture we can build and what the future holds for us," he said.
"I've only been here a year but it's pretty exciting that I get to be a part of that. It makes me feel like I'm a part of a new start for the Wests Tigers and I want to be one of the greats and part of the future".