When you first look at Mahe Fonua or start watching highlights on YouTube, you don't necessarily think of experience being his greatest attribute.
Bullocking runs and bruising defence? Maybe.
Try-scoring prowess and skilful finishing? Sure.
Charisma and hilarious try-scoring celebrations? Perhaps.
Six years on from his debut season at Melbourne in 2012, Fonua knows that he's by no means a veteran of the rugby league scene with knowledge that surpasses all others.
But at the same time, he is adamant that he brings something crucial and unique to Ivan Cleary's squad.
"For me, I think the biggest thing for me was growing up a bit over in England," he said.
"Being able to play week-in and week-out at the highest level there was what good for me, and playing in some of the biggest games was a big thing that I needed.
"We had some great years and plenty of success in big games, and I'd like to think that I can bring that experience from there and help our squad here.
"We don't have a very old team — lots of mixed ages — and I don't think there's anyone over the age of 30, but I know I've learned some things that others haven't and hopefully I can share that."
One thing you won't hear from Fonua is the standard clichés about how easy the transition to a new club has been. His move back from the other side of the world was interrupted by a World Cup campaign for Tonga that saw him arrive for pre-season training seven weeks after others had begun, while also trying to transition to a city that he hadn't lived in for more than a week or two at a time.
Throw in doing all that with a newborn child and it's safe to say that when Fonua walked in to Concord Oval for the first time just a few weeks ago, there were one or two moments of nervousness. 
"To be honest, it wasn't the easiest thing, just because of the timing," he said.
"My wife and I found out we were having our first child last year and we don't have any family over in England, so we wanted to come back home to Australia.
"I'd spoken to my manager about the opportunity of coming back to the NRL and the Wests Tigers were really keen, but I needed to play some consistent footy to seal that off and get it done.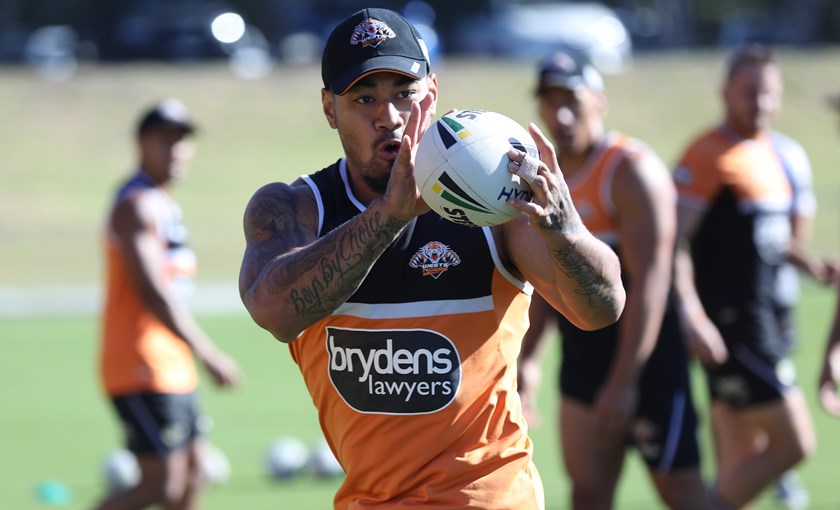 "Towards the back end of the year, I was playing some good footy and eventually made the decision to come back to Australia and get back around family again, but also give the NRL another crack, which was something I really wanted to do again in my career.
"I didn't know what to expect coming to Wests Tigers," Fonua admitted. 
"I'd never lived in Sydney and never been in Sydney for more than a week or two at a time.
"Everything I knew was Melbourne and the only club system I knew other than England was what the Storm did, so coming in here was a bit of a walk in the dark.
"But I think having so many new boys at once really made it easy for me. It might be tough for one player to come in when there's a foundation and culture already built, but that's just starting here. Ivan has done a great job and recruited some players that I know will change this club. Guys have come in from a number of different clubs and can all offer something different, which made it easy for me to find my place here.
"I'm really excited to see what this club can do."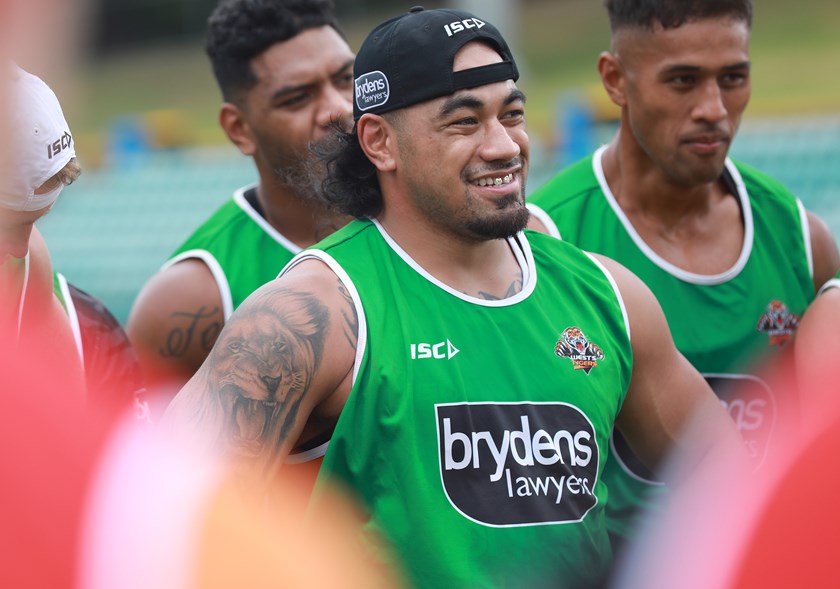 Don't let the charming smile fool you either — Fonua knows he's no walk-in starter to the Round 1 team, with plenty of names all gunning to take the field on March 10.
Whatever success the talented Tongan will achieve is going to be built from hard work. 
"I'm not the fittest bloke, but training here is an awesome environment to be a part of," Fonua laughed. 
"Everyone is trying to make a name for themselves, and every drill is an opportunity for players to put their hands up.
"The simple things that you can take for granted at other clubs like taking a hit-up or finishing off a try even when you don't need to — everyone is trying to show the coaches every play that they're hungry. Every play is important and the boys really feel that at training because all the little things you're doing, over the next few weeks, that might be the little edge over your opposing centre or winger to make that Round 1 team.
"There's a lot of good outside backs and plenty of competition so I'm not taking it any further in my mind than just being there every week because I know I'm far from a guarantee.
"I honestly don't think anyone is a front-runner at the moment.
"But what I do know," he said, "is that it's exciting to be a part of this club.
"I've not been a part of something like this before, and I know this year is going to be a big year for the club — it's more than just the players who make that team in Round 1 or not. 
"We're a team, and we're going to be one no matter who takes the field."