Standing at 194cm tall despite being just 20 years of age, Thomas Mikaele certainly has all the potential in the world and a bright future on the horizon at Wests Tigers.
Similarly to Connelly Lemuelu, the giant prop joined Wests Tigers Holden Cup side in 2017 after previously captaining Keebra Park High School to the 2016 GIO Schoolboys Cup Final.
Although a great experience, Mikaele admitted that his first year at Wests Tigers had its challenges — including a bump in intensity and bouncing back from several niggling injuries.
 "My first year of under 20's was pretty tough really," Mikaele admitted.
"Just moving in to that role of playing week to week wasn't always easy.
"Coming from 6-7 school games in a year to 26 games in a season is pretty tough. 
"In the first half of the year I had a lot of injuries, but in the second half was good for me. I managed to be on the paddock for the majority of it, found my feet and just tried to enjoy it".
Despite those injuries, Mikaele's superb finish to the year certainly caught the eye of Wests Tigers coaching staff — selected as one of the four players in Wests Tigers 2018 development squad.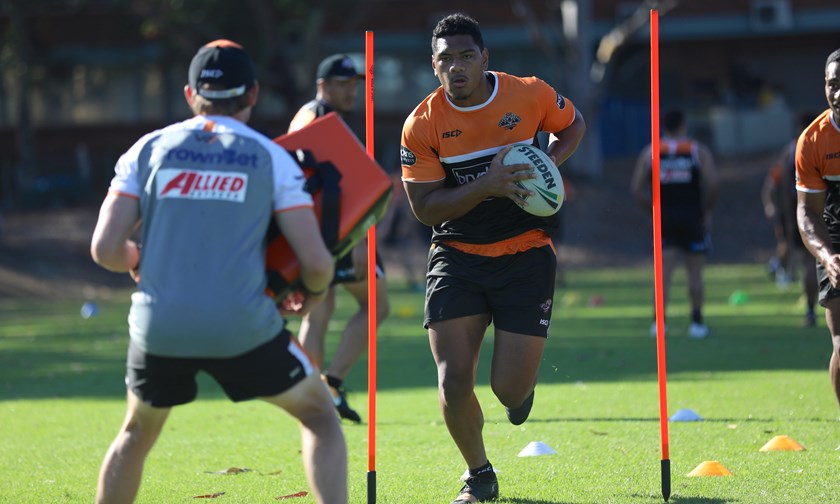 It's not just club staff either that he's impressing, with a growing junior representative career that has seen him feature twice for the Queensland U/18's side as well as earn two selections to the U/20's Emerging Maroons squad — the most recent of which happened last fortnight  under the watchful eye of Justin Hodges (Coach) and Wests Tigers Premiership Winner Scott Prince (Assistant Coach).
With that history of representative footy already under his belt, the mature 20-year-old says the goal this year is simply to learn from the more experienced players at the club — taking important lessons from first-grade back to the Jersey Flegg side and becoming more of a leader amongst his teammates.
"It's been an amazing experience [training full-time]," he said.
"Just being around boys that I'm used to watching on TV while growing up is amazing. The knowledge and the skill they have is really helping, and learning off them and the coaching staff is unbelievable. 
"I think I'll be able to take a lot of things back to the U/20's, and not just the skill and performance.
"I think the off-field things will be massive for me this year; these boys carry themselves in a great manner and they're very respectful off the field, so I'll take that back with me to the younger boys.
"It'd be good for me to be able to show that to the guys coming through like they have with me."