2017 was a year of smiles, and lack of them, for young gun JJ Felise.
The positives were clear: a year on from his rookie season, the Junior Kangaroos forward again showed himself capable of handling the first-grade arena, playing an important role off the bench in 2017.
When he dropped back to the Intrust Super Premiership side, he was one of their best each week.
But late in the season, one little incident changed it all for Felise, who very quickly stopped smiling.
"It was towards the end of the season and we had a contact session," Felise recalled with a smile.
"We were coming towards the end of it and we had to make our way back down and I took the first carry off the ruck — probably the last carry I needed to make that session.
"I tried to step and probably stepped into the wrong thing — Tim Grant's shoulder."
The force of the tackle was soon evident for the 21-year-old, who was left sporting a nice gap in his mouth.
"My front three teeth fell straight out and on to the grass," he laughed.
"The modelling career was gone, and I knew I would have to stick to footy after that.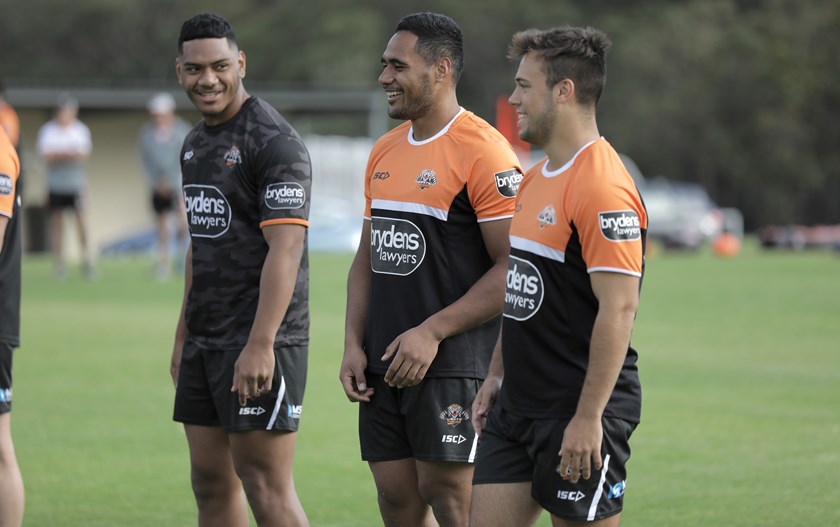 "I got the implants put in in December just before the Christmas holidays, and I've got to wait two months after that to get the caps in and that's when it'll start to feel normal again and I'll have a smile."
While it might seem a daunting prospect for some, Felise was quick to point out it hasn't affected his footy a great deal, and certainly won't affect his ability to contribute to Wests Tigers in 2018.
"It hasn't been that bad — just had a special mouthguard in and keeping an eye on it during field," he said.
"It won't affect the footy anymore, just the modelling that's gone out the window!"
For Felise, not only will 2018 represent the chance to sport his new and improved smile, it's also a great chance to watch the host of new players he's seen arrive at Wests Tigers in action.
A product of the club's junior development system, Felise has seen the inclusion of several big name players to the 2018 squad from a somewhat unique position — an "old" player — and says it's great.
"It's been really different for me to see so many new players come at once," he said.
"I haven't been in this business for a long time but it's been good and a real mix up from before.
"We've got new trainers in as well and it's been really good for me to learn from everyone else. Everyone has got backgrounds that are different and they all bring different things and that's really helping.
"It's been good to get everyone's advice and hopefully I'm able to build on that."