Wests Tigers Jersey Flegg side have gone down 24-10 to the Cronulla Sharks in their second and final trial match on Saturday at Campbelltown Sports Stadium. 
After a tough first half that saw the visitors lead 24-0 at the break, it was a much improved second stanza from the hosts who will take plenty from the match ahead of their season opener.
An early penalty saw the Sharks post first points of the day with Bronsen Xerri scoring a try down the left  in the fifth minute. Teig Wilton was unsuccessful in his conversion attempt but he would soon redeem himself six minutes later when Braydon Trindall scored under the posts to give the visitors a 10-0 lead.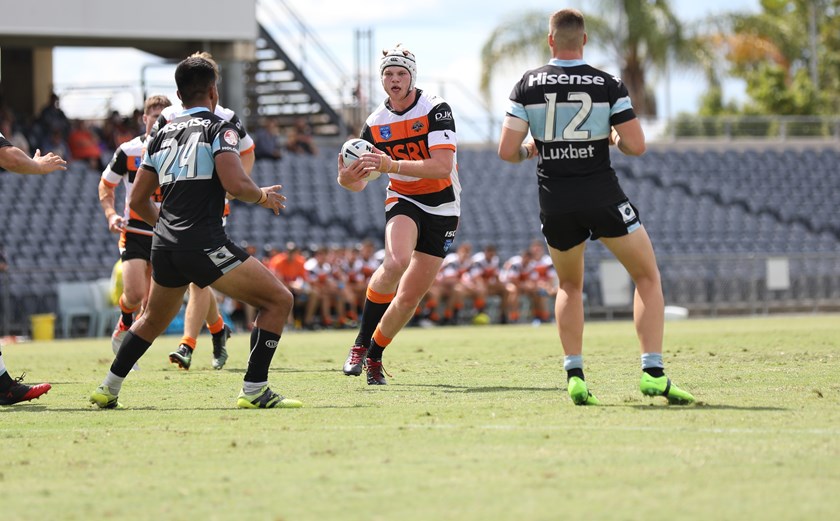 With errors aplenty from both sides, the Sharks extended their lead shortly before half-time with another effort down the left, before Luke Polselli took the score out to 20-0 in favour of the visitors.
A late interchange in the first half was made when Wests Tigers forward Moana Matakaiongo was taken from the field after an injury five metres out from the Sharks line, before Xerri crossed right on the stroke of half-time to give the visitors a commanding 24-0 advantage at half-time.
Off the back of two penalties early into the second half, Wests Tigers got on the board with James Tautaiolefua scoring his first for the afternoon, but his conversion rattled the upright to remain 24-4.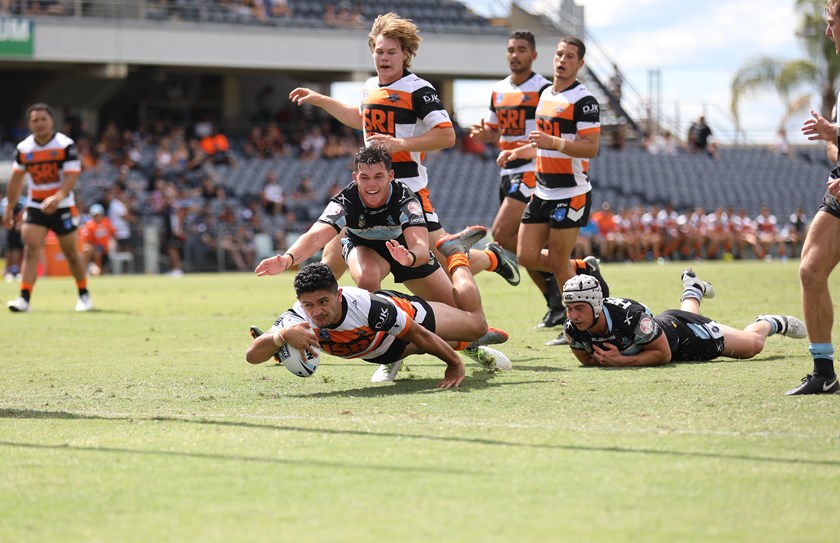 With a little spring in their step and an inch of hope, the Wests Tigers seemed to be putting up a fight in the second half against their superior opponents. Coming off the bench, Wests Tigers Lucas Castle made a break through the middle of strong Cronulla defensive line with support on his left — rounding the Sharks fullback do it all himself and give Tautaiolefua a simple conversion to cut the score to 24-10.
An injury to Harrison Leonard in the final minutes was a disappointing way to end the match for Wests Tigers, who won the second half 10-0 and will head in to Round 1 with plenty of confidence.
Cronulla Sharks 24 (Xerri 2, Trindell, Polselli, unknown, Wilton 2/5 goals) def. Wests Tigers 10 (Tautaiolefua, Castle tries; Tautaiolefua 1/2 goals) at Campbelltown Sports Stadium
Wests Tigers Team: 1. James Tautaiolefua 2. Shrondre Lee-Silva 3. Curtis Wilson 4. Heath Gibbs 5. Israel Seufale 6. Gus Garzaniti 7. Ben Stevanovic 8. Riley Cheshire 9. Rua Ngati 10. TJ Carter 11. Alex Seyfarth 12. Kane McQuiggin 13. Ben Seufa 14. Jake Scott 15. Lucas Castle 16. Jarrod Spicer 17. Moana Matakaiongo 18. Harrison Leonard 19. Max Burey 20. Kiani Marshall 21. Billy Stapleton 22. Alatanu Wright 23. Bennett Wheelhouse — Coach: Craig Wilson