North Queensland Cowboys playmaker and likely future Immortal Jonathan Thurston has won it all in his career, and will go down as one of the all-time greats.
He's won Grand Finals, World Cups and every other trophy there is in modern rugby league.
His "Achievements and Accolades" list reads like few others in the game.
However, despite all his success, there's one record that Thurston has never been able to crack and it once again comes to the fore this Thursday night as his Cowboys take on Wests Tigers in Sydney.
Despite chalking up over 300 games in his 17-year-career at first the Bulldogs then Cowboys, the 35-year-old has never beaten Wests Tigers when the game has been played in Sydney.
Not at ANZ Stadium, where he is winless in three matches (including the 2005 Grand Final).
Not at Campbelltown Sports Stadium, where he is also winless in three attempts, having missed the Cowboys hard-fought win at the venue last year in Round 25 with injury.
Not even at Sydney Showground, when Thurston's 2003 Bulldogs surrendered a half-time lead to lose 20-14.
And not at Leichhardt Oval, either, having been defeated in all six of his games at the venue.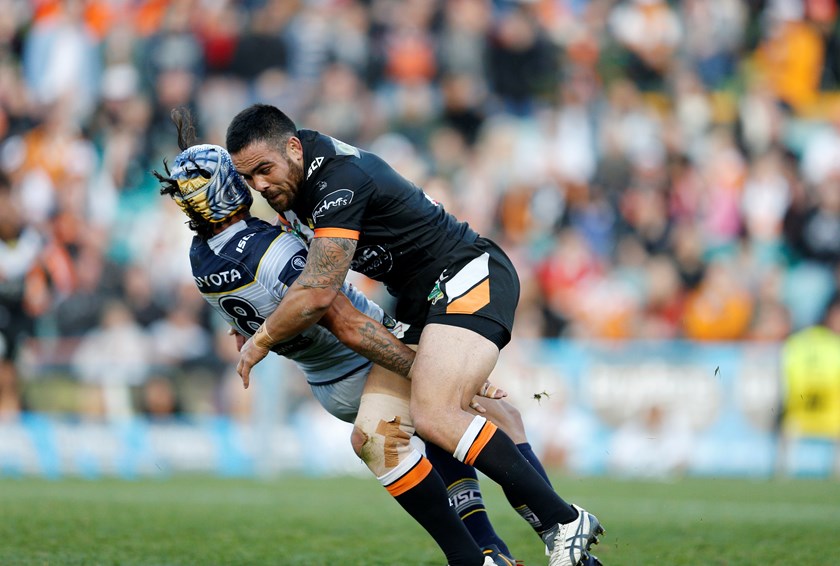 Thurston's tough run at Leichhardt Oval looked like it would come to an end in 2013 when the Cowboys led 20-18 with less than two minutes remaining, before a fresh faced David Nofoaluma — playing in just his second NRL game — dived over in the corner in the pouring rain to give the hosts a two-point victory.
In 2016, it was a similar story for the Cowboys who threatened to pull off a late comeback when they trailed 20-14 late in the match, only for Sauaso Sue to crash over late and send the crowd into raptures.
That made it six straight defeats for Thurston against Wests Tigers at Leichhardt and 13 in total in Sydney.
Wests Tigers will be out to make it 0-14 for Thurston this Thursday night when they take on the Cowboys at Leichhardt Oval — kicking off the NRL's Indigenous Round with a host of special activities planned.
Gates open at Leichhardt Oval from 6:20pm AEST, with NRL kicking off at 7:50pm AEST.
THURSTON'S SYDNEY STRUGGLES v WESTS TIGERS
2003 — Wests Tigers 20 def. Canterbury-Bankstown Bulldogs 14 at Sydney Showground
2005 — Wests Tigers 28 def. North Queensland Cowboys 16 at Campbelltown Sports Stadium
2005 — Wests Tigers 50 def. North Queensland Cowboys 6 at ANZ Stadium
2005 — Wests Tigers 30 def. North Queensland Cowboys 16 at ANZ Stadium
2006 — Wests Tigers 24 def. North Queensland Cowboys 14 at ANZ Stadium
2007 — Wests Tigers 54 def. North Queensland Cowboys 10 at Leichhardt Oval
2009 — Wests Tigers 34 def. North Queensland Cowboys 14 at Leichhardt Oval
2010 — Wests Tigers 26 def. North Queensland Cowboys 16 at Leichhardt Oval
2012 — Wests Tigers 26 def. North Queensland Cowboys 18 at Campbelltown Sports Stadium
2013 — Wests Tigers 22 def. North Queensland Cowboys 20 at Leichhardt Oval
2014 — Wests Tigers 16 def. North Queensland Cowboys 4 at Campbelltown Sports Stadium
2016 — Wests Tigers 26 def. North Queensland Cowboys 14 at Leichhardt Oval