Wests Tigers Coach Ivan Cleary mentioned it before the start of the season, and he mentioned it again in the press conference after Thursday's night's strong win.
"I've said for a while now that we're going to use our entire squad this year," Cleary said.
"We're close to doing it now, but there's a long way to go and still keen for spots to be competitive.
"I'm really keen for blokes to contribute all the way through, and even the guys that haven't played yet, I can see times this year that they will be needed."
For the players themselves, there was one of two options: either be disgruntled with team changes and potentially not being picked, or to push harder in a bid to make the highly competitive 17.
To borrow an old phrase, get #OnTheBus or not.
And while the season is only 10 weeks old, it's clear that the 27 players currently at Wests Tigers are certainly doing that with the knowledge that depth is bringing out the best in the squad.
"I think the fact that Ivan made it clear at the start pre-season that there were plenty of spots up for grabs, and that really generated a lot of competition for spots," co-captain Chris Lawrence said on Friday.
"I think that drove the training standards in the pre-season and as anyone will tell you, when you're training well and training at a high standard consistently, that's going to show on the field.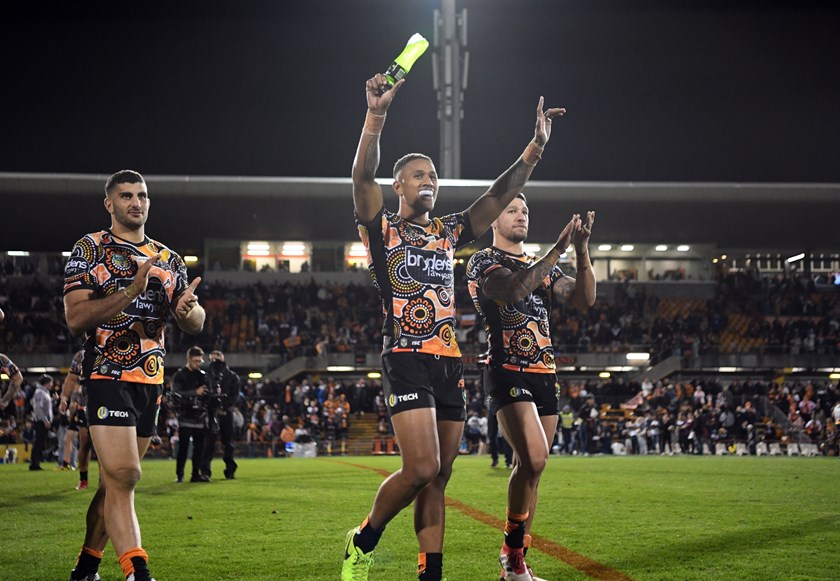 "I think you're seeing that with some of the guys who have come in from other squads. Guys like Corey Thompson have come in to this team and started playing great footy, and it's off the back of the pre-season.
"With the mix of players we've got this year, I think we're getting a lot more consistent performances."
"I think the beauty of this club is that we have great depth," added Malakai Watene-Zelezniak, a player who just the week before was left out of the final squad to take on the New Zealand Warriors.
"I think it really pushes the players here to be the best they can be.
"For me personally, I know I've been pushed with the depth that we have and it really brings out the best in the players so it's a good thing for the team and also the club as a whole."
See what co-captain Chris Lawrence had to say about the team at the moment in the video above!