Grinning and bouncing his knees waiting for the camera to start, it's clear to see that Moses Mbye is both excited and nervous about his first day at Wests Tigers.
It's understandable.
Aside from Josh Reynolds and Corey Thompson — both of whom he played with at the Canterbury-Bankstown Bulldogs — there's no other former teammate in the squad at Wests Tigers.
There's a mutual friend with co-captain Chris Lawrence... and that's it in terms of familiarity.
Off the back of switching positions and learning a new style of play under Bulldogs Coach Dean Pay, the 24-year-old Mbye is preparing to do the exact same thing all over again under Ivan Cleary
By his own admission, Mbye didn't expect himself to be at Wests Tigers this year.
He didn't expect to necessarily be at Wests Tigers at all.
And yet here he is — nervous, but smiling. Confident about what lies ahead.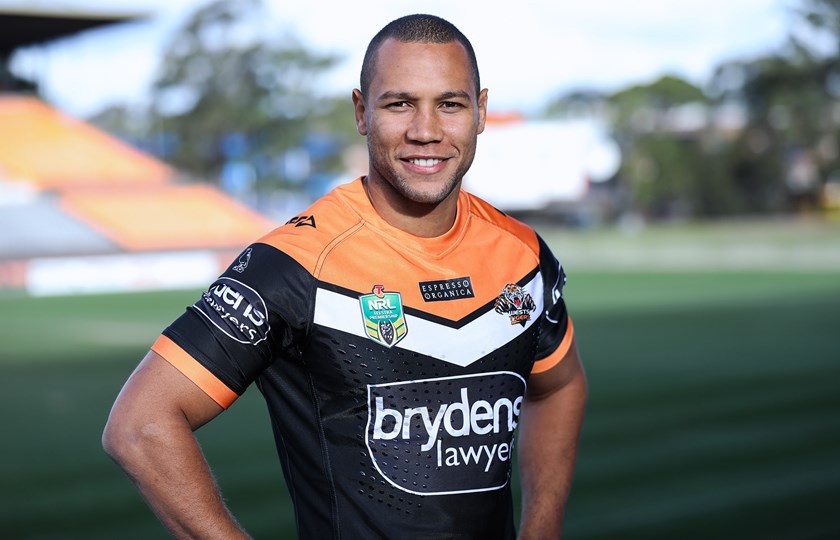 Having secured a mid-season switch from the Bulldogs to arrive at Concord in the lead up to the standalone representative round, Mbye is well aware of the challenge that lies ahead of him.
And just like the challenge of moving to fullback and a new coaching style, it's a challenge that he's ready to meet head-on, one day in to his new surroundings with a new jersey on his chest.
"Of course it's exciting," Mbye reflected in his first interview as a Wests Tiger.
"I can't lie — I was a little bit nervous to rock up this morning but that's probably a good thing. It's been good to get the first day out of the way and just get this week rolling.
"It was strange and mixed emotions walking in because it was just all so new.
"Weird is probably the right word to sum it up.
"It's been a turbulent month to be honest but it's also been exciting," he continued.
"It's been a really good experience for me and I've enjoyed it all but now it's just about getting in amongst my new teammates and learning all of the new things here.
"I can't wait to get on the field and get the footy in my hands and start contributing."
Signed through at Wests Tigers until at least the end of the 2022 season, the 24-year-old isn't shy about the lofty expectations that many might have following his arrival this week.
For Mbye, simply all part of the challenge.
"The word challenge is exactly what it is," Mbye said of his arrival to Wests Tigers.
"It's going to be tough but that's when you perform your best at this level.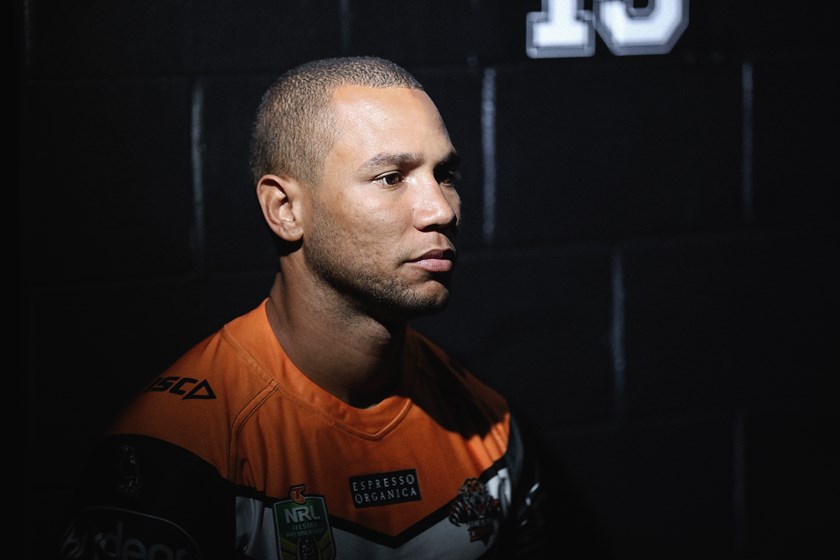 "I've always found that being under adversity makes you be your best and makes you strive to be better than you were the day before, so I'm looking forward to it.
"There's so much here that I can look forward to: playing with Grub [Reynolds] again and being around someone like Benji... I remember all those times I did the Benji step as a kid and idolised him growing up.
"I think having specialist fullbacks in Brett Hodgson and Ivan on the coaching staff too is really going to help me and really help me grow as a fullback. This is a great environment for me to grow here.
"But the biggest thing is that I'm at a strong club and a club on the rise..."

Moses Mbye
"But the biggest thing is that I'm at a strong club and a club on the rise.
"From the outside looking in, it's a club on the rise and putting the weekend's result aside, there's been some really good footy played. Now, it's just about producing consistent games as a team and me trying to help in whatever way I can do that.
"Everyone knows where we're at ladder-wise — just on the edge of the see-saw. It could go either way so we're at a time when we need to get some wins.
"I can't wait to help try and make that happen."