It's lucky new recruit Oliver Clark has a second set of boots.
The 21-year-old was at home in Rouse Hill on Tuesday afternoon after wrapping up a big two days of training at the Panthers Academy when his manager called. Clark had spent the past two mornings training with the first-grade squad and then with the Intrust Super Premiership boys in the afternoon, preparing for what he was expecting to be a regular Round 16 game against the Blacktown Workers Sea Eagles.
Instead, he was informed that his desire to move across to Wests Tigers — the club he had already signed with for the next two seasons — had come through, and Coach Ivan Cleary was expecting him bright and early at Concord Oval on Wednesday morning to start training with his new teammates.
"It's just been so out of the blue," Clark laughed after his first session at Wests Tigers.
"I haven't had the chance to grab any of my gear or say goodbye to the boys at Penrith because I was already home when I found out that I was coming to Wests Tigers.
"My gear's still sitting there — hopefully it's still there when I go back on Thursday!
"Hopefully they let me back in too," he added with a laugh.
For Clark, while more than committed to the Panthers for the 2018 season, the prospect of linking up with his new club and teammates earlier than expected was the desired goal — particularly with his future sorted for the next two and a half years.
"I had hopes of getting across here early but it was just getting so close to the deadline that I wasn't really sure if it was going to happen or not," the Quakers Hill junior said.
"I'd kind of just expected to be at Penrith for the rest of the year and was completely fine with that, but it's really great that it's come together and I can get started here early.
"I think it's a real club on the up here.
"I've had some past dealings with Ivan [Cleary] when I played with his young bloke at Penrith and I'm really excited to be coached by him and learn as much as I can and really grow myself in the culture here."
Off the back of a busy week, it'll understandably take Clark a week or two to completely settle in to his new environment (and retrieve the rest of his gear in the process), but the junior representative standout says he's feeling pretty comfortable with the situation and focused on putting his best foot forward for the club as soon as possible. Most likely, that will come as early as this Sunday, with the 21-year-old swapping his video review on the Intrust Super Premiership Sea Eagles for the St. George Dragons.
"I'm ready to go this weekend," Clark enthused. "I'm actually really excited about it.
"Sunday afternoon debut for the new club at Leichhardt Oval is pretty special.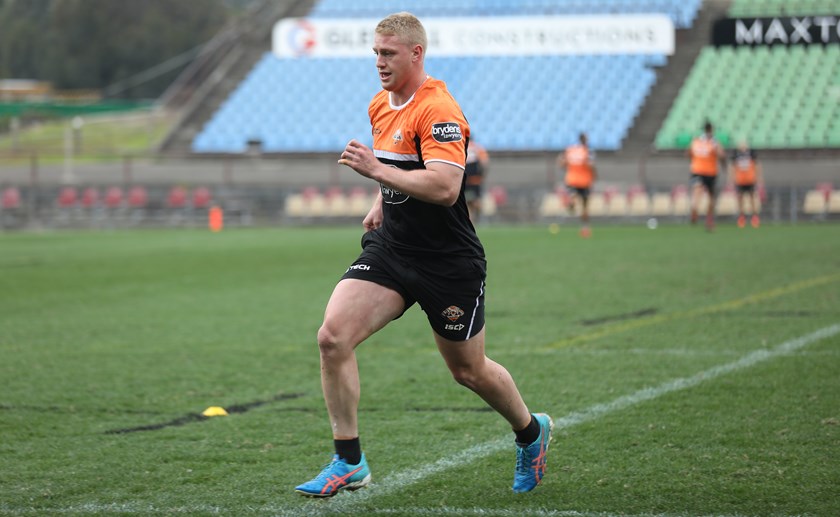 "I'm just excited to come in and do my job — whether that's in the NSW Cup competition or elsewhere.
"I think I can really get going under Brett [Hodgson] and do my best for him and help the boys continue what's been a really strong start to the year. I really like the way the Magpies have been playing this year — really tough footy and I think I'll suit that style of play. If anything can come off the back of it that's great, but right now I'm honestly not fussed by any of that, just about doing the week-to-week."
And it's that attitude that has Clark primed to thrive at Wests Tigers, with the 21-year-old in step with the words and principles Cleary has built this new-look team around.
"My goal when I play is just to be the guy that everyone wants to play with," Clark reflected when asked about what type of player he is and strengths he has.
"I try and do the little things and be selfless — that's what I want to base my game off.
"I focus on doing hard stuff and really try to take that on as my job for the team.
"For me, anyway, I think that's the greatest compliment you can get — to be someone that others want to play with. That's just all I try to do every week."
Clark was genuinely surprised when told that his new Coach in Cleary uttered the exact same phrase — be the player that your teammates want to play with — just over 12 months earlier as he spoke to the Wests Tigers players for the first time prior to their win over the North Queensland Cowboys in 2017.
"Really? I had no idea. I guess that's pretty convenient for me," Clark laughed.
"Maybe this club is right for me in more ways than I knew..."