Wests Tigers fullback Moses Mbye says he can hardly believe he's playing alongside five-eighth Benji Marshall after growing up idolising the Premiership winner.
The 24-year-old Mbye was only 12 years old when Marshall, along with Robbie Farah, guided Wests Tigers to the club's maiden Premiership with their attacking flair and style back in that memorable 2005 season.
A half for the majority of his career before shifting to fullback this year, Mbye says Marshall was certainly a player he aimed to emulate growing up, and was still pinching himself about playing alongside now.
"It's certainly a surreal feeling being here," Mbye enthused.
"I was talking to a couple of the boys about it the other day.
"I think I was only 11 or 12 when they won the competition back in 2005 and watching those guys around then, everyone wanted to know how to do the Benji Marshall step.
"To play with those guys now is surreal.
"Last week, I probably took it a bit for granted pre-game. It wasn't until we'd had a win and we were just sitting in the sheds having a beer that I realised the moment. To play with them was an achievement that I'm proud of — to grow up and play alongside both Farah and Marshall now in my career.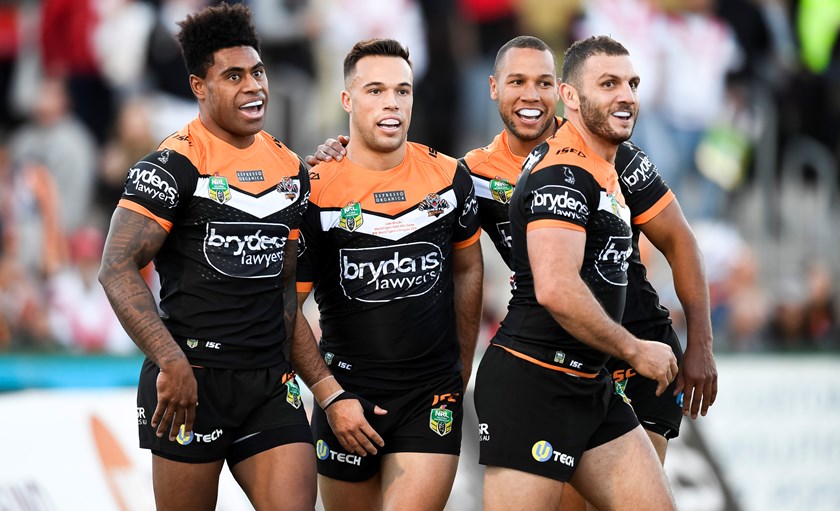 "I think everyone had a go at doing the Benji step back then," Mbye laughed.
"At my age, he was the superstar of the game and everyone wanted to be like him."
While certainly enjoying Marshall's form from a personal point of view, Mbye also mentioned how crucial his return from injury was for Wests Tigers — both in Sunday's win over the St. George-Illawarra Dragons and their hopes at a top eight finish with just seven games remaining in the regular season.
"More than playing with him, it's great to see him turn back the clock now and play well," Mbye said.
"I thought he really controlled the game well and he's been playing some good footy this year. As long as we can keep him healthy and keep performing like that, hopefully he'll keep going again.
"I think both him and Robbie bring plenty of experience. 
"They give you confidence, having those sort of players in your team. They're just players that you know are going to do their job and know what they're doing — especially in a new side and a new spine.
"We found ourselves in a few sticky situations on the weekend against the Dragons and found ourselves with a fair bit of pressure on us, but I thought we responded really well and having guys like Benji and Robbie there, that's what helps do that."
See what Moses Mbye had to say in full about this week's game in the video above!