Western Suburbs can take a giant step towards securing a top four spot in the Intrust Super Premiership competition this Sunday when they take on Mounties.
Coming off a disappointing last start defeat to the Penrith Panthers that saw the young Magpies side fade away in the second half, Brett Hodgson's men will be eager to bounce back against a Mounties side that currently sits second on the ladder with just three games remaining in the regular season.
With a win, Mounties will all but book themselves a top four finish and resign the Magpies to finishing fifth or lower, but a victory for the visitors will keep their hopes at the second-chance spot alive.
These two sides met just five weeks earlier in what was, incredibly, Western Suburbs' final home game of the year at Campbelltown Sports Stadium. Despite boasting a high-profile forward pack and a number of dangerous outside backs, the Magpies were unable to stop Mounties getting a roll on throughout the second half with Craig Garvey in particular starring in an upset 28-8 win for the visitors. 
Since that game, however, Mounties have had a mixed run of form with a 22-14 win over the lowly Blacktown Workers Sea Eagles followed by losses to the North Sydney Bears and Newcastle Knights.
Injuries and suspensions to the first-grade side have seen the depth of Mounties tested this season, and they'll certainly need to dig deep this weekend against a Magpies side facing similar depth issues.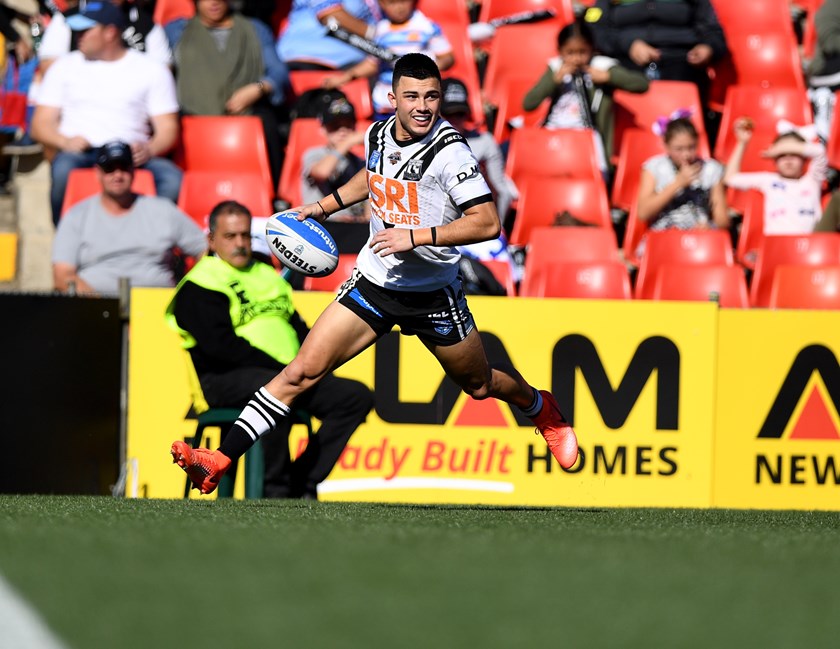 Western Suburbs named a number of Jersey Flegg-eligible players for their recent defeat to Penrith and while they held their own for the first half, they simply couldn't match the class and experience of the Panthers in the second half — held scoreless for the second stanza as the home side piled on the points.
The young players in particular will be better for the run, and Coach Hodgson has shown great faith in them by naming a similarly young side again this weekend with six players in the team aged 20 or under.
Injuries to the likes of Tuimoala Lolohea, Tim Grant, Oliver Clark and Watson Heleta has hurt the Magpies in recent weeks while several first-grade players being out of action has forced a number of players to step up in to the top squad. However, this week appears to be the key with as many as five players potentially back on deck for next week's game against the Wyong Roos at Morry Breen Oval on the Central Coast.
If they can get through Sunday's game with the two points and make amends for their loss earlier in the year to Mounties, Wests will be in a great position to claim a top four spot ahead of the 2018 Intrust Super Premiership finals series — a feat that will certainly be deserved after their progress so far this season.
Playing in the penultimate game of the round, the Magpies will know exactly what is required of them by the time they kick off so it's shaping as an intriguing game indeed at GIO Stadium from 11:45am AEST.
Live coverage of the game can be found on FOX League from 11:30am AEST (check local guides).
Team Lists
Backs
Fullback for Mounties is number 1

Siti

Moceidreke

Fullback for Magpies is number 1

Dylan

Smith

Winger for Mounties is number 2

Tony

Satini

Winger for Magpies is number 2

Harrison

O'Toole

Centre for Mounties is number 3

Sebastian

Kris

Centre for Magpies is number 3

Braden

Robson

Centre for Mounties is number 25

Mathew

Lyons

Centre for Magpies is number 12

Sam

McIntyre

Winger for Mounties is number 5

Taane

Milne

Winger for Magpies is number 4

Connelly

Lemuelu

Five-Eighth for Mounties is number 6

Brendan

O'Hagan

Five-Eighth for Magpies is number 6

Tyson

Gamble

Halfback for Mounties is number 7

Tyler

Cornish

Halfback for Magpies is number 19

Tuimoala

Lolohea
Forwards
Prop for Mounties is number 8

Royce

Hunt

Prop for Magpies is number 8

Joseph

Ratu

Hooker for Mounties is number 23

Joel

Luani

Hooker for Magpies is number 7

Pita

Godinet

Prop for Mounties is number 21

Liam

Knight

Prop for Magpies is number 10

Cowen

Epere

2nd Row for Mounties is number 12

Jarrett

Boland

2nd Row for Magpies is number 11

Chris

McQueen

2nd Row for Mounties is number 16

Sam

Duggan

2nd Row for Magpies is number 14

Bayley

Sironen

Lock for Mounties is number 13

Emre

Guler

Lock for Magpies is number 13

Patrice

Siolo
Interchange
Interchange for Mounties is number 14

Corey

Horsburgh

Interchange for Magpies is number 9

Kurt

Aldridge

Interchange for Mounties is number 15

Steve

Tavita

Interchange for Magpies is number 15

Thomas

Mikaele

Interchange for Mounties is number 19

Daniel

Roberts

Interchange for Magpies is number 16

Ben

Seufale

Interchange for Mounties is number 24

Sonny

Bristow

Interchange for Magpies is number 18

Alex

Seyfarth