It was a very successful weekend for Wests Tigers across a number of grades in Round 22 as we approach the pointy end of the season in the run-in to the finals.
With their season on the line, Wests Tigers NRL side made the trip down to the nation's capital desperate to overcome their recent struggles against the Raiders — and did just that. An emphatic first half performance with the ball was met with an equally determined second half effort without it, as Ivan Cleary's side held on to a two-point lead for the final 15 minutes to emerge with a vital two competition points.
The victory sees Wests Tigers move to within two points of the ninth-placed Brisbane Broncos.
Earlier in the day, the Intrust Super Premiership boys also held their nerve at the end to record a stunning 31-30 win over the second-placed Mounties, thanks to a last-minute field goal from Tyson Gamble.
The victory sees Western Suburbs move four points clear of the seventh-placed Warriors to equal third.
Wests Tigers Jersey Flegg side also produced a determined defensive effort against Mounties on Saturday, holding their opponents out time and time again in the opening hour, before conceding late to lose 20-0.
In Round 23, Wests Tigers will head home after a run of three straight away games — taking on the St. George-Illawarra Dragons at Leichhardt Oval in another must-win game for Ivan Cleary's side.
Intrust Super Premiership and Jersey Flegg teams will face Wyong and the Roosters at Morry Breen Oval.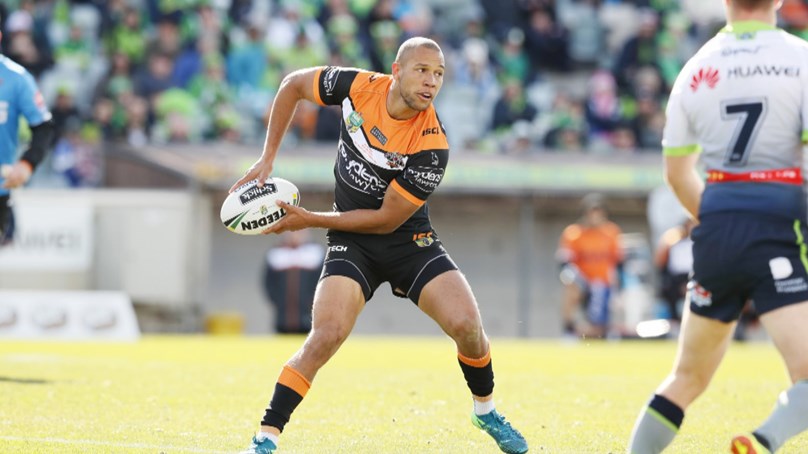 WESTS TIGERS RESULTS: ROUND 22
NRL — Wests Tigers 22 def. Canberra Raiders 20 at GIO Stadium
ISP — Western Suburbs Magpies 31 def. Mounties RLFC 30 at GIO Stadium
JERSEY FLEGG — Mounties RLFC 20 def. Wests Tigers 0 at Seiffert Oval
RON MASSEY — Cabramatta Leagues 70 def. Western Suburbs Magpies 16 at New Era Stadium
WESTS TIGERS FIXTURES: ROUND 23
NRL — Wests Tigers vs. St. George-Illawarra Dragons (Sat., August 18 at Leichhardt Oval)
ISP — Wyong Roos vs. Western Suburbs Magpies (Sat., August 18 at Morry Breen Oval)
JERSEY FLEGG — Sydney Roosters vs. Wests Tigers (Sat., August 18 at Morry Breen Oval)
RON MASSEY — Guildford Owls vs. Western Suburbs Magpies (Sat., August 18 at McCredie Park)