"Where there is hope, there is life."
That old adage is certainly true for Wests Tigers this week as they look to keep their slim finals hopes alive when they take on the Manly-Warringah Sea Eagles this Thursday night at Campbelltown Stadium.
Ivan Cleary's side missed the chance to move closer to the top eight in Round 23 with a disappointing loss to the St. George-Illawarra Dragons at Leichhardt Oval, but mixed results over the weekend ensured that all hope is not lost yet. With two games remaining, Wests Tigers need to win both of their matches and hope that either the Brisbane Broncos or the New Zealand Warriors lose their remaining two fixtures — with the for-and-against gap between the sides hopefully evening out in the process of those four results.
It's certainly not the best position to be in for Wests Tigers, but as Cleary said post-game, "we're still alive."
And as long as that's the case, it's going to be a fascinating end to the 2018 regular season for all involved.
Elsewhere, it was much better news for the Intrust Super Premiership boys, who secured a finals berth with a thrilling 25-24 win over the Wyong Roos in the penultimate game of their regular season.
Just 12 months after finishing last in the reserve grade competition, Brett Hodgson's side will now have their sights set on a potential top four spot as they end the regular season away to Newtown this week.
Two points behind the second-placed Dragons and just two points ahead of the sixth-placed Mounties, it's certainly shaping as a fascinating final round of action in the all-important race for a top four spot. 
NRL
Ladder Position | 9th (24 points, -44 F/A)
Teams Around Them | Broncos—7th (28 points), Warriors—8th (28 points)
Remaining Fixtures | Sea Eagles—12th (Home), Rabbitohs—2nd (Away)
Last week's loss certainly hurt Wests Tigers, but it didn't end their finals hopes completely with the Brisbane Broncos and New Zealand Warriors both in their sights with two games remaining.
The equation is relatively simple: Wests Tigers need to win both of their remaining matches against the Sea Eagles and Rabbitohs and hope that either the Broncos or Warriors lose their remaining two games. There is a points differential gap between Ivan Cleary's side and both those teams, but you'd imagine that should those four games go the way of Wests Tigers, the gap would be reduced as wins and losses occur.
Importantly, Wests Tigers play the early game of the round in both Round 24 and 25 — meaning that there's literally nothing they can do other than ride the results of their opponents following their matches. They can just concentrate on getting the two points on offer, and then move on with the weekend.
This week that opponent is the Sea Eagles, a side they recorded their biggest win of the year of back in Round 6. Much has changed since then — particularly with the Silvertails' struggles of late — but they showed enough in the first half last week against the Gold Coast Titans that they will be a tough opponent.
Brisbane will face a fired-up Roosters side in Sydney on Saturday night while the Warriors are at home to top four hopefuls in Penrith — both teams coming off a loss in Round 23 and desperate to bounce back. 
It's hopeful thinking, but with those fixtures in mind for Round 24, there's certainly a chance that Wests Tigers could end the round just two points of both the seventh and eighth placed sides, but what matters most is getting the win on Thursday night against Manly and letting the rest take care of itself.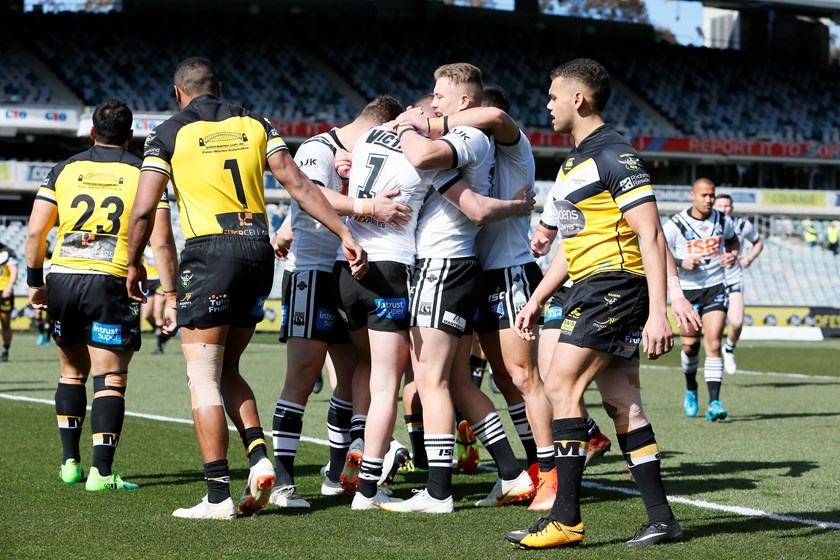 ISP
Ladder Position | 5th (28 points, +24 F/A)
Teams Around Them | Dragons—2nd (30 points), Jets—3rd (28 points), Bulldogs—4th (28 points)
Remaining Fixtures | Newtown Jets—3rd (A)
A last-minute field goal to Tyson Gamble ensured that Brett Hodgson's side remained in the hunt for a top four finish heading in to the final round of the Intrust Super Premiership competition this weekend.
Moving up to fifth and level on points with the Jets and Bulldogs on 28 points, a win for Western Suburbs in the final round of the year over Newtown would solidify a top-four spot and a crucial second bite at the cherry — meaning they'll have absolutely everything to play for in the must-watch game of Round 24.
Two points clear of Mounties in sixth place and 59 points ahead in for-and-against, it's unlikely that the Magpies could fall any lower than they sit now — particularly given Mounties take on the second-placed Dragons. However, what could help the side is if Mounties beat the Dragons at GIO Stadium and Western Suburbs get the job done against Newtown, which could see them finish in second or third position.
Should Newtown and St. George lose their tough games, the Bulldogs look in the box seat to secure a top four spot with a relatively easy fixture on paper against the ninth-placed Wentworthville Magpies. However, Wenty are in season-best form having won their last three games and are a mathematical chance of finishing in the top eight if they can post a big win and hope that the Warriors record a heavy defeat.
With Mounties and the Dragons kicking off at 12:45pm — 15 minutes before the Magpies — Wests won't exactly know their fate prior to kicking off at Henson Park, which again might be a good thing. They can just concentrate on building on last week's win over Wyong and finishing strong heading in to the finals...