With a competitive squad for the 2019 season and strong junior base, newly-appointed Wests Tigers Coach Michael Maguire says his side are a genuine "sleeping giant" in the NRL and have the capacity to truly rise in the game over the next few seasons.
Speaking with Macquarie Sport Radio's Breakfast Show on Monday, Maguire said he was relishing the opportunity to not only be back in the NRL but at his new club.
The Premiership-winner was appointed by Wests Tigers last month and will join the team next fortnight for training at the conclusion of New Zealand's tour of England.
"I'm looking forward to being back," Maguire reflected after the second Test. "I really want make sure we nail the last Test match over here, but I can't wait to get in there.
"I'm really looking forward to working with everyone at Wests Tigers.
CEO Justin Pascoe reflects on why Maguire is right Coach
"I know a number of the players there and have a lot of youth coming through. They've also got a great nursery in and around that area which is really important.
"One thing I love doing is bringing those younger players through to first-grade and ones from that area that love playing for that jersey.
"I'm big on the jersey and it's something that I want to grow with myself coming in."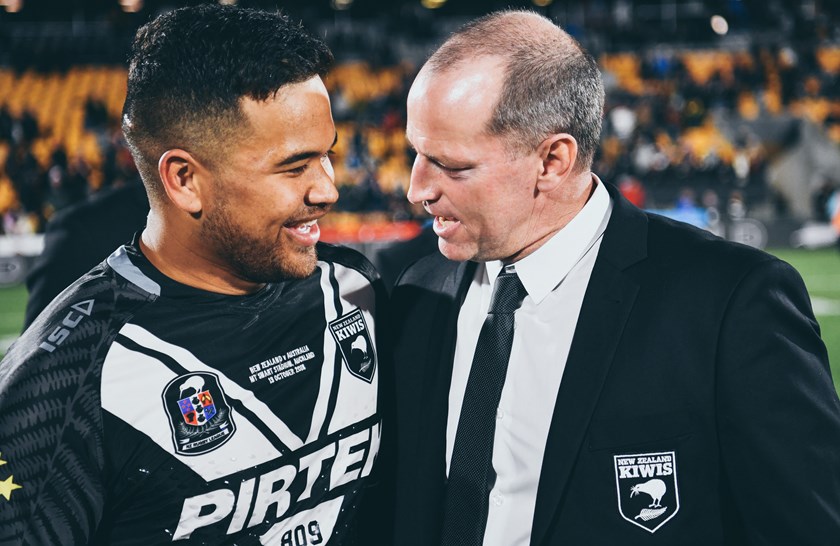 While the circumstances around the Premiership-winner's return to the NRL with the departure of Ivan Cleary haven't been completely straightforward for Wests Tigers fans, Maguire instead saw the positive — highlighting that the situation had given him an opportunity to take charge of a club with truly untapped potential. 
"I think that this has given me the opportunity to jump on what I see as one of the biggest clubs in the game," Maguire said. "It's a bit of a sleeping giant.
"Similar to what I've been at before [with Wigan and South Sydney], there's a lot of supporters out there that are waiting for this club to rise and I want to make sure that I do everything possible to make that happen.
There's a lot of supporters out there that are waiting for this club to rise and I want to make sure that I do everything possible to make that happen.

Michael Maguire, Wests Tigers Coach
"What we've seen in the last couple of years is a real change in the management and board there to get everything stable. I think to be successful in the NRL, you need a stable front office, and you can have that go down through your team.
"I think we've definitely got that at Wests Tigers... and I'm really hoping to build on what they've been doing. Everyone builds in the organisation — the players, the staff, and not just the coach — and that's what makes a strong and successful club."
Maguire was also quick to praise the form of reigning Dally M Halfback of the Year Luke Brooks, and spoke of his excitement to work long-term with the halfback.
"I've spoken with Luke and I'm really looking forward to working with him," he said.
"I really like his style of play and he's born and bred in that jersey, so if we can build what we want to build there, he's going to play a big part in that moving forward. 
"He's put a lot of time in that jersey and it would be nice to see him get some high reward off the back of that."
2018 Season Review: Luke Brooks
With 28 players signed on for the 2019 Telstra Premiership season, Maguire also spoke about the club's salary cap position and potential new players. 
"I'm aware that there is some space there [in the salary cap]," said Maguire.
"When I come back I can work through that but we're in a pretty good position to move forward. 
"It's about picking the right ones and the right players to add to the ones you've got.
"I think there's a really good blend of senior players and youth coming through, and that's what I see as the chance to build something really strong."
To listen to the full interview with Michael Maguire, click here.