A new year of NRL Fantasy is upon us, and it's time to start thinking about your 2019 team with the release of the full list of Wests Tigers fantasy prices for the season ahead.
While there's plenty of time to trade in your favourite players over the first few weeks, starting the year off with players who will rise in price while also chalking up good scores is key in seeing you fly out of the blocks to start the Fantasy year.
Finding the right guys can be tough, so here's five Wests Tigers players you're going to want to consider having your team for their Round 1 clash...


Esan Marsters (CTR, $617,000)
A Fantasy revelation last season, Esan Marsters will no doubt be one of the most sought-after centres again following a dominant season in 2018 that saw him average 41.4 points per game. He does start the season over $100,000 more expensive than he did at the start of last year but there's no reason why the 22-year-old can't be a Fantasy factor again in 2019. He enters the year with added experience of the New Zealand tour of England — where he worked with now Wests Tigers Coach Michael Maguire — while the return of Josh Reynolds from injury could see the right side of Wests Tigers grow in attack. Incredibly, Marsters averaged over 40 points last year with only three tries to his name, which means there's still plenty of avenue for growth should he start to find the try-line a bit more. Wests Tigers also begin the year with three straight home games, which could be a real key.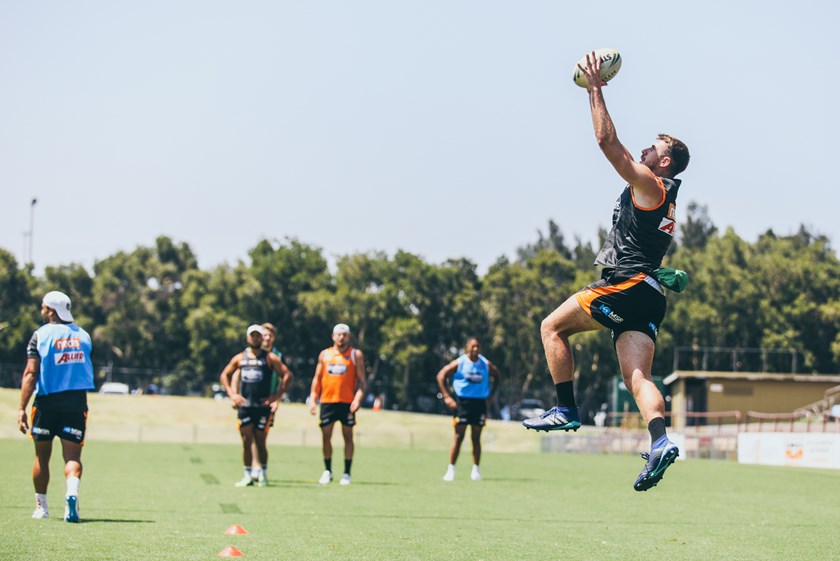 Paul Momirovski (CTR, $472,000)
With Marsters looking locked in to either the left or right centre position, the interesting battle will be as to who can claim the other centre position for Round 1. Should that position fall to one of the side's new recruits in 2019, Paul Momirovski, it's definitely worth considering the 22-year-old for your Fantasy side. Momirovski is somewhat awkwardly priced following his two NRL appearances that saw him average 29.5 Fantasy points per game, but his numbers from the Intrust Super Premiership competition showed that there's plenty of upside for the outside back if he can nab a starting spot. Be it on the left outside Luke Brooks or the right outside Benji Marshall and Josh Reynolds, Momirovski is certainly capable of getting in on the attacking stats and seeing his Fantasy price rise as a result. Definitely a name to consider once that all important Round 1 team list is announced!
Robbie Farah (HOK, $826,000)
There's certainly plenty of danger in splashing so much cash on a player early on in the year who wasn't quite at the same Fantasy level as others in his position last year but there could be a bit of a point-of-difference with Farah this season. Cameron Smith (59.7 points) and Damien Cook (64.7 points) were certainly go-to players in 2018 but both have undergone significant change in the off-season — Smith no longer combining with Billy Slater while Cook's Rabbitohs have a new coach in Bennett, who hasn't historically been conducive with big Fantasy scores. That might leave Farah as the next best option at the top level, who has played under Maguire before in his career. Farah averaged 55.3 points per game since joining the club midway through last season — including five scores of 60 or more — and should again see similar numbers, depending on his timeshare with Jacob Liddle. If you don't want to splash the cash early on with the question marks surrounding Smith and Cook then Farah might just be the way to go — even at the price-point he is.
Luke Garner (2RF, $340,000)
Still priced low enough to sneak on to the bench in a number of Fantasy teams, keep an eye on Luke Garner's name in the Round 1 team list for Wests Tigers. It's unlikely he'll jag a starting back row spot — Chris Lawrence and Ryan Matterson would seemingly be the front-runners for that — but he's certainly one to consider he can secure a spot in the final 17. Debuting late last season, Garner only played a handful of games and minutes for an average of 27.3 but the key was his good PPM. Garner finished the year with a PPM (point-per-minute) of 0.75, and the two games he played more than 50 minutes saw him chalk up 41 and 34 points respectively, all in base stats. If he can start to find some more minutes and attacking stats as a result, Garner is definitely one that could be a slow-burner to consider as his price rises slowly — allowing you to upgrade to a fallen gun after a month or two of the season.
Sam McIntyre (2RF/CTR, $212,000)
Rookie forward Sam McIntyre certainly meets a number of the criteria coaches will want in their Fantasy squads — he starts at bottom-dollar price, has the dual-flexibility between centre and second row to help with trades, and he's a player on the rise. McIntyre couldn't play first-grade last year due to his development contract but is eligible this season and is certainly making every post a winner with impressive performances in pre-season training. Wests Tigers are somewhat stacked in the back row which might make it tough for the young gun this year, but injuries and opportunities can arise at any moment so you never know. At worst, he's a cheapie who allows you to fill out the rest of your squad while maintaining some positional flexibility that you get rid of when another cheapie comes along. At best, he's all of that and he plays a handful of games during the mid-point of the season, rises $100,000 or so in price and potentially gives you an extra number in the bye round. If you're short on cash and need to fill out your squad, McIntyre might be your man.