Pre-season has had a familiar sound to it for Jock Madden.
It's kind of like a thud and a thwack put together.
Thrwaaaooorrrdkkk.
The youngest and smallest player in Wests Tigers full-time squad, Madden certainly hasn't been missed by the number of experienced forwards at the club, just doing their best to welcome the young teenager to what life in the big time is like.
"My first session, I got flattened by Ryan Matterson," Madden laughs in memory.
"It really shook me.
"Seriously. I didn't think it was coming and he just absolutely cleaned me up as I passed. His shoulder felt like it went right through me and just missed my head…. I actually remember it specifically because it just shook me up.
"Zane Musgrove's another one. Their technique is so good and they just don't miss.
"I can't lie, the first few weeks really busted me up a little," he added with a smile. "I get pretty sore, but if you're good and disciplined with your recovery and stretching then it certainly helps — as does staying away from those guys if you can help it.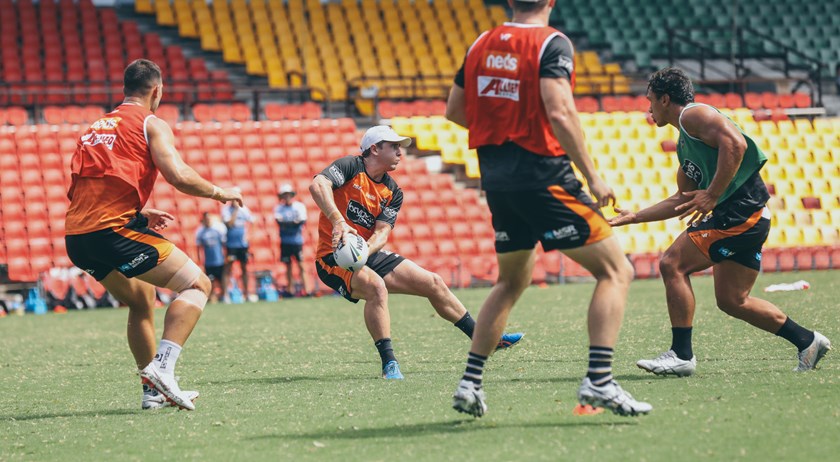 "Matto and I are actually pretty close so it's been really good for me.
"At the end of the day, I know that if I'm taking the ball right in to the line and I'm getting hit then I'm creating space for others and that's my job.
"It's his job to protect his inside shoulder and make sure he's not taking any dummies off me; it's my job to get belted and get back up.
"It's my job to get belted and get back up."

Jock Madden
"The guys here have all played at the highest level so when you get to come and train with them and get belted by them it shows you're at a different level to what you were at before, and I guess that's something pretty special to think about."
It's fair enough if Madden's name isn't exactly familiar in your household yet.
Born in March, 2000, the Scone Thoroughbreds junior hadn't even started kindergarten by the time his now halves partner at training, Benji Marshall, was lighting up a sold-out ANZ Stadium with his Grand Final heroics.
Luke Brooks — often thought of as the young halfback at Wests Tigers — was making his name in the NRL before Madden was even crossing over in to the teenage years.
Even the 20th anniversary Wests Tigers logo across his chest is older than he is.
Jock Madden is one of the new generation coming through at Wests Tigers after signing a long-term deal that starts him on a Development contract in 2019.
Less than 12 months ago, he was chalking up points scoring records in the SG Ball competition for the Newcastle Knights and a long way off a full-time squad.
But now, after an intense four months of pre-season training, his first action for his new club will come in Saturday's Intrust Super Premiership trial where the teenager will steer around a forward pack with State of Origin and international experience.
It's a far cry from the fields of St. Johns Oval in Charlestown, and given how far he's come, Madden's composure — on and off the field — stands out.
"I'm really still just trying to take it all in," he said frankly about his new role.
Brooks remaining tight-lipped on halves partner for Round 1
"My first week here, I couldn't believe I was training with guys like Benji and Brooksy. I couldn't take my eyes off them because I was just trying to take in all they were doing, but when you keep turning up every day and start to get closer you can really start to not just see what they do but actually start to learn from them.
And then, almost surprisingly, the level-headed, country kid starts to show why his growth has been what is has — his ability to learn from what is around him.
"You look at Brooksy last year," he begins. "You can see it with his Dally M year just how classy he is. His kicking game is brutal with how he cuts through it, and it's even more effective as a left footer. His direction is really key too, and his ball playing… you don't always see it but he creates so much for the guys around him.
"Grub's [Josh Reynolds] a bit like that too. I talk to him a lot — he plays off the ball and creates a lot of space and numbers with his running game and the way he gets himself in to the game and that's something I think I can do as well.
"And Benji: he's an all-time great. I couldn't even start with the things I try to learn off him. The way he approaches it all just makes you want to do it more and more. You love playing with the best of the best and being able to learn from what they do.
"I'm just trying to watch each one of them and take bits and pieces of their game to put in to my game," Madden continued. "When you put everyone's game in to perspective, it's really helpful to apply it your game and role.
It's not just those three halves that Madden has found himself learning off, either.
He'll open Saturday's trial alongside Tyson Gamble in the halves, and said the former Redcliffe playmaker — who's forged a similar path him in moving to Sydney to learn from some of the best halves in the game — has been just as helpful.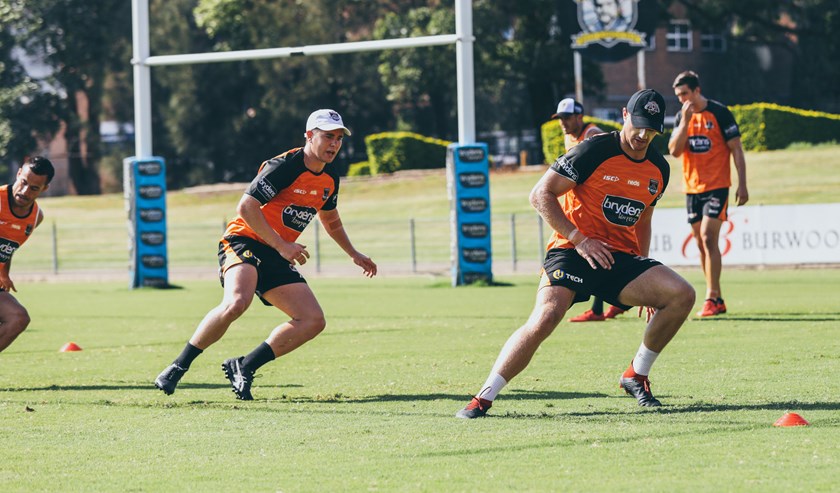 "Tyson and I have worked a lot together this pre-season and I think we're building something really strong," he said. "He's a fantastic runner of the ball so I can play on the ball and he can play off me — that should lead to a good combination.
"We've just spoken about how excited we are to play Saturday and try to show all the things we've been taught. We've taken a lot in from the video room and the training paddock, so it's good to be able to go out there now and put it in to practice.
"Madge has said from the start of pre-season that whatever you put in, you'll get out," Madden added. "He's really hard in his pre-season but says that if you have a hard pre-season it'll set you up for a great season and I really believe him.
"It's been a tough few months, but it's all been worth it. It's what it's all about."
Western Suburbs will take on the Bulldogs in an Intrust Super Premiership trial match on Saturday, February 23 at Belmore Sports Ground, with kick off at 3:30pm.