Wests Tigers Head Coach Michael Maguire said there was plenty to take from Saturday's trial defeat to the New Zealand Warriors with a number of new combinations in action for his side.
With Ryan Matterson and Robert Jennings turning in their first game for their new club, and the likes of Luke Garner and Matt Eisenhuth having a more prominent role with injuries to Chris Lawrence (jaw) and Elijah Taylor (pectoral), Maguire said he took plenty from the contest ahead of the team's season opener next fortnight.
"I got a lot out of today," he admitted frankly.
"People are going to ask exactly what it is and I'm going to keep that to myself, but I think that across the players, we can be a very strong team moving forward.
"Chris' [Lawrence] injury has given us an opportunity moving forward and it was good to see the guys do their best in trying to take advantage of that.
"Ryan Matterson is building in what he's doing and the combinations of what we end up doing on that right side. I thought he was good in the way he played in getting early ball for Esan [Marsters] and allowing us to create down that side.
Match Highlights: Trial, Warriors vs. Wests Tigers
"I know we'll get a lot out of that for the next time we play the Warriors," he added.
"There's plenty of positives but as a group, there's also plenty of things to work on. We need to make some changes in around how we want to play, and I thought we were probably a bit sporadic with that in the two halves trying to get in the game.
"But when we were able to get our play going, I thought there was plenty of positive."
"We've got a way to go, and there's still plenty of work to do," Maguire continued.
"There's a good foundation there, but the boys are going to have to go back to that every single day and keep wanting that to grow moving forward.
"We've got some extremely good and capable players, and one thing I do know is that if they want to put in and keep improving, then it's going to happen."
One area perhaps not abundantly clearer is the halves puzzle, as Luke Brooks' good performance was coupled with mixed games for Benji Marshall and Josh Reynolds.
Marshall played the entire first half alongside Brooks and had a few dangerous moments on the right edge, while Reynolds came on in the second half and tried to inject himself in to the contest with his usual energy and creativity around the ruck.
End of sets a focus for improvement for Brooks
It's still unclear which five-eighth will partner the Dally M Halfback of the Year against the Sea Eagles in Round 1, with Maguire refusing to give too much away.
"I'll go away and look at the video and assess which way we want to go," he said. "I know we've got two very capable halves there alongside Brooksy [Luke Brooks].
"I think Benji's experience is really going to help this team, and it's the same thing for Josh in his experience — he's played in Grand Finals too so he knows what to do.
"We've got a decision to make there in the next two weeks and how we can best complement them with the team. But for me, what's been most pleasing is that they are both two quality men who want the team to excel — we had a good chat after the game and they are well aware of what we need to do.
"We didn't quite get to the things we wanted to at times today, but I know that when we do, we're going to be a strong team moving forward this season."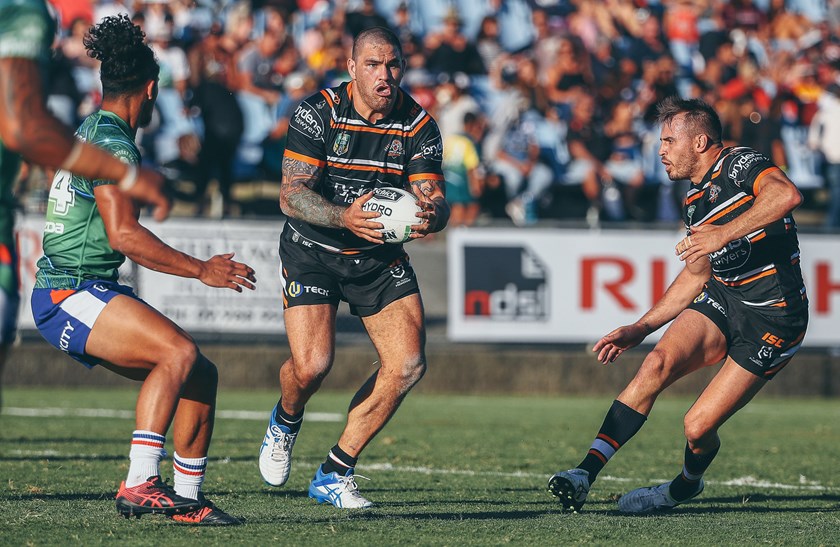 An area that did please the Coach from Saturday's clash was the performances from starting props Russell Packer and Ben Matulino, who both saw an increase in game time and on-field production from what they had previously averaged last year.
"It's the first hit-out for them so it was a bit of a challenge to them," Maguire said.
"They've both had to work really hard in the pre-season to get their bodies right and in the shape they're after and I think having that run is going to be great for us.
"Russell, in particular, was able to play a lot longer than what he had played for quite some time and he was able to stay out there and not drop off at all.
"And Ben, I think it's gone a little unnoticed that he's had to completely rebuild a bit of his knee, so it was a real positive to see him look the way we wanted."
Wests Tigers will begin their 2019 Telstra Premiership campaign when they take on the Manly-Warringah Sea Eagles at Leichhardt Oval on Saturday, March 16.
Match: Wests Tigers v Sea Eagles
Round 1 -
home Team
Wests Tigers
3rd Position
away Team
Sea Eagles
14th Position
Venue: Leichhardt Oval, Sydney