As we draw closer to the start of the 2019 NRL season, we take a look at the players that you're going to want in your NRL Fantasy team come the Round 1 clash against the Sea Eagles.
Position-by-position, we'll break down each player available from Wests Tigers with reasons why they're certainly worth picking up in your squad for the year ahead.
For more information on NRL Fantasy, pick your team at fantasy.nrl.com.


Ryan Matterson (2RF — $681,000)
New recruit Ryan Matterson starts the season as the most expensive back rower in Wests Tigers Fantasy list, and seemingly for good reason. The 2018 Premiership winner has moved over to his new club and looks to be set for a starring role on the right edge, a position he impressed in during his side's sole trial match against the Warriors last weekend. Matterson was somewhat of a breakout star early on for Fantasy coaches last year before returning to the bench over the final few rounds of the season — a role that was still important for the Roosters' side as a whole but one that did impact his Fantasy output. Assuming Matterson is locked on for 80 minutes on the right, his numbers could return to what they were last year and more with his strong running style and ability to create points in attack. The 24-year-old has experience in both the centres and halves, so his ceiling as a Fantasy player is certainly pretty high should he start to have a hand in tries and linebreaks. Matterson's price tag is high, but he could easily be a set-and-forget player for your Fantasy side during the year, which could also save you some crucial trades.
Matterson reflects on phyical trial in new colours
Matt Eisenhuth (2RF/FRF — $636,000)
One who continues to fly under the radar every season is Matt Eisenhuth, who starts the year well above $600K in price following his 44.9 average last year. A regular in Wests Tigers' pack since making his first-grade debut in 2017, Eisenhuth's ability to play big minutes on either an edge or in the middle gives him great versatility as a Fantasy player but also on the field itself, which in turn leads to extended minutes. How his role changes this year will largely depend on what sort of bench Michael Maguire runs with. With a Jacob Liddle or five-eighth probably involved, it then depends whether Maguire runs with three big middles or some other options on the edges — the latter likely to lead to more minutes (and Fantasy points for Eisenhuth). The 26-year-old has shown an ability to score points regardless of his role in the side, so the only question mark comes on his minutes — something we might be better off waiting and seeing before making the plunge on a $600K-plus forward.


Elijah Taylor (2RF/HOK — $572,000)
Elijah Taylor presents an interesting option for Fantasy coaches this year with the Kiwi international available at both second row and hooker following his mixed role in 2018. If you're wanting to avoid the big guns at hooker, someone like Taylor could be worth a look at well under $600K because his defensive workload always provide coaches with a good base to work off. Should he start at lock forward as in seasons gone by, Taylor is seemingly locked in for 40-50 tackles per game (minimum) plus any attacking stats that come from there. His final three games of the season last year saw him average upwards of 50 points per game, so he's definitely worth looking at if he can produce that again to start 2019. Because of his dual position flexibility, Taylor is definitely one to keep an eye on with the Round 1 teams.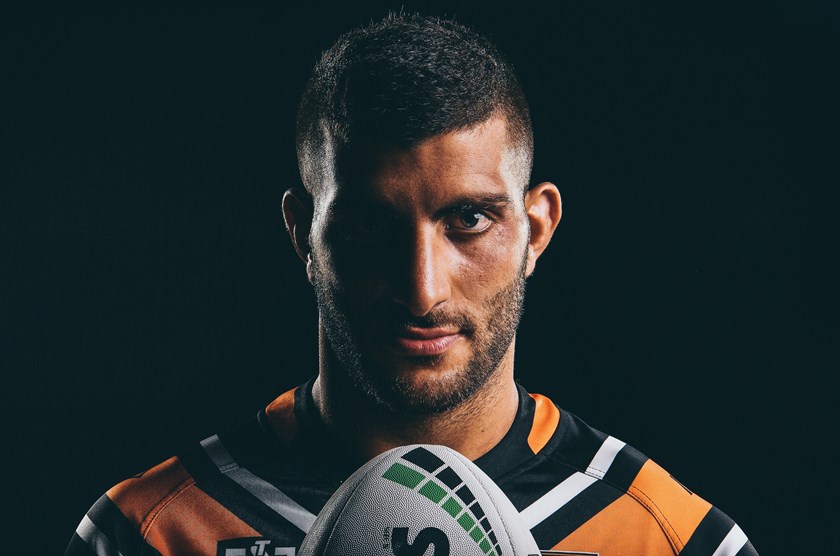 Alex Twal (2RF/FRF — $551,000)
Still only 22 years old, Alex Twal is well on his way to being a genuine gun of Fantasy in the next year or so as his role and ability continues to rise. The Lebanese international has a tremendous work rate that sees him consistently pump out scores in excess of 40, while his last game against the Sea Eagles — whom he plays in Round 1 — saw him chalk up an incredible 79 points off the bench. Twal's career average against the Silvertails is a quality 51.75 points, so if you're looking for a forward gun priced slightly below the big names, then Twal might just be the differential you need. Should his role and minutes increase at all on what they were last year, Twal will be a bonafide Fantasy gun you simply have to get in. 


Chris Lawrence (2RF — $503,000)
Sidelined for the start of the season with a serious broken jaw, Wests Tigers veteran Chris Lawrence isn't an option for Fantasy coaches now, but he is certainly one to think about once he does return to the field. Likely to miss an extended period of time following the horror incident leading in to his side's trial match in New Zealand, Lawrence's exact return date is unknown as he enters his 14th season with the club following an impressive 2018 campaign. Last year, the Life Member was dynamic on the left edge alongside Luke Brooks and his partnership with Dally M Halfback of the Year will no doubt resume once he does return to the field. If he returns with the role he had last year — on the edge outside Brooks playing the best part of 80 minutes every week — then Lawrence is certainly one to consider at basically $500K. But it's definitely a wait-and-see at the moment, unfortunately, following his injury.
Michael Chee Kam (2RF/CTR — $501,000)
While the news was bad on the injury front for Lawrence, what it does do is open up a huge opportunity on the left edge for Wests Tigers and the next five players are all worth keeping an eye on as a result. First up is Michael Chee Kam, who comes in at just over $500K after starting in the back row for Wests Tigers on a number of occasions last year. The added bonus with Chee Kam is availably for selection in the centres, while his consistency of hitting around 35 points per game is also helpful to start the year when scores are a little unknown. Of course, that uncertainty still applies to Chee Kam, who is in the running for a spot in the forward pack alongside several others at Wests Tigers; should he find his way in to the number 11 jersey for Round 1, then he's definitely an option at the price point. Anything less, however, then it's money that might be better spent elsewhere for the time being — although it's worth noting that Chee Kam did start the season last year on the bench before rising rapidly in price during the year once moved in to the run-on side. If 2019 follows a similar script, he's worth keeping an eye on.


Robbie Rochow (2RF/FRF — $467,000)
Robbie Rochow started the 2018 season on fire for Wests Tigers and his Fantasy coaches as well — rising rapidly in price before injury struck and the former Country Origin representative tailed back in to the club's reserve-grade squad. Rochow has had a number of surgeries in the off-season and will certainly be keen to start the coming year like he did the one before, only this time free from any injury! Again, the flag for Fantasy coaches his the question as to his role, so he's definitely a wait-and-see once the Round 1 team list is revealed next Tuesday.


Josh Aloiai (2RF — $352,000)
While repeating the above comments for Chee Kam and Rochow regarding role, it's worth pointing out that Josh Aloiai has a number of different considerations about him for Fantasy coaches in 2019. Of course, he has to be in the Round 1 team to be a viable option for selection, but he does come in $150K or so cheaper than a the likes of Chee Kam and Lawrence, while his on-field role could offer more versatility than others, with the former Junior Kangaroo playing as a prop throughout the club's trial match schedule. Aloiai is capable of playing on the edge, and is only available for selection on the edge in Fantasy, but given he can play in the middle too, he's perhaps more of a chance for selection on the bench in the Round 1 side.
NRL.com preview Wests Tigers chances in 2019
Luke Garner (2RF — $340,000)
The name on all Fantasy coaches' lips heading in to Round 1 is Luke Garner after the 23-year-old was named to start in place of Lawrence in the club's sole trial match against the New Zealand Warriors. Garner played good minutes in the game and scored a try in the second half, and will certainly be one of the most selected players should he find himself in the run-on side for Round 1. Priced at under $350K after only making a handful of appearances last year from the bench, Garner is a great option for Fantasy coaches even if he only plays 60-65 minutes because his price tag will quickly rise as a result. In the game he played the most minutes in 2018 (Round 21 against Newcastle), Garner chalked up 41 points in 54 minutes while also adding 47 points in 28 minutes two weeks prior against the Rabbitohs. If it is indeed the youngster who finds his way in to the run-on side as a result of Lawrence's absence, he's essentially a must-have to start the 2019 season.


Chris McQueen (2RF — $228,000)
The other key name to watch out for here is Chris McQueen, who is perhaps flying under the radar somewhat as a potential beneficiary of Lawrence's injury. McQueen played the entire second half against the Warriors in his side's trial match last weekend, and could loom as a player with a role to play in the NRL side now the veteran Lawrence is out. By his standards, McQueen's 2018 was disappointing, but it's worth noting the former Queensland State of Origin representative came in to the year with a limited pre-season following neck surgery. This time around, he's had four months of hard training under his belt, with a new Coach in Michael Maguire who knows his strengths and whom he won a premiership with. McQueen's price is incredibly appealing at near bottom-dollar value, so even a limited role off the bench would see him rise in price over the opening month or so of the season — by which you can then assess whether he'll keep rising in price or starting to even out. Keep an eye on the team list because McQueen could well be worth picking up.
Sam McIntyre (2RF/CTR — $212,000)
The final Wests Tigers player available in the back row this year is young gun Sam McIntyre, who joins the top squad after spending last year on a Development contract. McIntyre will be very popular amongst coaches this year with his bottom-dollar value and flexibility between the centres and back row, and he's certainly worth picking up because he's every chance of cracking the top grade this year. McIntyre has quickly risen through the ranks of the Jersey Flegg and Intrust Super Premiership teams over the course of the 2018 season, and will certainly fancy his chances at taking the next step forward this year off the back of a good pre-season.