If Wests Tigers first ever senior women's team taking to the field this Saturday wasn't special enough, there's a story to put a smile on even the hardest of hearts with Agnes and Briana Dean.
Agnes Dean is a part of Wests Tigers Harvey Norman NSW Women's Premiership side while her daughter Brianna Dean is playing in the Tarsha Gale Cup team.
The duo are excited by the opportunity at Wests Tigers, and spoke about their delight to be the first mother-daughter duo to feature for the club.
"To be here in the club is a very exciting opportunity for the both of us," said Agnes.
"At first, I was just here to bring Brianna to training, but I thought the opportunity for the women's team would be great to jump in show her that she can make it."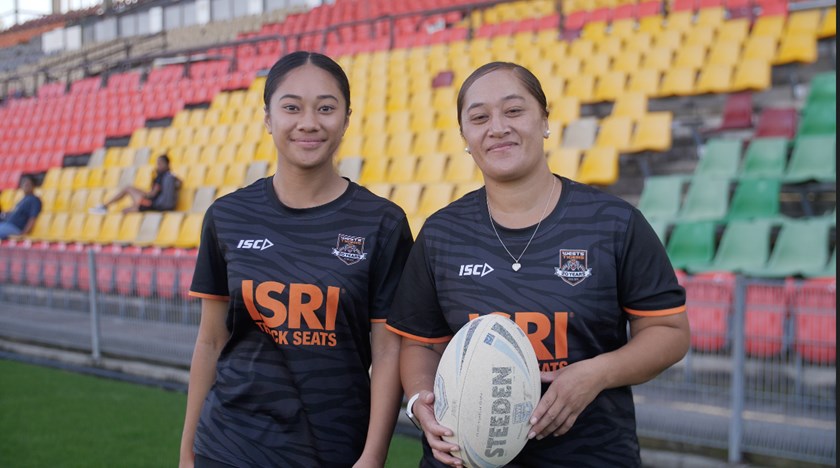 Agnes and Brianna came to the club from New Zealand with the history and passion of rugby league running deep in their family. Both said they could not wait to make playing the sport at their current level a reality here in Australia.
"I actually started as a union girl but I've known league all my life," Agnes reflected.
"My brothers play league, my Mum and Dad played it too. So when the opportunity arose, we went all in on it and went hard."
"My love for rugby league started when I was in year five," said Briana. "I played with the boys, so it was pretty hard for me.
"When we moved over to Australia, I found out there was a girls team, so I started at Campbelltown and I made my way from there. Having my Mum play as well gave me the motivation because I wanted to be like her."
Prior to the 2019 Wests Tigers Harvey Norman team, there was only Tarsha Gale, meaning that after 18 years of age there was no pathways for women players.
Agnes began driving Brianna to and from training and games but now has the ability to experience this for herself at the club. The pair reflect on how the addition of a women's side excites them and grows their passion for the game.
"To see my Mum playing in the Wests Tigers is amazing, she inspires me to go higher now. I thought Tarsha Gale was where it stopped but I can see there are many doors in every direction, I'm proud of her."

Brianna Dean
"Having this opportunity opens doors for a lot of young players," said Agnes.
"I know a lot of women that stopped playing at a certain age and can't carry on.
"I know there's women out there that can now fulfil their dreams, make it their career and represent their country in the game they love."
Now that the pair are both experiencing the same opportunity at Wests Tigers, they have seen a growth in their mother and daughter relationship.
"Normally I wouldn't talk to my Mum much once we'd gotten back home from training," Briana admitted with a smile. "But now, car rides to training are good — we're always laughing, talking or dancing. I'm always asking her what I should do with my football too and I think we've gotten much closer as a result of that.
"We make it a family thing to watch the game and just give feedback on what she [Briana] can do better on the field," Agnes added. "It's a family affair now."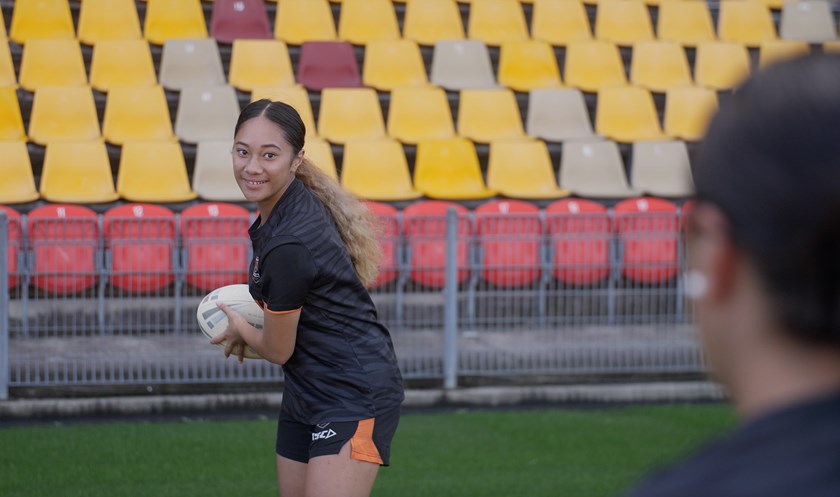 Wests Tigers Harvey Norman NSW Women's Premiership will have their first game on Saturday while Briana will run out for the Wests Tigers Tarsha Gale side.
The daughter had some wise words for her mum ahead of her Wests Tigers debut.
"Mum, you've got to take the opportunity as it comes because you don't get this opportunity in other places," she said. "When you put the jersey on, remember the pride for your team and your family and know that everyone is backing you."
Women of Wests Tigers: Agnes and Briana Dean