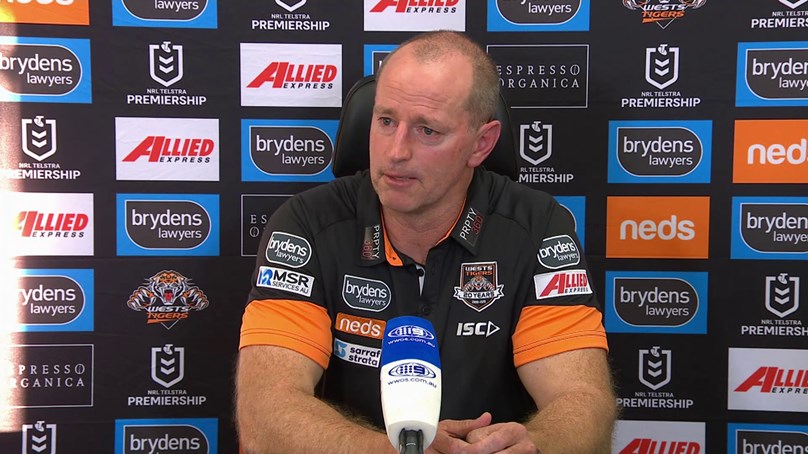 Wests Tigers Head Coach Michael Maguire spoke to the media following his side's first loss of the 2019 season this afternoon against the Canterbury-Bankstown Bulldogs at Campbelltown.
Disappointed with his side's performance, Maguire said that handling errors were the biggest contributing factor the final result in favour of the Bulldogs."
"The way the Bulldogs played, they completed and put the pressure back on us," Maguire said. "Obviously, that's what we've been doing the past couple of weeks so there's a couple of good lessons in there for our boys about what you need to do to maintain consistency in the competition, week-in and week-out.
"After we spoke at half-time, in the second half they came out and dropped the ball three times in the first five sets. You're not going to put pressure on if you're doing that and made nine errors, definitely not the way we planned to play."
"It's disappointing [to lose] but it's a kick in the backside for us about what's required to compete at the highest of levels for this competition," he said.
2019 Match Highlights: Rd.3, Wests Tigers vs. Bulldogs
"That's why teams who stay at the top do it consistently. We've got to make sure that if we want to be a team that finishes at the pointy end, we've got to be consistent.
"You're got to turn up every game, it's as simple as that in this competition.
"It's shown from history last year and the year before that the competition gets tighter and tighter and if you at all think that a team isn't going well, you've got to execute and make those plays against every team you come up against."
See what Maguire had to say in full about today's game in the video above!
Match: Wests Tigers v Bulldogs
Round 3 -
Venue: Campbelltown Stadium, Sydney