Wests Tigers were defeated by the Canterbury-Bankstown Bulldogs 22-8 at Campbelltown Sports Stadium on Sunday.
After a gruelling first half, Wests Tigers were unable to get back in the contest in the second half despite tries to Mahe Fonua and Luke Garner, and will look to bounce back next Friday night when they take on the Penrith Panthers at home.
It was a tough afternoon as a whole on Sunday at Campbelltown with the club's Canterbury Cup and Jersey Flegg sides also suffering tight defeats, but the news was better for the women's program with the club's Harvey Norman NSW Women's Premiership side notching their first win along with a victory for Tarsha Gale.
In junior representative competitions, Balmain got the job done over North Sydney in both Harold Matthews and SG Ball while Western Suburbs suffered heavy defeats at the hands of the Bulldogs. With just one game remaining in the regular season, only the Tigers' SG Ball side is confirmed a place in the finals, with the Harold Matthews side needing to win their final game against to finish in the top eight.

THIS WEEK'S RESULTS
NRL — Canterbury-Bankstown Bulldogs 22 def. Wests Tigers 8
Canterbury Cup — Canterbury-Bankstown Bulldogs 26 def. Western Suburbs 24
Jersey Flegg — Canterbury-Bankstown Bulldogs 38 def. Wests Tigers 24
Tarsha Gale — Wests Tigers 34 def. Canterbury-Bankstown Bulldogs 6
Harvey Norman Women's Premiership — Wests Tigers 26 def. Brothers 6
Harold Matthews — Balmain Tigers 18 def. North Sydney Bears 14
Harold Matthews — Canterbury-Bankstown Bulldogs 46 def. Western Suburbs 8
SG Ball — Canterbury-Bankstown Bulldogs 32 def. Western Suburbs 10
SG Ball — Balmain Tigers 36 def. Northern Sydney Bears 6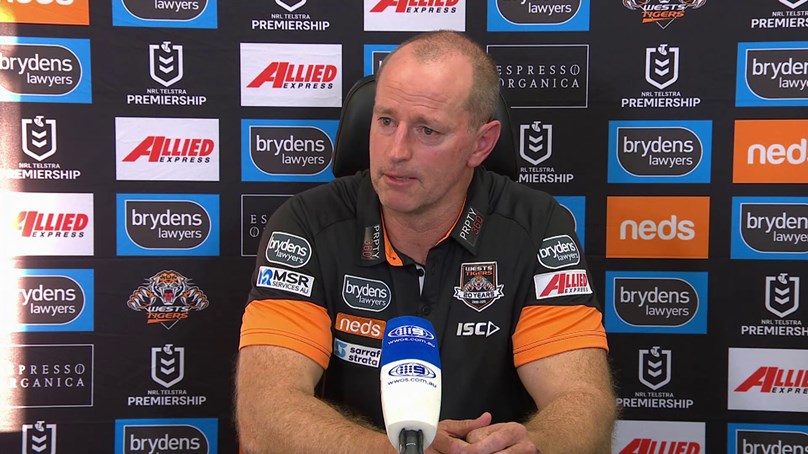 Sign up for a free NRL Account to access this video and other exclusive content.
Already have an NRL Account?
Not sure? Learn more about NRL Account
NEXT WEEK'S FIXTURES
Friday, April 5
7:55pm — Penrith Panthers vs. Wests Tigers (NRL)
Saturday, April 6
10:00am — Wests Tigers vs. Penrith Panthers (Tarsha Gale)
11:30am — Balmain Tigers vs. Central Coast Roosters (Harold Matthews)
12:00pm — Victorian Thunderbolts vs. Western Suburbs Magpies (SG Ball)
1:00pm — Balmain Tigers vs. Central Coast Roosters (SG Ball)
2:00pm — Victorian Thunderbolts vs. Wests Tigers (Jersey Flegg)


Sunday, April 7
3:00pm — Mounties RLFC vs. Western Suburbs Magpies (Canterbury Cup)
5:00pm — Mounties RLFC vs. Wests Tigers (Harvey Norman Women's Premiership)