Wests Tigers Head Coach Michael Maguire said his side learned a valuable lesson in last Sunday's defeat to the Bulldogs as they look to bounce back on Friday night against the Panthers.
Having begun the year with two straight wins to sit on top of the table, Maguire's side delivered an error-filled performance against the Bulldogs to record their first loss of the year, but the Coach was quick to highlight the positive way in which the team have responded with their actions in understanding the need to improve.
"We learned a lot about our group and the style of how we want to play," he said.
"To their credit, the boys have put a lot work in in the background and we want away from the way we'd been practicing on Sunday. That's something we've addressed and we're looking forward to getting back in to it this weekend.
"We've spoken about the team we want to be and how we want to be playing the game and we drifted away from that on the weekend. The boys have held such high standards this year so we just want to do that consistently."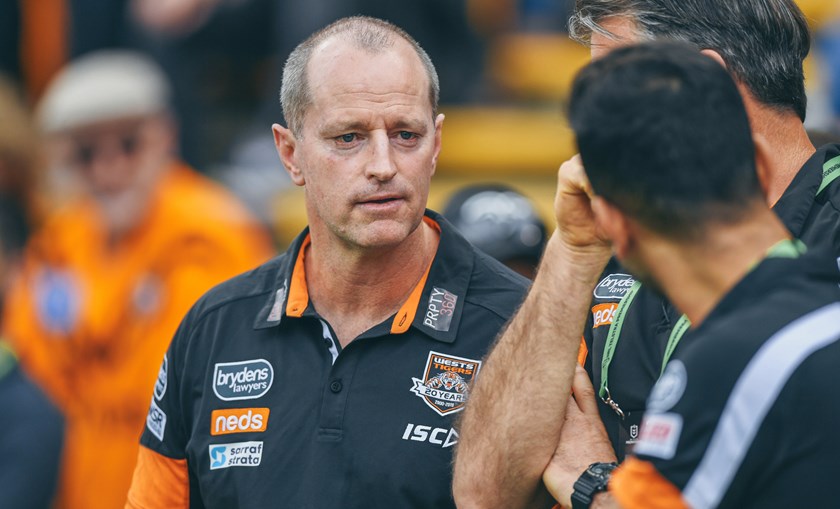 Maguire's post-match comments to the players also certainly struck a chord, with the Coach's passion for the potential in the team clear for all to see.
"That wasn't a spray," Maguire smiled when asked about the post-match scenes.
"It was more about the passion and the expectations of the group.
"They understood why and what was said, and why we'll keep the what to ourselves, the why is because I've got a lot of belief around this group. There's so much more in this group and I'm looking forward to it come out as we keep moving forward."
Wests Tigers will welcome back Josh Reynolds to the first-grade side this weekend as the five-eighth steps in to the number six jersey for the injured Benji Marshall.
Having made his full return from injury, Reynolds had featured for the club's Canterbury Cup side over the past fortnight, with Maguire saying how pleasing it was to see the former Origin half regain his confidence in a pressure-free way.
"It's really good for Josh [to come in] but it's also unfortunate for Benji at the same time because he's been doing a really good job for us," Maguire said.
"From the outside, everyone has looked at Josh and found it tough for him but I actually think it's been really good. For a guy who has been away from the game with injuries, to come back and play two really solid games, he's now got his confidence up and I'm looking forward to him coming in to the team.
"We all know what Josh brings with the energy, but I've seen a change in him. He's really grown his game and looked at how to grow it and apply it in the two games. He understands where he's at and I always knew he would be ready at some stage.
Post-Match: Josh Reynolds
"We had a lot of practice throughout the pre-season with Josh and Benji coming in and out so the boys are really comfortable with him coming in now. I think a lot of the boys are excited to have him come in because he's one of those players."
Talk all week has centred around the matchup of former Coach Ivan Cleary and Wests Tigers following his departure in the off-season, but Maguire was quick to highlight the bigger worry for his side in regards to the two points on offer.
"We've got more to do in ourselves than worry what's around us," he enthused.
"We missed an opportunity against Canterbury, so now we need to turn around and get the performances that we've been talking about delivering from within.
"This is my team now."

Michael Maguire
"This my team now and I've really enjoyed coaching this group. I know the storylines are part of the game but for me, I'm just really glad I'm here. That's one thing I'm doing — enjoying coaching this group. From the moment I walked in the door I could see they were behind the things we were doing."
Penrith will welcome back Fijian superstar Viliame Kikau for the blockbuster clash, with Maguire anticipating an enthralling battle between him and Ryan Matterson.
"We've got Matto on that edge and he's a fair decent size," Maguire said with a smile. "I think it'll be a good little battle out there between those two. 
"I think Ryan is really growing in to this team. He's putting everything in to his game and I'm sure that people will talk about him more after this game. He's a solid defender and it's a great test for him this week. He's got a pretty high standard with how he wants to go about his own game but I'm looking forward to how he goes."