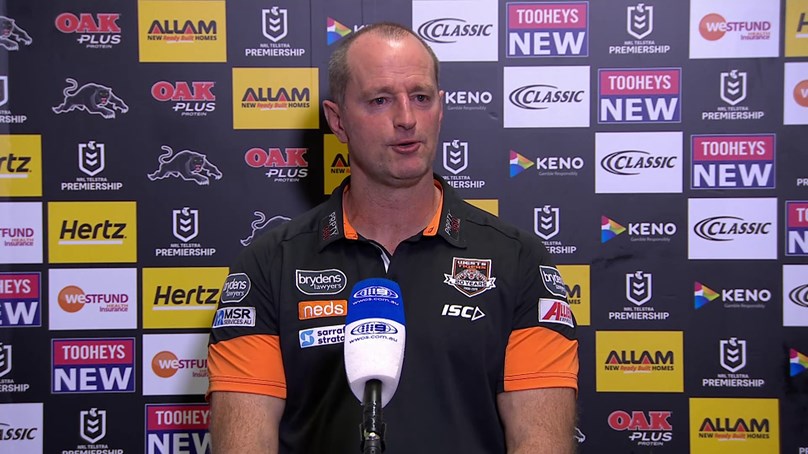 Wests Tigers Head Coach Michael Maguire says his side simply needed to manage the closing moments of Friday's Golden Point clash with the Panthers with more composure after going down in heartbreaking fashion from their Round 4 clash.
Having trailed 8-2 with a minute on the clock, Penrith somehow sent the game in to Golden Point courtesy of a last-second try and sideline conversion, before stealing the two points with a long-range field goal to Blues halfback Nathan Cleary.
While disappointed with the result, Maguire said his side showed great improvement from their Round 3 loss and simply needed to show more composure.
"We must learn how to win those clutch moments," Maguire enthused post-game.
"We definitely had our opportunities to and unfortunately it didn't go our way.
"I thought there was a real good progression of what we spoke about over the last month of the way we want to play.  We were able to achieve a lot more of that tonight, but tt's about doing it for 80 minutes now and that's our big step to get to.
"Towards the back end of the game we were playing a little bit negative with how we were playing with the ball and unfortunately we got bogged down.
2019 Match Highlights: Rd.4, Panthers vs. Wests Tigers
"There was a lot of great moments tonight; I thought there were a lot of selfless plays, a lot of try saving tackles, and that's something we're trying to build here."
Heading north to Brisbane next week to face the Broncos with a 2-2 record, Maguire said his side would no doubt be better for the experience of Friday's defeat.
"I was obviously disappointed with various parts of the game last week and I thought they were able to fix that tonight," said Maguire. "That's our game of rugby league — it comes down to one play and weren't able to nail it tonight.
"The competition is tight and you've got to make sure you take the opportunities. Unfortunately, they [Penrith] were able to get theirs again and we didn't get ours."