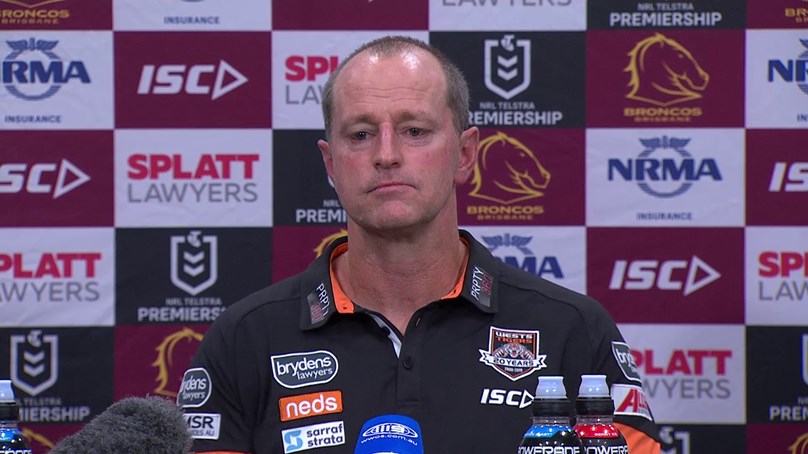 Wests Tigers Head Coach Michael Maguire says he was proud of the way his side hung tough throughout the second half before emerging with a thrilling 22-16 win over the Brisbane Broncos.
After going down in Golden Point last week to the Penrith Panthers, Wests Tigers showed tremendous poise in the final moments to get in a winning position, with Michael Chee Kam racing 35m to score with less than a minute on the clock.
Maguire said he was proud of the way his halves managed the game, and said the resilience in the team was building through the first five weeks of the season.
"We faced a tough week last week with the last couple of minutes," Maguire said.
"We have to learn from that and it was great to see the boys learn that tonight.
"The side hung on for the full 80 minutes.
"It's something we've been talking about and been falling short here and there. Tonight, they really believed in each other and it was great to see them communicate through that many patches throughout the game."
Maguire confident halves will better handle clutch moments

Reflecting on the game and what the team learned from last week's defeat, Maguire said the way his team closed out the final five minutes — after Brisbane had produced a comeback to level the match — showed tremendous growth in the side.
"The scoreboard was ticking over at times — they had to get together and look at what they needed to do and they responded to that," Maguire said.
"They could have had a rushed kick field goal but they didn't. We were in position to make the play and you could see people were in the right positions — we knew that could possible happen at some stage today and the boys practiced that.
"Sure enough, the practice comes in to play and they got the job done."
Match: Broncos v Wests Tigers
Round 5 -
Venue: Suncorp Stadium, Brisbane
Maguire said he was particularly pleased with the way that Luke Brooks and Josh Reynolds combined in the halves again in their second start together this year.
"They're growing the boys, even with Benji there, there's a good mix," he said.
"We've changed our style of how we want to play and the expectations we have of our halves and they're adapting really well all three of them/
"They've been doing a really great how we go about our trainings, there was a game there that came down to the last play and sure enough they did the job."