Wests Tigers forward Alex Twal says his side's drop in their defensive principles against Parramatta is the biggest area to correct on Saturday as they take on the Gold Coast Titans.
Michael Maguire's side were run over by the Eels in a heavy 51-6 defeat in Round 6 as part of the annual Easter Monday clash between the two sides, with Twal highlighting how disappointing the performance was given the solid start to 2019.
"Up until the weekend, we'd really built our season on strong defensive principles," Twal said. "So 51-6... yeah, it's not something we take lightly at all.
"We pride ourselves on our defence and Madge is a defensive coach, so it was disappointing because defensively, the scoreboard paints the picture there.
"It's a tough one because we know there's lots of improvement in us.
"The NRL is a game and a sport that you just need to be on every round or the result won't go your way and we really didn't show that on the weekend.
"For us, 1-17, we just need to nail our jobs."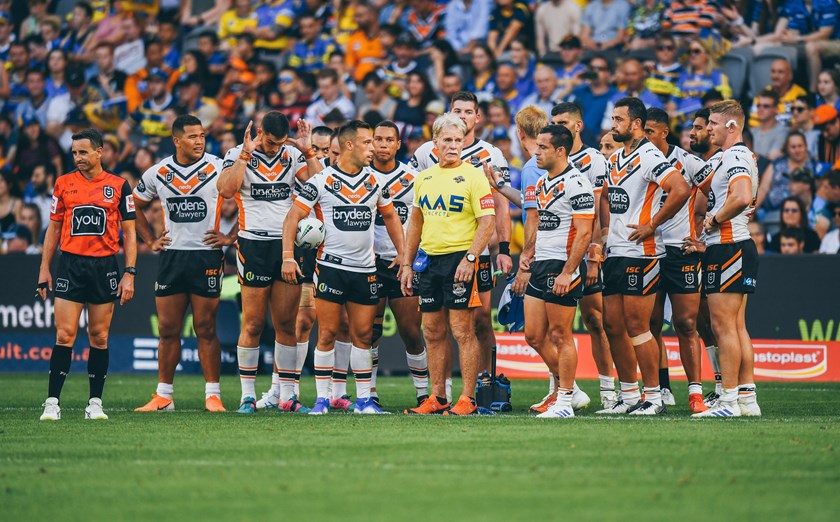 One of the team's best through the first six weeks of the year, Twal said the progress the side has made defensively didn't show up on Monday, which wasn't a fair reward to work put in by the club's coaching staff or support shown by the fans.
"Of course he disappointed," Twal said when asked about the coach's reaction. 
"We play for Madge as much as ourselves and we were disappointed with the performance we put out there. Madge doesn't deserve that, the coaching staff doesn't deserve it and the fans don't deserve it either so we'll be looking to bounce back this weekend. That's all we can control and all we're focused on."
Off the back of another short turnaround, Wests Tigers will travel to Tamworth on Friday before taking on the in-form Gold Coast Titans at Scully Park.
After a slow start to the year, Garth Brennan's side have won their past two games and have a good record over Wests Tigers with five wins in their past six meetings.
Match: Wests Tigers v Titans
Round 7 -
home Team
Wests Tigers
7th Position
away Team
Titans
13th Position
Venue: Scully Park, Tamworth