Wests Tigers forward Chris Lawrence says he's put in all the preparation needed to make a return to the side after missing the entirety of the 2019 season so far with a devastating injury.
Off the back of an almost-innocuous head clash with a teammate in New Zealand, Lawrence broke several bones in his face — the severity of which took several days to diagnose for surgeons due to the remarkable nature of the collision.
With no clear timetable for his return in the early months, the 30-year-old has made a remarkable recovery to be in contention to return in as little as three weeks' time.
Fronting the media today for the first time since his injury, Lawrence spoke honestly about the struggles in his recovery but also his determination to return. 
"It really hasn't been the best start to the year for me," he said. "But now, getting to the back end of the recovery, you can see some light at the end of the tunnel.
"I'm really looking forward to getting back and playing some footy soon.
"My injuries were likened to a car accident. A couple of surgeons that I saw really hadn't seen anything like it in rugby league, and that put the recovery in a bit of limbo because I didn't really know how long until I was going to be back.
"It was a week-by-week proposition — seeing the surgeons and specialists each week — ticking the boxes and now seeing the light at the end of the tunnel."
With seven weeks of recovery at home — unable to train or get his heart rate up as he waited for his face to heal — Lawrence's recovery was far from simple.
It's almost remarkable to see him back now, ripping in during contact drills, given the length of time the veteran forward had away from the training field all together.
"Having to get my weight and fitness up in the past few weeks has been another mini pre-season for me," Lawrence reflected. "It's been a big task to get back and to go through all that by myself, but once I do, it will be a big achievement for me.
"I've actually got quite a number of plates in my face — it's possibly stronger than it was before," he laughed. "That's one thing I wanted to make sure is that I wouldn't be adding any more risk or potential for further injury. The doctors and surgeons reassured me my face was as strong, if not stronger than before."
"That's footy you run across that line each and every week knowing there's a chance you could be injured."

Chris Lawrence
One of the club's longest-serving players with 227 games for Wests Tigers to his name, the 29-year-old conceded there were some initial fears he'd played his last game for the club but was quickly reassured by medical staff about his return.
"Probably straight away, I did think about it," Lawrence admitted.
"When those first few days after the injury unravelled and we found out how severe it was and how many bones I'd fractured, it was something that was there.
"I'd always said that if I was advised by a surgeon that I shouldn't go back out there or that there'd be further injury then that would make my decision easier.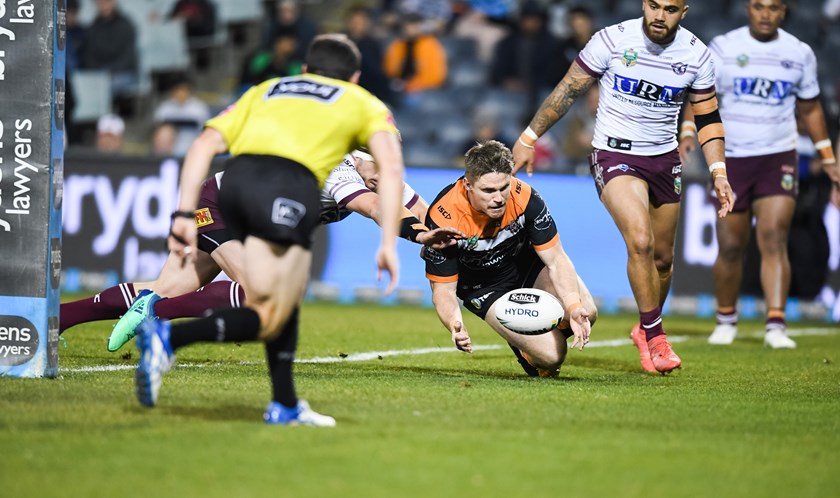 "But they reassured me from the get-go that once I got surgery there would be no ill effects and that gave me the all clear that I could get back on the field."
The rollercoaster road to recovery is almost now over for Lawrence, who is eyeing off a return to the field following the club's Round 12 bye.
"I don't have an exact date yet but I am hoping it's not long after the bye," he said.
"Maybe the week or two after it but I'm not too sure. I'm at the back end of my rehab where I'm getting in to contact so I've got to tick a number of boxes there.
"Once myself, the coaching staff and training staff are happy, I'll get back out there.
"Someone like Ronnie Palmer has been good — he's basically been my own personal trainer for the last six weeks with how much time we've spent together.
"He's got plenty of one-liners and motivational quotes to get you going.
"He's been great and all the training and medical staff here have too. They've made this process of getting back in to playing a whole lot easier."