Wests Tigers forward Michael Chee Kam says he feels thankful to extend his time at the club after announcing a two-year contract extension that will keep him until the end of 2021.
Speaking publicly to the media for the first time this season, Chee Kam reflects on an emotional year full of highs and lows, and said he was proud to come through the other side of it all and extend his playing future with Wests Tigers.
"The club has shown a lot of faith in me," Chee Kam said.
"You go through adversity in life but it's about how you bounce back.
"I feel really grateful and blessed to get the opportunity to stay again for another two years and do what I love to do with this great club.
"I want to repay the faith of it all.
Chee Kam ready to repay the faith

"It was a disappointing feeling to be in a position like that and let my family and friends down," he reflected. "They feel everything you go through, so it's about being smarter and taking the most of every opportunity that comes.
"You can't let it get you down, you just need to stay positive with it all.
"I'm just looking to bounce back now and have a strong season on the field."
Having made 58 appearances for Wests Tigers since joining in 2016 — including his representative debut for Samoa in the 2018 Pacific Test — Chee Kam made it clear that he was determined to repay the faith shown in him by the club.
"I've got a lot of respect for this club because they've shown a lot of faith in me," he enthused. "Every contract is pretty special but this one especially special to me because, for a while there, I thought it was all going to be over.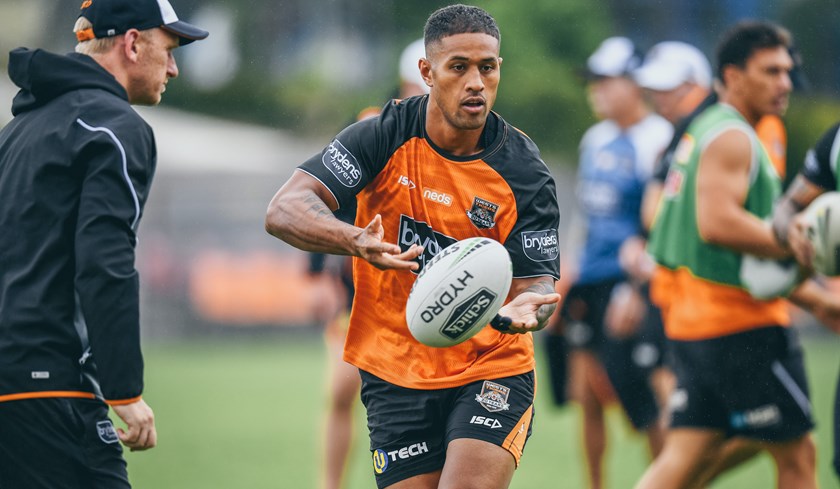 "I'm grateful and blessed the Wests Tigers have shown a lot of faith in me.
"I owe it now to my club and family after putting them in a bad spot, but I just want to repay the faith and play some good football to give the club a good name.
"There was nowhere else I wanted to go — I wanted to stay here. This is home for me now and I really love the Wests Tigers so it was an easy choice for me."