Wests Tigers Head Coach Michael Maguire was full of praise for veteran playmaker Benji Marshall after he became the 38th player in Telstra Premiership history to reach 300 games.
Having grown especially close to Marshall in recent weeks during their New Zealand national team commitments, Maguire said the Wests Tigers legend had firmly established himself as one of the all-time greats at the club and the game itself.
"This week, I really got to see what's right around Benji Marshall and gain a real understanding of what he's gone through," Maguire reflected post-match.
"I got to understand where he's come from as a young kid, to win and a final and go through so much throughout his career. But the one thing that really stood out to me was the special part, his family. I was able to see this week what it meant to him and them as well and that's a real reflection of what we're pushing at this club.
"Benji has gone a lot of great things for this club, and a lot of things in the background that people will never know about.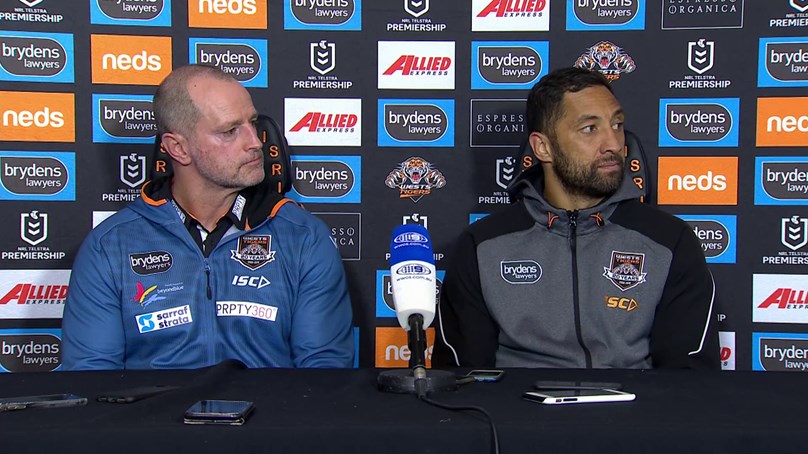 "He's now back here at the club he loves, and I believe he can keep playing. It's the excitement of what he brings to training each day and each week."
With interest understandably high around his playing future next year, Marshall said he could see himself playing on for another year but wasn't sure either way — admitting it wasn't the biggest priority for him in the back half of the season.
"The important thing for me is to make the finals and win the competition," Marshall enthused. "Realistically, that's the focus. 
"I don't want to get caught up worrying about next year now because now is important to me, and it's important to our group and our team.
I don't want to get caught up worrying about next year now because now is important to me.

Benji Marshall
"As a leader, I really need to drive that and if I'm focussing too far ahead, I don't think that's going to get the best out of me. I'm sure that discussion [of next year] will come but we need to win and we need to turn it around."
While visibly disappointed with the result, there was no denying Marshall's pride in seeing the support for his 300th game in what had been an emotional week for both the Kiwi international, his family and all involved in the club.
The 34-year-old put it down to gratitude.
"I've just got a lot of gratitude for everything right now," he said.
"You've got to appreciate and enjoy the moment.
Marshall honoured with emotional post-game haka

"When you see your fans turn out for you and the amount of support that I have had throughout the week — I've got to sit back and take that in.
"The reason I get so emotional is because of all the people that have been influential in my life and the Wests Tigers — which is my family as well — they've have really helped me. It was really an acknowledgement of what they've done for me."
Marshall will bring up Game 301 next Saturday when Wests Tigers take on the Canberra Raiders at GIO Stadium while Robbie Farah will bring up Game 299.
Match: Raiders v Wests Tigers
Round 18 -
home Team
Raiders
4th Position
away Team
Wests Tigers
12th Position
Venue: GIO Stadium, Canberra