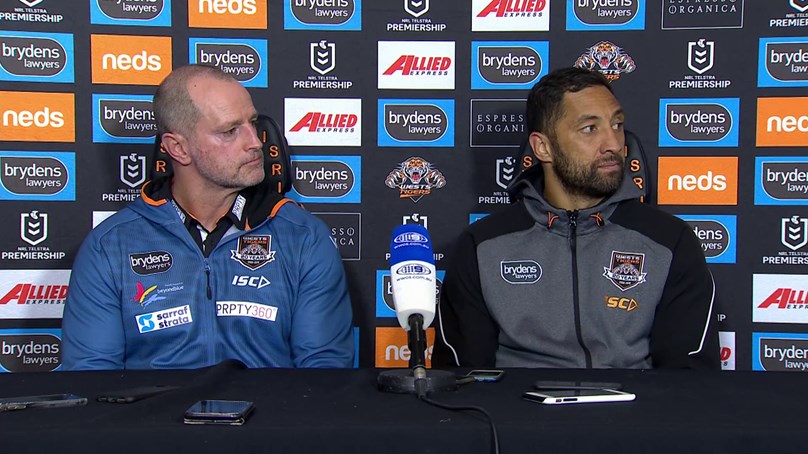 Wests Tigers Head Coach Michael Maguire said a lack of pressure was the undoing in his side's 30-18 defeat to the Parramatta Eels at Bankwest Stadium on Sunday.
After controlling the match for the best part of the first 25 minutes, Maguire's side fell behind to two quick tries before the break and were unable to truly recover despite a second half double to David Nofoaluma and several other good chances.
Maguire, and veteran Benji Marshall, said it was simple errors that continued to rob the side of a chance to build pressure and come away with the two points.
"We certainly have a bit to work on, I know that," Maguire said post-match.
"One thing about this group is that they try, but we need to be more diligent around certain areas of the game. We had a lot of errors and we didn't apply pressure.
"Unfortunately, that just puts pressure on yourself [and] if you keep doing that, you'll end up like it was on the scoreboard."
Marshall addresses Bankwest Stadium after his 300th match

Off the back of his 300th NRL game, Marshall echoed the coach's sentiments.
"Our group does try but there are a lot of things we've got to work on," he said.
"Especially on a day like today, it was hard to celebrate because I want to win and make the finals. Today was special but I would rather have got the result.
"As a leader in this group, part of me wants to make sure we do that and that didn't happen today, Simple errors cost us a lot and then we're chasing the game at the back end, and I think we're a better team when we're in the fight."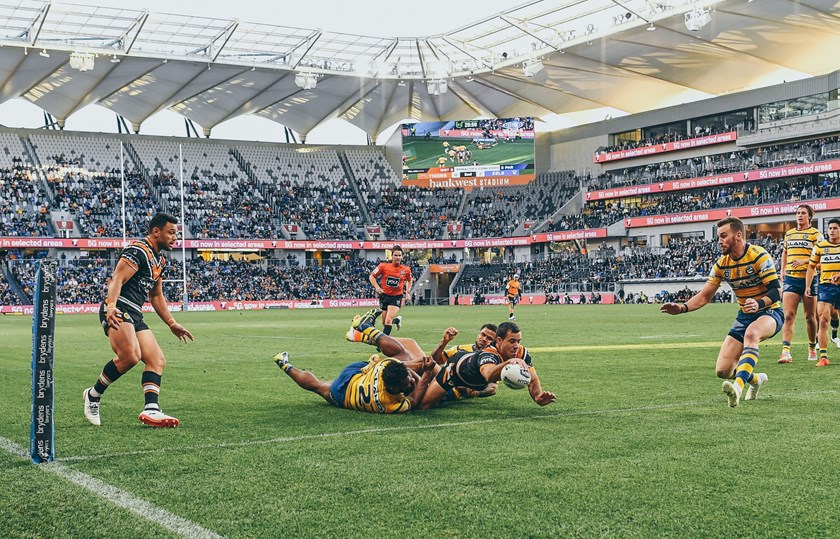 Sunday's loss leaves Wests Tigers just one win outside the top eight with a tough fortnight of away matches coming up — a trip to the nation's capital this Saturday to take on Canberra is followed by a journey up to Newcastle in Round 19.
Maguire said it was getting close to "must-win" territory for his team.
"It is getting close to that [time] and the players know that, so it's going to be about how we go about this week and roll on in to the next game," he said.
"We're aware of where we are on the ladder, but we've got to make sure that we get out and do all the little things because it will turn.
"We're a very capable team this group — I've got a lot of belief around this group, as I've said many times, because I've seen a change as we've gone throughout this season. They've just got to make sure that they believe now.
"Sometimes it's not all the stuff you see on the field, it's the leadership things that they're showing. They're changing the character of who they are and those sort of things are the things that are going to take this team and club forward."
Match: Raiders v Wests Tigers
Round 18 -
home Team
Raiders
4th Position
away Team
Wests Tigers
12th Position
Venue: GIO Stadium, Canberra