Wests Tigers Head Coach Michael Maguire says Thursday night's home game at Leichhardt Oval presents a great chance for the side to build on last week's come-from-behind victory over the Newcastle Knights and start to gain some momentum.
Maguire said he was pleased with the resilience shown last week to fight back from 12-0 down to end a run of three straight defeats, and highlighted the importance of the win to generate a good run of form over the final weeks of the regular season.
"I think the boys have shown a lot of resilience throughout the season," he said.
"We're just now doing it for longer periods of time and that's required at this level.
That's something we definitely need to take in to our next game.
"This is a very special home for anyone that supports Wests Tigers and it's a big game — we know that it's a very important game for us moving forward.
"It's really important to get the fans out here on a Thursday night," he added.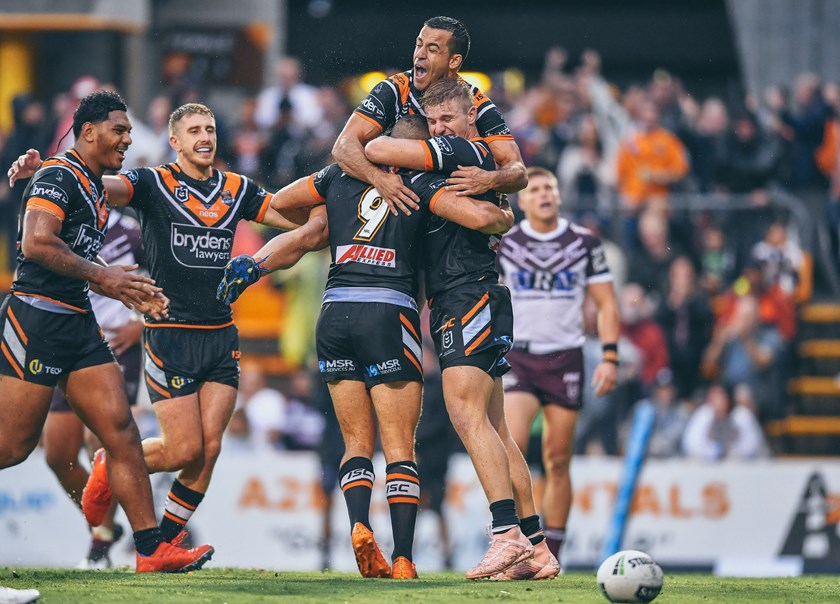 "It's very special to us and obviously being at Leichhardt, you can see plenty of people coming out of their houses to come out and watch.
"I think it's a very special ground and I've always been very envious of this boutique stadium. It was packed here in Round 1 with people on the hill and the noise — it's a great ground to watch football at and we need the fans again tomorrow."
Maguire made several big changes to the side last week with Oliver Clark, Luke Garner and Michael Chee Kam all brought in to the starting squad, with the coach keeping the same 17 players for this week's clash against the Cowboys.
While most of the focus this week has been around the elder statesmen of the side — particularly off the back of Robbie Farah's retirement announcement — Maguire said he was pleased in the way that the young guys have stepped up in 2019.
"It's definitely an enjoyable part of coaching," he said.
"You've got your senior players and you've got your younger guys that are coming up and really learning to play at this level now.
"Young guys like Thomas Mikaele and Alex Twal are really starting to stand up.
"I've obviously put the challenge out last week about making sure we do step up, and we did, but we've got to make sure that we do it again now.
"That's obviously our next step moving forward."
Match: Wests Tigers v Cowboys
Round 20 -
Venue: Leichhardt Oval, Sydney