Wests Tigers forward Chris Lawrence says it isn't a matter of ending a finals drought or sending Robbie Farah off a winner — the focus is just about winning games for his side as they look to continue their good form this week against the Bulldogs.
Off the back of two good wins over the Knights and Cowboys, Wests Tigers find themselves sitting in eighth position with the chance to consolidate that spot further against a Bulldogs side determined to play the spoiler to their finals aspirations.
For Lawrence — one of the few players in Michael Maguire's side who have played finals footy — focusing on anything in September was a little too far down the line, but said there was a strong desire to ensure their recent results were rewarded.
"It's just about winning games for us at the moment," Lawrence said,
"And that's down to doing the fundamentals right.
"We weren't necessarily doing those things right a few months back; we were playing well in patches but having lapses during the games.
"We just need to keep building on what we're doing and keep ticking over the wins.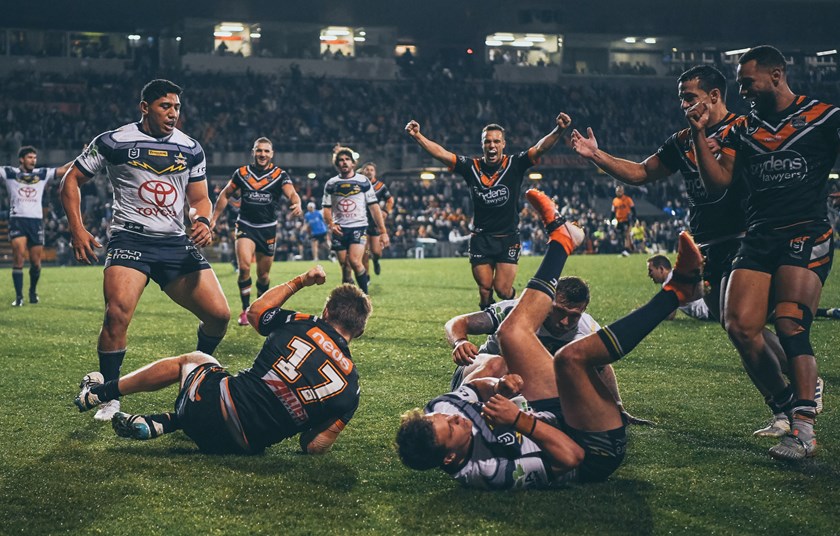 "The simple thing is we need to keep winning games to make the semis," he said.
"There's plenty of work to go on that; it's not going to be an easy thing and we're under no illusions about that. All we can do is keep working hard at training and replicate the things we're doing there out on the field."
Asked about the unwanted streak of not playing finals football since 2011, Lawrence said there was more than enough motivation within the squad to end that record.
"We know there's fans that haven't seen us in the finals since 2011 but there's just as much pressure internally," he enthused.
"We have high expectations on ourselves, and particularly with the group that has been here over the last couple of years.
"We haven't been able to replicate what we know we're capable of, so it's about continuing to make sure we work hard and get everything right on the training field.
"We've been good at that in the last few weeks but there's lots of work to go."
One additional motivation for the side will be sending out Life Member Robbie Farah on a winning note, with the 2005 Premiership Winner confirming the 2019 season will be his last in the NRL after his 17 years in the game.
A fellow Life Member of Wests Tigers, Lawrence said it would be a sweet moment to send the 35-year-old off a winner but not the sole focus for the side.
"Of course there's a motivation to send club legends off on the right note," he said.
"But as footy players, you just want to be there at the back end of the season. That's why you play every year and why you come in for Day 1 of pre-season.
You dream of playing those big games in September and that's the motivation.

Chris Lawrence
"You dream of playing those big games in September and that's the motivation.
"We can't be thinking too much about that yet — we can't think too much about finals because there's big games to come and we just need to keep winning."
NRL Team Announcement: Round 21

Lawrence has been named to come off the bench for Wests Tigers in an unchanged side by Michael Maguire as they look to secure three straight wins for the first time this season against the Bulldogs at ANZ Stadium this Saturday night.
Wests Tigers have won two of their past three games against the Bulldogs at the former Olympic venue, but the hosts are last-start winners against Wests Tigers after scoring a 22-8 win when the two sides met earlier in the year.
Match: Bulldogs v Wests Tigers
Round 21 -
home Team
Bulldogs
15th Position
away Team
Wests Tigers
10th Position
Venue: Accor Stadium, Sydney