Official updates on the club's Top 30 squad for 2020.
Wests Tigers sign Asu Kepaoa
Wests Tigers are pleased to announce the signing of talented outside back Asu Kepaoa effective immediately, after he was granted a release from the Sydney Roosters. Kepaoa joins the club on a three-and-a-half-year deal that will see him feature in Wests Tigers colours until at least the end of the 2023 season.
Click here to read the full media release.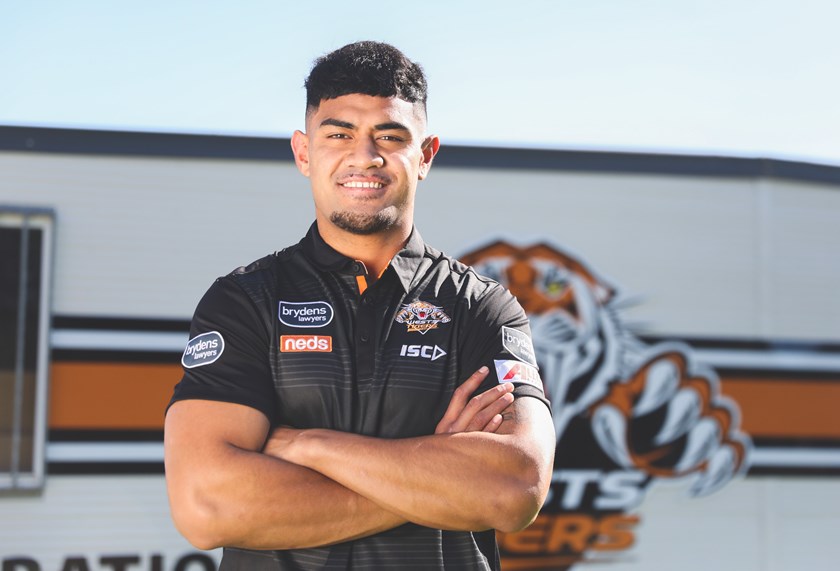 Corey Thompson to depart Wests Tigers
Corey Thompson will depart Wests Tigers effective immediately after agreeing to a long-term deal with the Gold Coast Titans.
The 30-year-old will depart Wests Tigers having scored 19 tries in 44 games.
See the full statement on Corey's departure here.
Wests Tigers sign Shawn Blore
Wests Tigers are pleased to announce the signing of Shawn Blore, effective immediately, after the forward was granted a release by the Penrith Panthers.
The two-year deal will see the talented youngster join Wests Tigers ahead of the revised 2020 NRL season through until the end of 2021.
Read the full statement of Shawn's arrival here!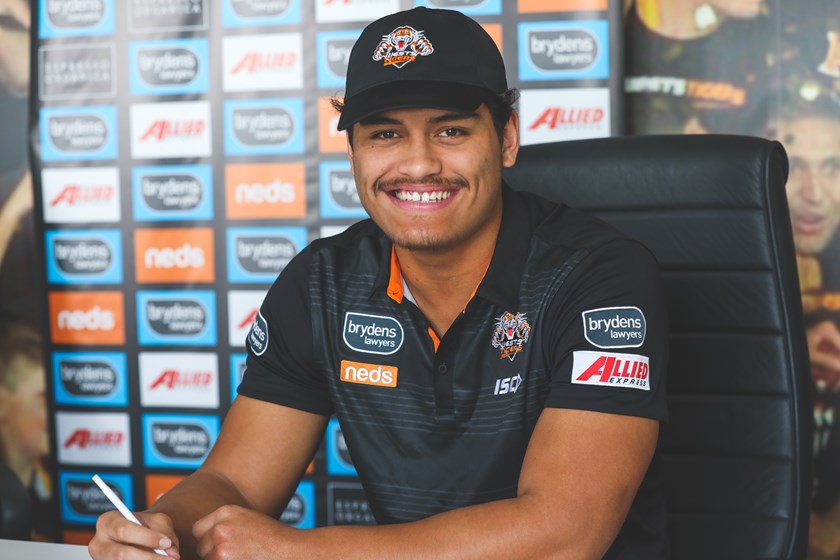 Jake Simpkin and Reece Hoffman will join Jock Madden, Kane Bradley and Zac Cini as the club's Development Players in 2020.
Wests Tigers 2020 NRL Squad
| PLAYER | CONTRACT |   |   |   |
| --- | --- | --- | --- | --- |
| Josh Aloiai | 2020 | 2021 |   |   |
| Shawn Blore | 2020 | 2021 |   |   |
| Kane Bradley | 2020 (Dev.) | 2021 |   |   |
| Luke Brooks | 2020 | 2021 | 2022 | 2023 |
| Michael Chee Kam | 2020 | 2021 |   |   |
| Zac Cini | 2020 (Dev.) | 2021 |   |   |
| Oliver Clark | 2020 |   |   |   |
| Adam Doueihi | 2020 | 2021 | 2022 | 2023 |
| Matt Eisenhuth | 2020 |   |   |   |
| Luke Garner | 2020 | 2021 |   |   |
| Harry Grant | 2020 |   |   |   |
| Reece Hoffman | 2020 (Dev.) | 2021 (Dev.) | 2022 |   |
| Robert Jennings | 2020 |   |   |   |
| Asu Kepaoa | 2020 | 2021 | 2022 | 2023 |
| Chris Lawrence | 2020 |   |   |   |
| Joseph Leilua | 2020 | 2021 | 2022 |   |
| Luciano Leilua | 2020 | 2021 | 2022 |   |
| Jacob Liddle | 2020 | 2021 |   |   |
| Jock Madden | 2020 (Dev.) | 2021 |   |   |
| Benji Marshall (capt.) | 2020 |   |   |   |
| Moses Mbye (capt.) | 2020 | 2021 | 2022 |   |
| Sam McIntyre | 2020 |   |   |   |
| Chris McQueen | 2020 |   |   |   |
| Thomas Mikaele | 2020 | 2021 |   |   |
| Zane Musgrove | 2020 | 2021 |   |   |
| David Nofoaluma | 2020 | 2021 |   |   |
| Russell Packer | 2020 | 2021 |   |   |
| Josh Reynolds | 2020 | 2021 |   |   |
| Alex Seyfarth | 2020 |   |   |   |
| Jake Simpkin | 2020 (Dev.) | 2021 | 2022 |   |
| Dylan Smith | 2020 |   |   |   |
| Tommy Talau | 2020 | 2021 | 2022 |   |
| Elijah Taylor | 2020 |   |   |   |
| Alex Twal | 2020 | 2021 | 2022 |   |
| Stefano Utoikamanu |   | 2021 | 2022 | 2023 |
| Billy Walters | 2020 | 2021 |   |   |