Western Suburbs Magpies are scheduled to play over half their matches as part of NRL doubleheaders in 2020 with the release of the draw for the Canterbury Cup season by NSWRL.
Wests Tigers' Canterbury Cup side, Western Suburbs, will play prior to the NRL side in five home matches throughout the year — including two home triple-headers at Campbelltown Sports Stadium — while a further seven away matches will also see the Magpies in action as the curtain-raiser to the main event.
The draw is without doubt the most positive draw in years for Wests Tigers Members, who also receive free entry to all standalone games throughout the year.
The first five games of the 2020 season will see the Magpies in action prior to the NRL side, including three home games and the blockbuster annual Easter Monday clash at Bankwest Stadium. It was that corresponding fixture that officially opened the new stadium last year, when the side played the Wentworthville Magpies.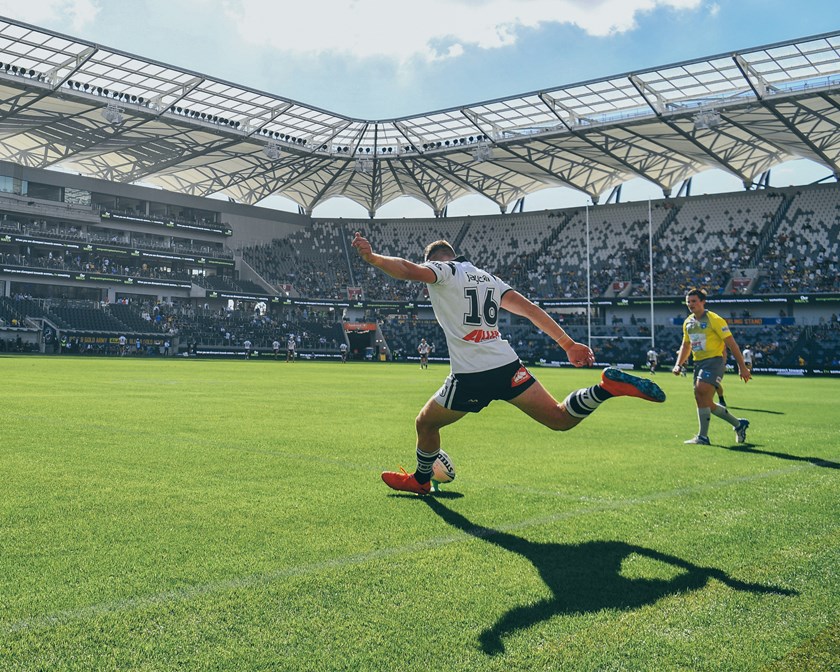 In total, Western Suburbs will feature in three matches at Bankwest Stadium — all of which are curtain-raisers to NRL — while the side will play a further three games at Leichhardt Oval and seven matches in total at Campbelltown Sports Stadium.
With former Magpies player and 2019 Coach Brett Hodgson moving in to a full-time role with the NRL side, Western Suburbs will be coached by Wayne Collins in 2020 with Jason Peterson to feature as his assistant.
Collins played in two Grand Finals with the St. George Dragons throughout the 1990's and joins the club with an array of coaching experience with the Raiders, Dragons and Warriors in the Jersey Flegg and Canterbury Cup competitions.
View the full round-by-round schedule for the 2020 Canterbury Cup here.
| RD. | DATE | TIME | OPPONENT | VENUE |
| --- | --- | --- | --- | --- |
| 1 | Sunday, March 15 | 3:45pm | Dragons | WIN Stadium |
| 2 | Sunday,  March 22 | 1:40pm | Knights | Leichhardt Oval |
| 3 | Sunday, March 29 | 1:40pm | Bulldogs | Campbelltown Sports Stadium |
| 4 | Saturday, April 4 | 12:40pm | NZ Warriors | Mount Smart Stadium |
| 5 | Monday, April 13 | 1:40pm | Eels | Bankwest Stadium |
| 6 | Sunday, April 19 | 1:50pm | Panthers | Panthers Stadium |
| 7 | Saturday, April 25 | 12:40pm | Sea Eagles | Campbelltown Sports Stadium |
| 8 | Saturday, May 2 | 10:40am | Bears | Redfern Oval |
| 9 | Saturday, May 9 | 1:00pm | Mounties | Leichhardt Oval |
| BYE | - | - | - | - |
| 11 | Saturday, May 23 | 3:15pm | Sea Eagles | Central Coast Stadium |
| 12 | Sunday, May 31 | 1:05pm | Rabbitohs | TBC |
| 13 | Sunday, June 7 | 1:05pm | Eels | Campbelltown Sports Stadium |
| 14 | Sunday, June 14 | 1:05pm | Panthers | Campbelltown Sports Stadium |
| 15 | Sunday, June 28 | 1:05pm | Dragons | Campbelltown Sports Stadium |
| 16 | Sunday, July 5 | 1:05pm | Bulldogs | Belmore Sports Ground |
| 17 | Saturday, July 11 | 5:15pm | Rabbitohs | Bankwest Stadium |
| 18 | Friday, July 17 | 5:30pm | Bears | Bankwest Stadium |
| 19 | Sunday, July 26 | 1:50pm | Knights | McDonald Jones Stadium |
| 20 | Sunday, August 2 | 1:05pm | Jets | Henson Park |
| BYE | - | - | - | - |
| 22 | Sunday, August 16 | 1:45pm | Mounties | GIO Stadium |
| 23 | Sunday, August 23 | 11:40am | Jets | Campbelltown Sports Stadium |
| 24 | Saturday, August 29 | 1:00pm | NZ Warriors | Campbelltown Sports Stadium |

*** Note: Draw is subject to change by NSWRL and WestsTigers