Wests Tigers new recruit Adam Doueihi explains his excitement for the challenge to be working under Michael Maguire again.
After arriving late last week on an immediate release from the South Sydney Rabbitohs, Doueihi said he had hit the ground running in pre-season to put himself in the best possible position come Round 1 on March 15,
"I'm very relived — it's been a few stressful weeks for myself and my family and it's obviously a tough time to go through," said Doueihi.
"Lucky enough Wests Tigers came into the picture and I'm lucky enough to be here.
"It's time to start fresh again, earn some respect off my teammates and coach and do my best for the club."
It's time to start fresh again, earn some respect off my teammates and coach and do my best for the club.

Adam Douehi
Returning to play under Head Coach Michael Maguire — who first signed him to the Rabbitohs as a teenage rookie in 2016 — Doueihi explains he is excited to see where his leadership will take him.
"I've known Madge and I know what he's like as a coach," he said.
"I've always wanted to work under him at a first-grade level long term. He's here now and at my old club... I guess fate plays a part and I'm fortunate for that."
A Balmain junior before switching over to the Rabbitohs in the early years of his career, Doueihi said he was simply focused on earning his spot in the Round 1 side.
"For the past few years I've been thrown around in a number of positions and I think now it's really time to settle down and find myself a position," Doueihi said.
"Whether that be at fullback... I hope it is [but] Corey Thompson did a great job for the team last year and if he gets first crack, I'll take my hat off to him."
"Wests Tigers — being my junior club it's always in the back of my mind that I want to come back here one day but I obviously never thought it be this early. Me being the new kid here I will obviously have to try and learn my stripes and respect off the playing group and off the coach during the trial games.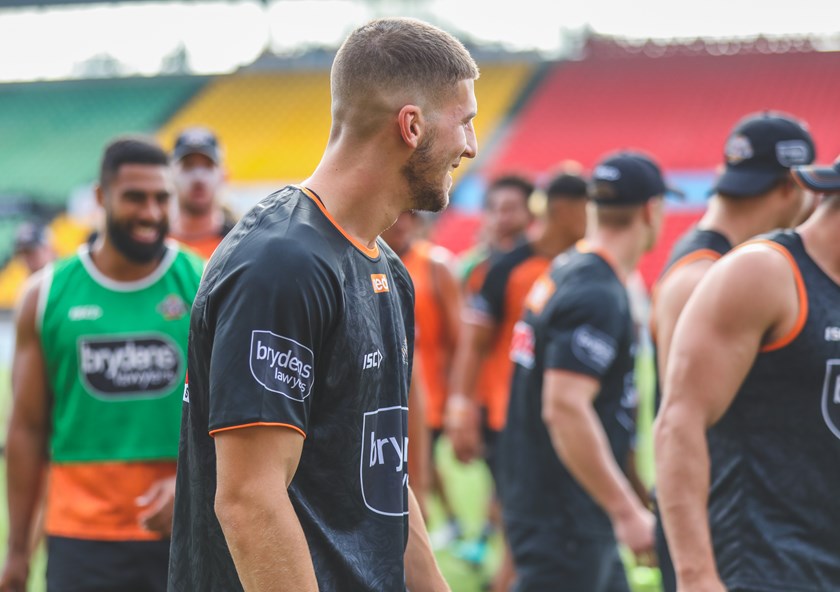 "I've been in with the coaches doing extras and try to get up to speed with all the players and defensive structures I need to learn and what out attack structures are like. We're a month off Round One and I've got a bit of time to learn so it's a good challenge for me to have and one I'm looking forward to.
"This is my first real full preseason after Christmas and I think it's the best and fittest I've felt," he added. "Friday's session was a bit more intense than what I was doing but I know what Madge is like — he's all about hard work and discipline.
"I'm looking forward to the challenge."