Wests Tigers annual Community Carnival reached new ground in 2020 with the extended NRL squad visiting over 16,000 students throughout the South West Sydney area.
Spreading the NRL Respect message, the entire 2020 playing squad visited schools right throughout the Liverpool, Campbelltown, Camden, Mittagong and Tallong regions — visiting over 65 schools and 16,000 students in the process.
The club's largest community visit to the South West region in a single day, the schools visited also included a number of communities and students directly affected by the devastating bushfire crisis earlier this year. 
Co-captain Benji Marshall and local junior Luke Brooks visited a number of schools and regions affected by the fires — presenting them with signed jerseys to assist in raising money for the local community — as well as spending time running interactive games and activities as part of the Respect message.
The Respect program on three main components of learning and demonstrating respect amongst primary schools students — respecting oneself, respecting others, and what it means to develop and maintain respectful relationships.
In addition to the interactive programs, players also ran a number of league stars introduction clinics to give students a taste of rugby league at a young age.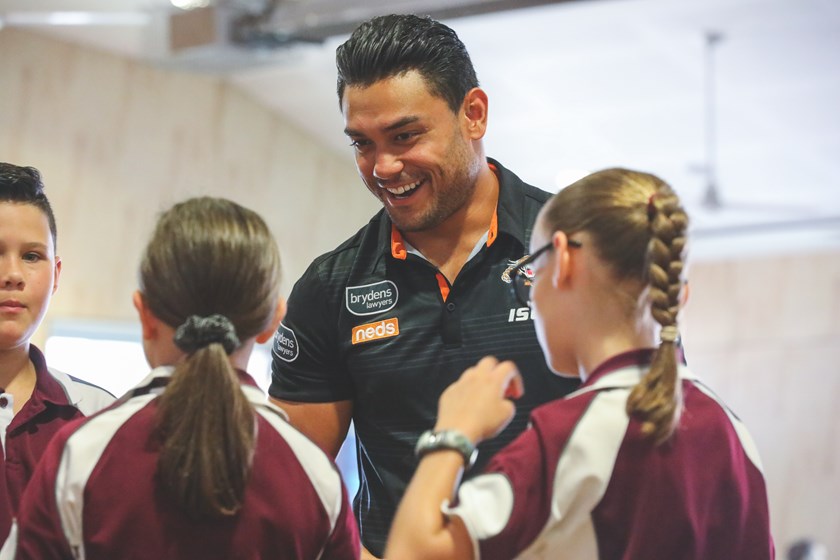 Wests Tigers winger David Nofoaluma attended Ruse Public as a youngster (one of the schools visited by the squad) and spoke of the importance of the day in getting out to schools and students in the South West Sydney regions.
"It's always such an awesome day when we get to get out and visit all the schools in our area," Nofoaluma said. "I grew up here in Campbelltown and it's been cool to see the area grow lots and also see heaps of Wests Tigers fans at the same time.
"We got to share the NRL Respect message, which is all about respecting others and yourself in what you say and do.
"It's definitely a good thing for us to be out sharing it — we're able to use lots of games and activities to do it and I think that it's something that the kids will remember. I remember when I was in school and people would come to visit the school so it's awesome when we can do the same."
Wests Tigers would like to thank the following schools for their support and for having the players along to spread the NRL Respect message:
Tallong Public School
Exeter Public School
Bundanoon Public School
St. Paul's Moss Vale
Spring Farm Public School
Mount Hunter Public School
Mawarra Public School
Oakdale Public School
Oran Park Public School
Holy Family Luddenham
Bringelly Public School
St. Justin's College Oran Park
Oran Park Anglican College
Wilton Public School
St. Michael's Mittagong
Hill Top Public School
Tahmoor Public School
Sackville Street Public School
Macarthur Adventist
Briar Road Public School
St. Helens Park
Miller Public School
Middleton Grange Public School
Campbelltown North Public School
Ambarvale Public School
Eschol Park Public School
Mary Immaculate (Eagle Vale)
Blairmount Public School
Ingleburn Public School
Holy Family Ingleburn
Guise Public School
Sarah Redfern Public School
The Grange Public School
Macquarie Fields Public School
Curran Public School
Bradbury Public School
Rosemeadow Public School
Currans Hill Public School
Claymore Public School
St. Gregory's Primary School
Elderslie Public School
Ruse Public School
Camden South Public School
Preston's Public School
Glenfield Public School
St. Tharase Catholic College
Ashcroft Public School
Dalmeny Public School
Liverpool Public School
Lurnea Public School
Warwick Farm Public School
Heckenberg Public School
Casula Public School
Sadlier Public School
Bellfield College
Leppington Public School
Kemps Creek Public School
St. Catherina of Sienna
Hinchinbrook Public School
Green Valley Public School
Austral Public School