It might not have been the prettiest on a wet and windy night in Wollongong, but Wests Tigers Coach Michael Maguire was extremely pleased with the resilience and determination shown by his side to come from behind and down the Dragons in Round 1.
Trailing at the break and missing a number of quality players including co-captain Moses Mbye and halfback Luke Brooks, Wests Tigers found a way to put their first half errors behind them with Benji Marshall delivering a vintage performance to get the visitors home by 10 points in a match they finished the stronger in.
For Maguire, the manner in which the team found a way to win — even when not playing anywhere near their best at times — stood out most.
"The boys definitely found a way," Maguire reflected post-match.
"It was an unusual game where we missed a couple [of tries] and they missed a couple [of tries], but to see the boys fight the way they did is something I've definitely seen grow in this group.
2020 Match Highlights: Rd.1, Dragons vs. Wests Tigers
"I've had 12 months with the boys now and they worked very hard throughout the pre-season to find moments like that when it counts — and there was a lot of them tonight, that's for sure."
Brooks' calf injury at the club's final training session on Saturday threw plans for Sunday's game in to a momentary disarray, with Josh Reynolds moved to the left edge at halfback — having not trained or defended there at all in the pre-season.
That uncertainty at times showed early on with the Dragons dominating proceedings early, before Wests Tigers found their groove throughout the second half.
David Nofoaluma scored two tries and finished with a game-high 196 metres, while starting props Josh Aloiai (187 metres from 15 carries) and Alex Twal (161 metres with 36 tackles) were too strong for an all-international Dragons front row.
By full-time, Wests Tigers had swung the possession around to a 60-40 share in their favour, and ran for a staggering 1,958 metres — the most by any team in Round 1 and 620 metres more than the home side.
"I thought the players adapted really well to Brooksy not being there," Maguire said. "Josh Reynolds came in and owned a lot of what went on — it was last minute when [Luke's] calf pinged and he's had an outstanding pre-season — but the way they covered him is what this club is about.
"I think we were a little rusty at times on our right and left sides but that will come, especially with games.
"That's expected at this time of the year but you've just got to find a way to win those games which was pleasing.
"We've got boys in reserve-grade who performed well today too — we're building a squad and that's what we're about."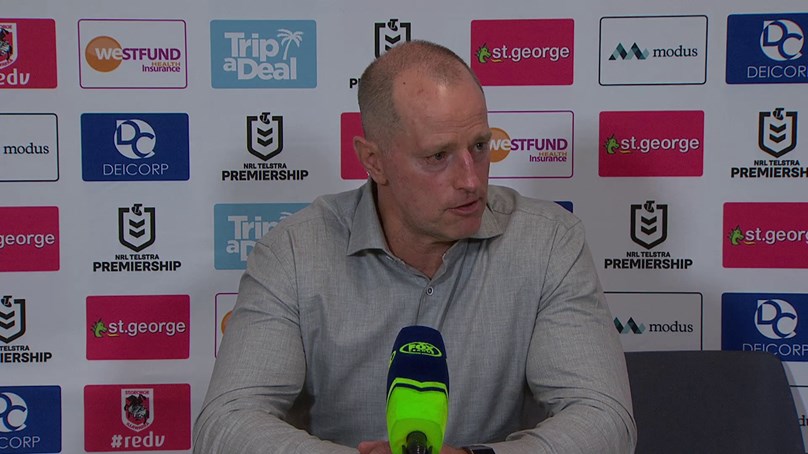 Off the back of their sixth consecutive Round 1 win, Wests Tigers will head to Leichhardt Oval next week for their first home game of the season — played without fans, however, as part of the NRL's COVID-19 precautionary measures.
For Maguire and Wests Tigers, the absence of the fans from the ground won't mean they won't be there watching and cheering on from home.
"At the end of the day, both teams are playing in the same arena next week so it will come back to how we want to play," Maguire enthused.
"We've got family members and a lot of supporters and members watching us on TV so, if there's no noise, we want to provide those watching at home with the same atmosphere."
Match: Dragons v Wests Tigers
Round 1 -
Venue: WIN Stadium, Wollongong