Wests Tigers Head Coach Michael Maguire said his side need to be stronger in their defensive mentality after a disappointing defeat to the Newcastle Knights at Leichhardt Oval.
Following the 42-24 loss at Leichhardt Oval, Maguire was adamant he's looking at taking all learning all board to move forward with the side, but said it was going to come down to the way in which the players applied the lessons learned.
"It was extremely disappointing," Maguire said post-match. "It's not what we're about.
"We're definitely going to have to fix that up moving forward.
"I thought the game was there at half-time. It was about who wanted it more and that comes back to attitudes of how you want to play and sink your shoulder into a tackle [and that] was really disappointing. I thought our second half was disappointing."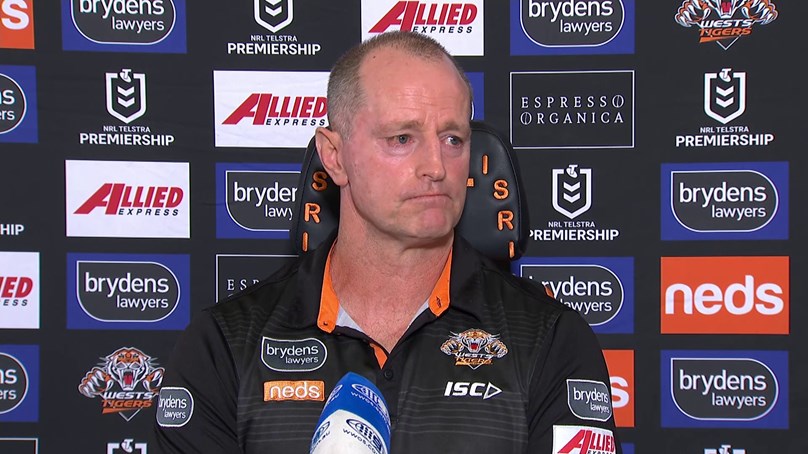 While frustrated with his side's defensive performance, Maguire said that improvements were needed right across the park.
"It comes from understanding what your role is — you've got to be strong in the middle to control it," said Maguire. "That plays apart to what happens on the edges
"But what happened out there today was a disappointing defensive display by us.
"Moving forward we have to work hard on that because it's about being able to do it week in and week out. Teams will pick apart individuals if you're doing that sort of thing and unfortunately today, they got us.
"We've still got work to do, definitely, without a doubt," he added.
"We had some strong performances last week but if you want to be a top team here in the NRL you have got to do that week in and week out.
Match: Wests Tigers v Knights
Round 2 -
Venue: Leichhardt Oval, Sydney
"I need to look at my squad and see who wants to own that performance because that's not acceptable if we want to be a competitive team moving forward.
"I'm looking forward to seeing my players takeaway any noise outside and go through that game because if we want to be a strong team in the competition, we need to be strong on each other.
"People can find excuses around all sorts of things but if you can own them then you can move forward, and that's something we need to learn moving forward."