Forty minutes before Mark Coyne's miracle try, came the try that wasn't.
Blues fullback Tim Brasher was denied a legitimate four-pointer that would've made the Maroons' magic all for nought.
And then had to watch NSW's worst nightmare from the sidelines.
All of which was made worthwhile by his cameo appearance on The 12th Man by the end of the series.
These are the tales of the other 79 minutes from Origin I, 1994, one of the modern era's most iconic clashes.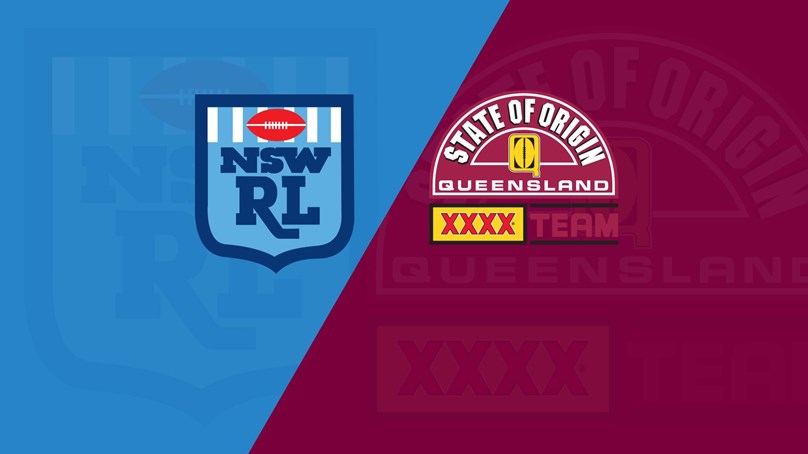 'I think he was onside'
One-Maroon-eyed Channel Nine expert Paul Vautin thought it was legit. Brasher knew it was.
As a brutal first 40-minute period came to an end with NSW leading 6-4 and bombarding the Queensland line, Blues halfback Ricky Stuart threaded a grubber kick across the Sydney Football Stadium turf which sat up perfectly for Brasher to score untouched.
"You know what, I think I scored two or three of those from similar kicks in Origin," Brasher recalls.
"And every single one of them was pulled up for offside!
"I was definitely onside for that one and you listen to the commentary, the timing was good.
Stuart sends Brasher over, try disallowed
"But there is a contentious drop ball from Paul Harragon in the tackle before.
"I'm a believer in karma, and I should never have got the opportunity to score that try because he definitely knocked it on."
Referee Bill Harrigan can't recall either the drop ball in the lead-up or the offside call.
Harrigan misses Harragon knock-on
"It would've been either myself or the touch judge making the call, but I can tell you there would never have been a square-up for one decision matched with another," Harrigan says.
"But you can go back through every game and find something, they all come out in the wash eventually."
A week earlier Harrigan had planned to be in Bali anyway.
In those days whichever state was playing away from home chose the referee.
Queensland would choose Queensland-based referees for games in Sydney, and NSW did vice-versa when playing in Brisbane, to negate home-ground advantage.
"I had the week off and had booked a holiday with my girlfriend," Harrigan tells NRL.com.
"Mick Stone rang me and told me to rebook the ticket, I told him 'bullshit', but sure enough he confirmed with the QRL and I was the first New South Welshman to referee Origin in Sydney back then.
"After I rebooked my holiday and my flights for the Thursday after the game."
How the match unfolded
For the Blues fans who put themselves through another viewing of this game, there are so many what-might-have-been moments where they could have put the result beyond doubt.
They dominated from the kick-off - Stuart put Laurie Daley through a gap on the third play of the game and if the Canberra five-eighth had looked in-field when he came to Maroons fullback Julian O'Neill as the last line of defence, he would have seen an unmarked Brasher ready to sprint the final 30 metres to the line.
Daley, however, passed to the flank and it was intercepted by Mal Meninga.
Martin Bella is happy the match is remembered for its frenetic finish rather than his embarrassing moment in the early exchanges - the big Bulldog lost his bearings in a tackle and tried to play the ball in the wrong direction, gifting the Blues possession.
NSW had a large slice of luck when they opened the scoring. In the 17th minute they received a penalty when Meninga shoulder-charged Brad Fittler away from a kick in the in-goal area.
The Blues called in winger Rod Wishart to take the penalty from out wide but he indicates he's picked up a rib injury so they take the tap.
Daley then went close to the line a couple of plays later, executed a lightning-quick play-the-ball without even going close to standing up and Paul Harragon barged over, appearing to get the ball on the stripe despite desperate Queensland defence.
Vautin claimed he didn't get the ball down on the line but unsurprisingly his Maroons view was laughed off in the commentary box by Blues legend Peter Sterling.
Wishart converted before he was replaced by Andrew Ettingshausen.
As they've done throughout Origin's 40-year history, Queensland soaked up an enormous amount of pressure before hitting back in their first foray into enemy territory in a long time in the 30th minute when Steve Renouf performs the old centre trick of switching sides to link with Meninga, who sends O'Neill over in the corner.
After the Brasher no-try just before half-time, the Blues re-established the upper hand without extending their 6-4 lead.
Midway through the second half, Sterling suggested in commentary that one of the unused reserves could come on soon to turn the game, listing the likes of Blues veteran David Gillespie or Queensland's rookie Steelers prop Darren Fritz or seasoned Bulldogs utility Darren Smith.
Ray Warren adds, somewhat prophetically: "The Blues bench, a lot of experience in there but I've just got the feeling that Queensland might have that game breaker you are talking about sitting on their bench. I'm referring of course to Darren Smith.
"And if not him, what about Mark Coyne…?"
A few minutes later, O'Neill is taken off with a leg injury, with Coyne coming onto the wing and Willie Carne switching to fullback.
Immediately afterwards, Brad Fittler put a grubber in behind the line, Daley collected it, evaded Carne and when confronted with Coyne in cover defence, sent Brad Mackay over under the posts for a 12-4 lead with 12 minutes left.
Origin Classic: Game I, 1994
The Maroons had a touch of good fortune in the 75th minute when Carne backs up a break he created to score although the last pass to him is accidentally tapped to him by Fritz in a line-ball decision.
In what would be their last set in possession, the Blues work the ball out conservatively from their own territory and Stuart drills a kick into touch, which gets a round of applause from the Blues fans in attendance - many had already left to beat the traffic.
The final 60 seconds is filled with one play - the sweeping try by Coyne. 
Coyne scores match-winner in game one of 94
An overlooked part of that play which has been replayed possibly more than any other moment in rugby league history is that Coyne played the ball on that last play but backed up another 70 metres up the field and held his position on the right wing to collect the final pass from Meninga, scramble through the attempted tackles of Fittler, Stuart and Elias to score what Warren iconically describes as "that's not a try, that's a miracle".
Meninga toe-pokes the sideline conversion after the siren to add insult into injury for the Blues. 
Busted Brasher and The 12th Man
Brasher's Origin debut in 1992 had come from the bench.
And now the Blues last line of defence, is back on the pine for the only other time in 20 appearances for NSW, for arguably Origin's most iconic single play.
"I always say I wasn't on the field so I wash my hands of it," Brasher laughs.
"But of course you want to be out there trying to save the try.
"That two minutes was the only time I ever came off in Origin, and of course Queensland score that try.
"I was injured with a hip flexor in a tackle. I just couldn't run so I just had to come off."
By series end though the Blues have the last laugh, winning Origin II at the MCG and spoiling Meninga's Lang Park farewell with a thumping victory in the decider.
And Brasher emerges with as treasured, and unlikely a memento as any from the stunning 1994 series.
"Game two in Melbourne was interesting and playing at such an iconic ground was amazing," Brasher begins.
"But there was an incident I had under the sticks that game with Kerrod Walters.
"I grabbed the ball and wouldn't give it to him for a restart, so he got a bit upset. So I had my fist cocked and was ready to belt him because he'd thrown one at me earlier.
"Then fifteen years later, The 12th Man of all people, has taken the photo from that and put it on the inside of one of his album covers.
"But he's taken his head and superimposed it onto Kerrod Walters's shoulder, so I'm lining up to belt him.
"My mum got a copy sent to me one year and he's written 'Happy Birthday, don't try this again or you won't have another birthday'.
"I met Billy Birmingham a couple of years later and got to thank him."